The biotech sector revolves around two things, drug-related developments and EPS announcements. In this article, I wanted to focus on one company that has demonstrated strong gains as result of recent developments regarding its lead drug, Neuvax.
Galena Biopharma, Inc. (NASDAQ:GALE) - Shares of GALE had been trading higher by almost 12.25% during Tuesday's trading session, making the stock very attractive at these levels. Currently trading in a 52-week range of $0.36/share and $3.54/share, Galena Biopharma has had a very nice run up over the last few weeks and potential investors should take note of some of the recent developments regarding Neuvax.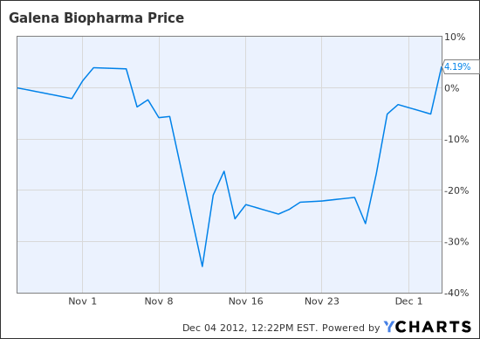 The company, which currently has four separate versions of its NeuVax (E75) drug and a single version of its Folate Binding Protein (E39) in its pipeline, has a primary focal point of cancer based immunotherapies. In the wake of the FDA considering a faster approval time for patients with critical needs, I strongly believe that the window to accumulate shares of GALE is shrinking with every passing day as more comprehensive results are due out in early December.
October 26th: FlyontheWall.com noted that, "Galena Biopharma said earlier today that it presented data from the Phase 1/2 clinical trial of NeuVax at the Society for Immunotherapy of Cancer. The results showed a total of 26 patients receiving NeuVax had at least two CTC measurements made during the vaccine treatment. In 16/26 NeuVax treated patients; the CTCs decreased during the time of treatment, corresponding with an increase in the patients' E75-specific CD8+ cytotoxic T-lymphocytes and an increase in their delayed type hypersensitivity reactions". These developments are quite significant and could not only open the door for a joint-venture, but essentially pave the way for a key partnership with some of the bigger names in the biotech sector.
December 4th: The potential of a key partnership that I had noted as a result of the company's October 26th findings has come to fruition. On Tuesday, Galena Biopharma announced it had partnered with a subsidiary of Teva Pharmaceuticals (NYSE:TEVA) in an effort to commercialize Neuvax in Israel. According to the terms of the agreement, Teva Pharmaceuticals will not only provide both monetary and marketing-based support for Neuvax but also help in the regulatory approval of the drug within the region.
In an effort to diversify the number of applications of Neuvax, Galena plans on taking part in at least four sets of phase 3 clinical trials of the PRESENT study. PRESENT, which stands for, Prevention of Recurrence in Early-Stage, Node-Positive Breast Cancer with Low-to-Intermediate HER2 Expression with NeuVax Treatment, could initiate these trials as early as the first quarter of 2013.
According to Dr. Noa Efrat, one of the investigators taking part in the PRESENT study, "The biological reasoning behind this treatment is very solid and we hope that the results of this larger, and more randomized study will confirm the encouraging results seen in earlier studies using this agent". If Dr. Efrat's assumptions are correct, and positive developments occur as a result of the Phase 3 trials I see no reason why the FDA would not expedite the approval of NeuVax.
Are there any negative catalysts to consider when it comes to Galena? Yes there a few, and if and when Neuvax is approved these negative catalysts could very well cease to exist. First and foremost Galena hasn't exactly been the brightest of stars when it comes to earnings. Over the last four quarters GALE has missed estimates by an average -$0.02/share, and although the company's September numbers were in-line with estimates, I'd still be a bit cautious from an earnings perspective. Second, and from a value perspective I'd remain cautious since GALE is trading at 1.19 times its 50 DMA and 1.33 times its 200 DMA. Lastly, and most importantly there's always the possibility of NeuVax running into either endpoint or milestones issues in terms of its Phase 3 PRESENT study. If, for any reason, the FDA finds that NeuVax has not met or cannot meet its primary endpoint and as a result halts the trial, shares could be sent plummeting.
Final Analysis
If the FDA decides against creating a new expedition process, I still think GALE has great potential based on recent clinical data. The company's Phase 3 PRESENT study could possess some very positive data and as a result similar commercialization deals could emerge which could create some very nice long-term upside potential.
Disclosure: I am long GALE. I wrote this article myself, and it expresses my own opinions. I am not receiving compensation for it (other than from Seeking Alpha). I have no business relationship with any company whose stock is mentioned in this article.