Netflix (NASDAQ:NFLX), the biggest loser on the Standard & Poor's 500 yesterday, partially recovered some of the losses on today's session. Stocks struggle in light of the political struggle on Capitol Hill. Whether the Democrats and Republicans can come to a peaceful resolution on the debt limit remains an open discussion among many of you on Seeking Alpha, but let's ignore the macro view for now; I have a company to talk about.
The technical analysis indicates that the high volume sell-off will continue. This is because of the bearish-engulfing pattern that has led to a break below the trend line (indicated on the chart below). The sell-off also broke below the 200, and 20-day Moving Average. This break below the long-term moving average indicates that Netflix is in a downward trend.
In the weeks ahead investors are anticipating volatility on a broader basis. The beta on Netflix stock is 0.6 (5 years); this low beta isn't an accurate representation of Netflix's volatility. Over the short-term, beta can be incorrect, and it's better to take into consideration current volatility rather than a past average of 5-years. I am implying that the current market volatility will have a more drastic effect on the price of the stock then the implied 0.6 beta measurement. This means investors have an opportunity to short Netflix at a return that will exceed the returns from shorting the SPY ETF. This comparison assumes that the broader stock market will continue to decline ahead of the fiscal cliff.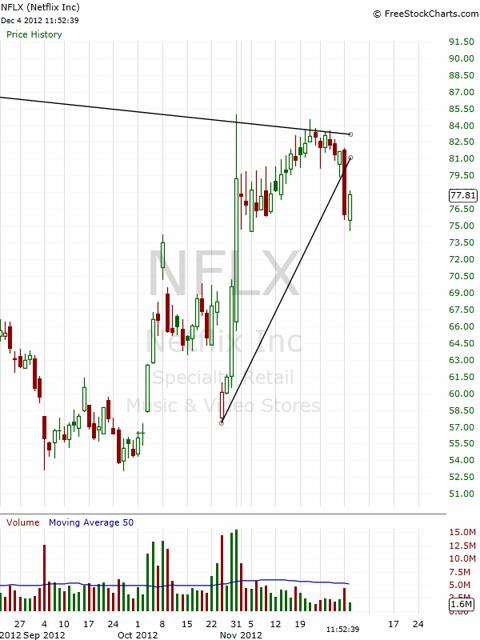 Source: freestockcharts.com.
Analysts have slammed Netflix aggressively over the past year, as we can see based on the table below.
Data provided by Yahoo Finance.
Price Target Summary

Mean Target:

67.48

Median Target:

65

High Target:

110

Low Target:

35

No. of Brokers:

25
Based on the above table, the consensus has a price target of $67.48. The current stock price is $76. Now if I were to sell the stock short, and wanted a reasonable exit point. I would exit at the consensus price target of $67.48. The profit is 11.2%, and a stop loss should be entered at approximately $80.00 per share for a 2:1 profit ratio.
The long-term analysis still indicates positive momentum for Netflix which is why I believe Netflix is a short-term sell-short opportunity. But I also believe that Netflix should not be sold-short over a longer-term time frame. The analysis indicates that Netflix will continue a positive trend in earnings, and although Netflix has struggled in the past fiscal year, it is likely that Netflix will continue to grow at a compounded rate of 21.28%.
| | |
| --- | --- |
| Growth Est | NFLX |
| Current Qtr. | -116.40% |
| Next Qtr. | 12.50% |
| This Year | -99.10% |
| Next Year | 1000.00% |
| Past 5 Years (per annum) | 10.61% |
| Next 5 Years (per annum) | 21.28% |
| Price/Earnings (avg. for comparison categories) | 2,034.50 |
| PEG Ratio (avg. for comparison categories) | 95.61 |
Above data provided by Yahoo Finance.
Analysts on Seeking Alpha expect poor performance from Netflix in the immediate future, which has already been priced into the stock. But that does not change the consensus estimate of a 21.28% annualized growth rate for the next five years and a 1000% improvement in EPS in 2013, according to data from Yahoo Finance. These two factors have led me to create a smoother version of the EPS forecast that includes both past and future data.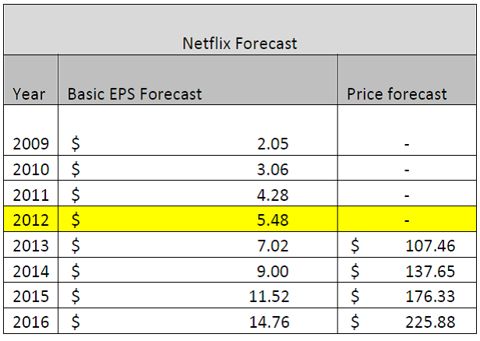 I highlighted 2012 in yellow because Netflix missed the forecast 21.88% growth rate in the 2012 fiscal year. I also excluded the price target for 2012 (because 2012 is going to be over in a month). However, I remain a cautious optimist as I believe Netflix will recover in 2013, as does the consensus analyst estimate (1,000% for 2013).
Therefore I believe Netflix will continue down the path of least resistance and continue to grow as it has done in the past. I anticipate Netflix to trade at $107 in 2013, $137.65 in 2014, $176.33 in 2015, and $225.88 in 2016. The price forecast was made using a proprietary mathematical formula.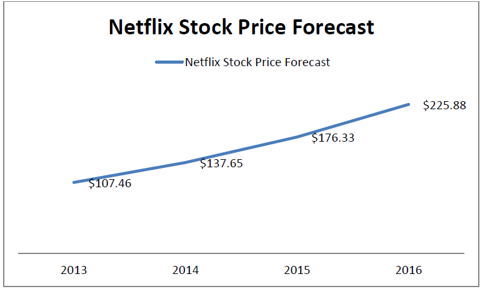 I anticipate Netflix to beat my price forecast. Netflix has beaten the consensus analyst estimate by 112% on average over the past 4 quarters. The table below shows a broad range, but when averaged, the EPS surprise is 112%. I am not exactly certain on the amount by which Netflix will beat analyst estimates going forward, but because the amount by which Netflix could beat analyst estimates is so subjective, I did not extrapolate a data-set that included a more optimistic scenario.
| | | | | |
| --- | --- | --- | --- | --- |
| Earnings History | 11-Dec | 12-Mar | 12-Jun | 12-Sep |
| EPS Est | 0.55 | -0.27 | 0.05 | 0.04 |
| EPS Actual | 0.73 | -0.08 | 0.11 | 0.13 |
| Difference | 0.18 | 0.19 | 0.06 | 0.09 |
| Surprise % | 32.70% | 70.40% | 120.00% | 225.00% |
| | | | | |
The above data provided by Yahoo Finance.
The last two years have been extremely volatile for Netflix, and everyone has mixed feelings about the stock. I believe the stock will experience the tail-end of a major correction over the next several months. But like the rest of Wall Street, I anticipate a strong recovery in earnings and the stock price in the 2013-2016 period.
Disclosure: I have no positions in any stocks mentioned, and no plans to initiate any positions within the next 72 hours. I wrote this article myself, and it expresses my own opinions. I am not receiving compensation for it (other than from Seeking Alpha). I have no business relationship with any company whose stock is mentioned in this article.