We're pretty much dead now. We cannot pay our workers' salaries. We are about to be bankrupt.

- Mao Youming, Factory Owner, Shaoxing, China Oct 30, 2008
The Chinese government claims that their annualized GDP grew by 9% between July and September.
Mainstream media outlets are parroting the cheery party line despite an avalanche of data from the manufacturing sector that suggests the Chinese economy is faltering and on the brink of collapse.
Forbes asks, "Hard Landing in China?"
The Financial Times warns, "China's manufacturing economy braces for the impact of the global financial crisis."
As we've been saying for a while, the Chinese economy is not immune to a global recession. The Shanghai Composite Index plunged 70% in the past year anticipating more weakness than the Chinese government's GDP numbers would imply.
Here's the problem - China is not a diversified economy. More than 45% of China's GDP comes from manufacturing (compared to 12% for the U.S.). When global consumers stop shopping, China is hit hard. In the last six months, 67,000 Chinese factories have shut their doors. According to Cao Jianhai, a researcher at the Chinese Academy of Social Sciences, "By the year's end more than 100,000 plants will have closed."
For 25 years, China's version of capitalism has only known success. These are new challenges, and they are being met clumsily. Hundreds of factory owners are simply closing their doors and walking away. Last week, Tao Shoulong, a textile tycoon with 6,000 employees burned his financial books, sold his fleet of Mercedes and disappeared, leaving behind $200 million in debt and an army of angry factory workers.
Despite the calm exterior, the Chinese government is showing signs of panic. In the last decade, over 100 million rural Chinese have flooded into the cities in search of manufacturing jobs that typically pay about $200 a month. After years of being treated like robots, performing mind-numbingly repetitive tasks, these workers are just not equipped to jump to a new industry.
All across China, newly unemployed factory workers are staging protests – or "mass incidents" as the Chinese government calls them. They are confused, frightened, and they want to be paid for the work they've done. The Chinese government has improvised a system to stop widespread rioting. They simply show up at the factory gates and hand out cash to the disgruntled workers. "The government is very afraid," says unemployed factory worker, Hu Weicai, "They paid us to stabilize our moods."
Meanwhile Beijing is frantically trying to stimulate the manufacturing sector. China has slashed taxes on exports in the past few weeks.
Ye Hang, an economics professor at Zhejiang University said:
Honestly, I think whatever measures government takes will not turn around this trend. The government can only try its best to put out the fire.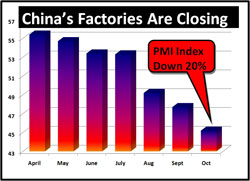 The Purchasing Managers' Index [PMI] is designed to give a clear snapshot of business conditions in the manufacturing sector. It tracks new orders, inventory levels, production, supplier deliveries and employment data. A PMI of more than 50 indicates expansion of the sector, while a PMI of less than 50, indicates a contraction.
China's PMI fell to 44.6 in October. Along with the employment data, output and new orders both declined at record levels.
Eric Fishwick, an economic researcher said:
The fall in the PMI reading underlines the extent to which China's fortunes are tied to those of a slowing global economy. Chinese manufacturers are seeing their order books cut, both at home and abroad, as the world economy falls into recession.
There's no manufacturing sub-sector that has been able to dodge the dramatic downturn. China's $6 billion toy making has been hit especially hard. About 50% of China's toy factories have shut down in the last 10 months.
Michael Pettis, a Beijing University Professor of Finance, said:
China has to make a transition from being export-oriented toward domestic consumption-oriented. Any large continental economy can't depend on external demand for its own growth.
As the global recession deepens, the Chinese have a very different set of challenges than the U.S. For one, America is broke, whereas China has been running massive surpluses for a decade.
China currently holds about $2 trillion in foreign exchange reserves including about $1.3 trillion in U.S. Treasury Bonds. If China tried to collect the money from the U.S., they would mortally wound their best customer. Therefore, they probably aren't going to do that. However, it's a dangerous balancing act. China will be stretched politically and financially trying to find jobs for its restless army of unskilled, unemployed workers.
At Q1 Publishing, we believe in using industry-specific economic data to reveal the key subplots that affect our investments. The rest of the world is starting to catch onto the problems in China. On Wednesday, the trading volume of Proshares Ultrashort China ETF (NYSEARCA:FXP) spiked 50%, and it went up at twice the inverse of the FTSE/Xinhua China 25 Index (NYSEARCA:FXI). It's a way of betting against the performance of China's Stock Market.
Clearly, China's official GDP growth rate is obscuring a growing crisis in the manufacturing sector. Look for very different numbers coming out in the final quarter of 2008.
America has a new President, who is bright, moral, and sane. There is a lot to be hopeful about. Despite an across the board sell-off which has crushed everything from REITs to mining stocks, there will continue to be compelling buying opportunities. In the meantime, it's critical that you look at the facts behind the headlines and take action to repair the damage that has been done to your portfolio.
Disclosure: None