Lululemon athletica, Inc. (NASDAQ:LULU) is set to report earnings on Thursday, Dec. 6, after the closing bell. Many seem to think it holds a much overvalued stock price and the company can probably not afford to simply meet or even slightly beat analysts' estimates. After raising full year's guidance during Q2 2012, another great quarter will be highly anticipated and, if not, it could be a long road down for shares of LULU.
With LULU shares holding a relatively high P/E ratio for most of 2012, it forces analysts to look at the company from the long and short side of the equation. Lululemon is currently trading at roughly 50 times trailing earnings, far above its industry peers such as Nike and Under Armor. Here is a closer look at what the company expects for Q3 2012:
For the third quarter of 2012, lululemon anticipate revenue in the range of $300 million to $305 million.
Revenue guidance is based on comparable store sales percentage increase in the low to mid-teens on a constant dollar basis.
The company plans to open 8 lululemon stores in the U.S., 3 in Australia and 1 ivivva store.
Gross margin to be slightly below 55% through Q3, which represents some deleverage against Q3 2011, due to lower product margins,
Assuming a tax rate of 29.5% and 145.8 million diluted weighted average shares outstanding, LULU expects Q3 2012 earnings per share to be approximately $0.34 to $0.36.
From an investor standpoint, the company did two very smart things with regards to Q3 guidance. After reporting lower than expected same-store-sales growth (SSSG) in Q2 2012, the company outlined the reasons as they related to the growth in their e-commerce business and how the company does not include e-commerce sales in their SSSG comparisons like other companies continue to do. In kind, the company also issued guidance for SSSG in line with Q2 2012 SSSG. In Q2, the company also raised guidance after realizing a 19 cent per share tax benefit. The company now expects to earn between $1.76 and $1.81 a share in 2012.
The company continues to employ its strategy of developing and entering higher end markets with prime real estate locations. However, the downside to this strategy is that these locations are not increasing but rather have a relatively low ceiling for achieving scalability. In other words, there are only so many prime real estate locations to capitalize on and as the company nears its long-term goals of 350 U. S. store locations, we would argue that their strategy may need to change between 2014 and 2015.
Now that we have a clearer picture of current expectations, let's advance this discussion further to include year-over-year highlights that could prove to assist the company in achieving its quarterly goals:
During Q3, 2011, the company acquired the four remaining franchise locations.
Launch of ivivva Canada and then subsequent November launch of ivivva in the U.S.
During Q3 2011, the company operated 165 total stores and has since increased its total operating stores to 189 as of Q2 2012.
In Q1 2012, LULU launched their first localized website in Australia.
In Q1 2012 the company opened Hong Kong showroom and planned to open second showroom during Q3 with stores to open shortly thereafter..
In Q2 2012 the new London showroom opened. Expect to hear about new store openings in London in the near future.
In Q2 2012, the company purchased the building which houses its Newbury Street store location in Boston, Massachusetts.
In fiscal 2012, the company has dedicated itself to increasing capsule launches from 2-3 capsules a year to 12 capsules in 2012.
Subsequent to the end of the second quarter in August 2012, the company acquired the remaining 19.7% non-controlling interest in lululemon Australia. Therefore, post closing of this transaction, there will no longer be a non-controlling interest in the net income of this business. The impact on lululemon's financial results for 2012 is expected to be immaterial.
The future looks very bright given the healthy investments the company has committed to in the last two years via its real estate purchases, but if we take a closer look at the core business model of LULU, things get a little less optimistic for investors given the already lofty P/E ratio. LULU basically sells high-end athletic/yoga apparel in several markets, but mainly in the U.S. and Canada although it has reached out to the Asia Pacific region through the Australian, New Zealand, London, and Hong Kong markets.
The typical lululemon athletica store is roughly 2,500 square feet. Bigger stores might push 3,500 square feet. The sheer size of its stores may be seen as a limiting market or limiting growth factor for the company going forward. Shorts are counting on this small store size as a limiting factor for future success as the company may not be able to expand their product category in a significant manner or as needs change. However, the company has already begun expanding their product assortment into the category of apparel accessories such as bags and head gear. When it comes to the company offering larger sizes, there doesn't seem to be an immediate push in that direction, as indicated by LULU's CEO Christine Day:
We are not planning on introducing larger sizes. If you took all of our colors and styles in our size of store and added additional sizes, we just physically cannot put the product in the size stores that we have today.
Another factor the company will be forced to face is competition. LULU has enjoyed a first mover advantage in this niche market segment, but as the company continues to find and grow its successful business, competition will take notice and work to achieve a market share of their very own. Unfortunately for LULU, there are very few barriers to entry in the athletic apparel industry, especially as design and function are very tough patents to support. Just recently, the company engaged some brand leading apparel producers with little fanfare and even fewer results:
lululemon athletica canada inc., a subsidiary of lululemon athletica inc., Calvin Klein, Inc., a wholly owned subsidiary of PVH Corp, and G-III Apparel Group, Ltd., a Calvin Klein, Inc. licensee for Calvin Klein Performance, have entered into a settlement agreement that will resolve the pending design patent litigation related to certain yoga pant designs. The terms of the parties settlement agreement are confidential. Pursuant to the agreement, the pending litigation will be dismissed.
On the surface and even within the detailed balance sheet, everything looks quite good for investors, but it remains to be seen whether or not lululemon athletica can continue producing the same results in the coming quarters and years. Some would-be investors question the quality of earnings the company is producing alongside what the company will produce in the future. They point to relative steps the company has taken and how the account for the company's real estate purchases. A fellow Seeking Alpha contributor detailed last year's LULU purchase of the company's corporate headquarters:
In March 2011, the company acquired the building that housed its Global Store Support Centre for $65.1 million, which represented 53%(!) of their capital expenditures in 2011 despite opening stores equivalent to 30% of its store base. What we found most interesting is that the company attributed $60 million of the purchase to land and approximately $5.1 million to the building. As a result, this $65 million capital expenditure likely only results in a $150,000 annual depreciation expense assuming a 30 year useful life for the building. We believe the company was likely paying significantly more to lease the approximately 70,000 s.f. of this building it was already occupying. And because the value is primarily attributed to land, lululemon will not get a tax deduction for depreciation of $60 mm of the purchase. We believe the accounting for this transaction is EPS driven and not shareholder friendly.
Capital Ladder Advisory Group agrees with the assessment of the earnings quality produced by LULU for the better part of 2012 to have been beneficiary in the short term and probably less than shareholder friendly in the long term. Some of the actions which the company has taken in the realm of investing capital into the brand and brand buildout have benefited the company in 2012, but will likely roll off at the end of fiscal 2012. Does this mean slower growth or lower margins going forward? Not necessarily, but there certainly is cause for revaluation.
In light of very little commentary from management intra quarter, investors are left wondering if sales have continued their strong momentum. Given the niche market size for which LULU targets its product assortment and growing global economic concerns, one can only wonder if the company has been able to encapsulate itself from the downticks in economic activity. With London teetering in and out of recession for most of the year, did the company feel any impact in this market? Has a slowdown in Australia impacted sales in the region or its new e-commerce site? What about those pesky supply issues? Last year the company embarked on a campaign that would serve to put an end to supply issues and has seen success with this operational execution through most of 2012, but have the company's mills been able to keep pace with the rate of growth LULU is seeing. What about shipping issues? With the New York/New Jersey Port closure during Hurricane Sandy, did the company have to increase their shipping budget to include more than expected air freight? There are a lot of questions here and on the surface they may seem to be over examining the company's operations and mixing global macroeconomic issues into the analysis, but it is usually the topics we tend to dismiss out-of-hand that trip up a highly valued stock.
On the other hand, the company does have tax related and even currency related benefits it should see in the quarterly recently ended. For much of Q3 2012, the U.S. dollar was valued right around 98 cents vs. the Canadian Dollar, nearly a full penny above the company's guidance which assumed a relative value of 97 cents on the USD/CAD for the quarter. See chart below:
Click to enlarge image.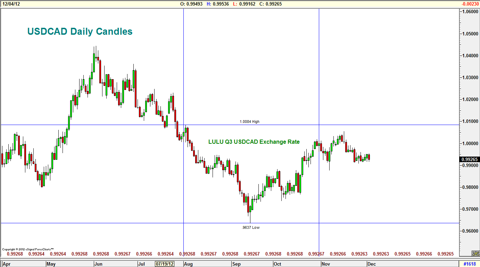 Let's also consider that the company is still growing and the stock is classified as a growth stock. A surprise announcement from the CEO about entering a new market could serve to benefit the stock price should sales not meet expectations for the quarter, which barring any unforeseeable disaster is unlikely.
In all, it is a great bear vs. bull battle being played out in lululemon athletica. It's hard to see LULU never missing a beat, and surely the bears will pounce on the stock when it does. Currently, bears have accumulated roughly 11% of the float or 14.6 million shares held short. On Dec. 6, before the opening bell, we will find out who wins this battle.
Disclosure: I have no positions in any stocks mentioned, and no plans to initiate any positions within the next 72 hours. I wrote this article myself, and it expresses my own opinions. I am not receiving compensation for it (other than from Seeking Alpha). I have no business relationship with any company whose stock is mentioned in this article.