The term "frontier markets" was coined by the International Finance Corporation, a private sector arm of the World Bank Group, in 1992 to reflect a subset of emerging market economies, mostly with lower market capitalizations and liquidity, as many so-called emerging markets began to mature. By their very nature, frontier markets are inefficient, offering skilled managers plenty of opportunities to generate higher excess returns and plenty of growth opportunities for investors.
Frontier markets, or "pre-emerging" markets, have stock markets that are less established than those in the emerging markets, a poor population willing to work their way into a middle class, and often access to a deep cache of natural resources and an appetite for export dollars.
Click to enlarge image.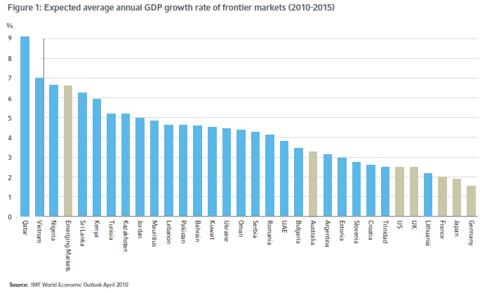 By their nature, frontier markets are inherently riskier investments than developed, developing, and emerging markets. As a result, they may also provide better returns. Thus, investments in these markets are generally pursued by investors who are seeking higher returns, and who are willing to assume higher risks associated with such markets. Among these risks are political instability, poor liquidity, inadequate regulation, substandard financial reporting, and large currency fluctuations.
Apart from risks, investing in frontier markets is a smart diversification to an equity portfolio, as these markets have comparatively less correlation to developed markets, and in good times, can likely easily beat the returns of other markets. Similar to smaller companies in the U.S., investing in frontier markets means a higher growth potential, meaning there is often a good long-term play as well.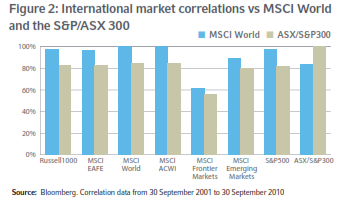 Investors, economists, and everyone else has yet to establish a concrete list of frontier markets countries, but the number is usually between 25 to 30 countries and includes Argentina, Bahrain, Bangladesh, Bulgaria, Croatia, Estonia, Jordan, Kenya, Lithuania, Mauritius, Nigeria, Oman, Qatar, Romania, Slovenia, Sri Lanka, Tunisia, and Vietnam.
Throughout these markets, many people are already making large bets. For example, HSBC Global Asset Management is a big investor in Sub-Saharan Africa, including Nigeria, which is the favorite market in Sub-Saharan Africa, rich in oil and with robust financials. Consumer brands such as Nestle Nigeria are also enjoying strong growth as result of the rising consumerism, and the country's banking system witnessed a significant restructuring in 2009 and 2010, with state acquiring most of the sector's bad debts and imprisoning CEOs of poorly run banks. Currently, Nigerian banks have a cheap and growing deposit base, high capital adequacy ratios and minimal exposure to European debt.
With the idea of Frontier Markets being relatively new, and their stock markets being even newer (along with difficult to invest in), the options for investing there are limited, at least for most investors. Additionally, for those who do find ways to invest, it is often hard to choose companies, with limited information available and diversification often hard to come by. However, there are a few ETFs that achieve all of these goals: the companies are vetted by management and through the ETF, you are diversified both by geography and industry. Two of the best Frontier Market ETFs are Guggenheim Frontier Markets ETF (NYSEARCA:FRN) and iShares MSCI Frontier 100 Index Fund (NYSEARCA:FM).
Guggenheim Frontier Markets ETF
Guggenheim Frontier Markets ETF, founded in 2008, invests at least 80% of its total assets in securities of issuers from Frontier Market countries, and it is heavily weighted toward South America, with Colombian (38.41%) and Chilean (15.78%) companies among the top holdings. Besides these nations, FRN also historically invests heavily in Egypt (10.24%, although this has decreased recently given the issues in the nation), Peru (9.24%), and Argentina (8.54%). Within these nations, the fund invests heavily in the Financial sector (34.75%), followed by Energy (15.91%) and Materials (13.38%), but also includes Utilities, Industrials, Consumer Staples, and Telecommunication Services.
iShares MSCI Frontier 100 Index Fund
Another good fund investing in such markets is iShares MSCI Frontier 100 Index Fund. FM tracks an MSCI benchmark that taps into equities from 20 frontier markets, including Argentina, Bangladesh, Croatia, Estonia, Jordan, Kazakhstan, Kenya, Kuwait, Lebanon, Mauritius, Nigeria, Oman, Pakistan, Qatar, Romania, Serbia, Sri Lanka, Ukraine, the United Arab Emirates and Vietnam, making it more geographically diversified than FRN. For those who are seeking wide geographic diversifaction and exposure to the frontier markets, FM may be a better choice than FRM. However, industry-wise, the funds are similar, with FM also being heavily concentrated in the Financial, Energy, and Telecommunications sectors.
Frontier Markets Importance
As troubled economies, aging populations, and slowing growth in the Western World limits long-term rates of return, Frontier Markets' demographic profiles provide strong backdrops for future economic growth. Investing in Frontier Markets offers a huge opportunity for players desiring high returns, but with high returns, high risk is present as well (see risks discussed earlier). However, investors can bypass some of the risks by properly diversifying their portfolio (both by industry and geography) through things such as investing in one of the ETFs discussed. Though these vehicles, you will have a great way to make sure you don't miss out on the up and coming success (fingers crossed) of Frontier Markets, while helping you remain diversified in a variety of ways.
Disclosure: I have no positions in any stocks mentioned, and no plans to initiate any positions within the next 72 hours.
Business relationship disclosure: This article was written by an analyst at Catalyst Investments.