In customary style and panache, Salesforce.com's (NYSE:CRM) founder, Marc Benioff, evangelised the virtues of the new alliance with Facebook. "A paradigm shift in the way consumers and commerce will interact in the future." 
'Paradigm shifts' have one nasty drawback: the shifter usually ends in the garbage heap. CRM has surprisingly managed to keep its share price above 30 in this equity meltdown, the only rationale being its cashflow (the pe of 100 simply could not have survived this carnage). But that cashflow does not account for all the shares they issue to staff (it actually adds to cash) to retain them, in lieu of normal salary.  Well, now most of the recent options are under water (price down about 40% ytd and falling) we'll see how secure their people are, and how much more old-fashioned salaries they have to pay and that will filter, in the old-fashioned way, through the income statement.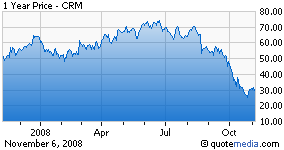 Force.com is wonderful for young trendy software people who cant get into the mainstream, who cant pay all those licensing fees for software that is vicariously at hand via the Force platform, but how many applications will be commercialized? Its laughable, they tout their new alliance with facebook and its 127m users - tell me dear bend-my-ear-off, how do you propose to convert facebook into commercial dollars, have you any idea what facebook people do and do you think they are willing to pay for it!!! Sure, I'm going to click on an ad banner on saddles when I use the word "horse" on a message to a facebook friend. After all, I was talking about horsing around! 
CRM shareprice will be below 15 by year end. I'm banking on it!
Disclosure: Short CRM