The economy sucks? Then get your mind off it, and do fun things. Even better, invest, when its price is right, in a stock that helps fun things to happen, and make your investments more profitable and more fun. Here is a primo candidate:
Brunswick Corporation (NYSE:BC) designs, manufactures, and markets recreation products worldwide. Its recognized brands are Mercury Marine Engines, boats and related equipment, Brunswick bowling products, consumer billiard tables, air hockey table games, foosball tables, and other gaming tables, and fitness equipment under the Life Fitness and Hammer Strength brands.
Brunswick has been in business since 1845, survived and even thrived, through at least 8 officially recognized US recessions and perhaps as many financial panics. It is, by present day standards, a smallish to modest sized ($2½ billion market cap) company, in the recreational segment of the consumer goods sector, employing over 10,000 people.
Vertical Integration
Brunswick has pursued its equipment manufacturing vertically into activities using their products, most notably by operating 99 bowling centers in the United States, Canada and Europe. The company's Boat segment manufactures and markets Lund and Boston Whaler fiberglass sportfishing and pleasure boats, Bayliner and Crestliner luxury convertibles and motoryachts, offshore and aluminum fishing boats, pontoon and deck boats, sea ray yachts, sport yachts, sport cruisers and runabouts.
Its Marine Engine segment offers sterndrive propulsion systems, and inboard and outboard engines under the Mercury, Mercury MerCruiser, Mariner, Mercury Racing, Mercury SportJet and Mercury Jet Drive, MotorGuide, Axius, and Zeus brand names; and marine parts and accessories, including marine electronics and control integration systems, steering systems, instruments, controls, propellers, trolling motors, service parts and marine lubricants under the Quicksilver, Mercury Precision Parts, Mercury Propellers, Attwood, Land N Sea, Kellogg Marine Supply, Diversified Marine Products, Sea Choice, and MotorGuide brand names.
This segment serves independent boat builders and end-users, as well as local, state, and foreign governments through a network of marine dealers and distributors, specialty marine retailers, and marine service centers.
BC's Fitness segment provides cardiovascular fitness equipment, such as treadmills, total body cross-trainers, stair climbers, and stationary exercise bicycles; and strength-training equipment. This segment serves health clubs, fitness facilities operated by professional sports teams, the military, governmental agencies, corporations, hotels, schools, and universities.
Organizing the investment opportunity evaluation
The above covers most of the "What" segment of the standard Venn Diagram of investment considerations. For anyone not familiar, such a diagram pictures the interdependence of involvements between parts of a complex structure - like an investment, for example.
In our situation (stock investing) there are major conditions of "What", "Why", and "When". (A) What am I investing in here?; (B) Why would I choose this specific investment?; and(C) When is a good time to make (and keep) a commitment of capital in this investment?.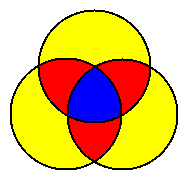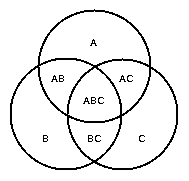 Seeking Alpha editors properly are always quite concerned with topics A and B, while I find much more pecuniary satisfaction emanating from C. But A, B, and C are all worth the investor's attention.
Identifying similar alternative investments
Looking at the question of "Why this investment instead of others?" - the following may be significant:
Investment diversification into the consumer sector, as opposed to the technology, medical care, energy, financial, manufacturing or other sectors is an important risk balancing action. In times of economic stress the relief of recreational activities becomes even more essential to healthy progress of the public, both physically and mentally, making it a more stable business and hopefully a more stable economy.
The leisure and recreation industry has many facets where Brunswick has no competitive presence, i.e. travel and lodging, gaming and gambling, toys, electronic amusements, and audience events - movies, sports, music.
A search of public investments in directly comparable-products or services competitors produces very few, other than one much smaller manufacturer of electronic slot-machine and pinball machines.
Brunswick competes in that part of the recreation world involving active participation, including various sports and pastimes. Relatively few companies compete for the attention of BC's customers. But there are a few: Polaris Industries (NYSE:PII) with recreational vehicles, Harley Davidson (NYSE:HOG) the same, Pool Corp. (NASDAQ:POOL) with swimming pool equipment, and the amusement park industry including Cedar Fair (NYSE:FUN) and Six Flags (NYSE:SIX). There, Walt Disney (NYSE:DIS) is also present, but with a fractional contribution to its overall, compared to movies and its other activities.
The interesting thing about all of these potential competitors is that there are few head-on contenders. Each one has its own specialty in which it is top-dog, and few of those activities vie with others for participants' time and attention. I have seen more than one sailboat named "No More Golf." But Dicks Sporting Goods (NYSE:DKS) and Nike (NYSE:NKE) might be considered as a BC alternative.
Perhaps amusement parks are an exception to this competitor condition, being a family-oriented attraction, like bowling. But in the sporting equipment area, most important to BC, Polaris and HOG products are restricted to dry-land. The principal watersport equipment maker competitors (jet-skis and related) are Kawasaki and Yamaha, whose main on-land products dwarf their marine lines. Sea-doo is a much smaller firm, not available for public investment.
The pleasure-boat-building industry is highly fractionated, and is being well-served by BC through its components and supplies activities.
BC's specific strengths
There are competitors in most of BC's lines, but only the ones noted above provide any reasonable investment alternatives. So answers to "Why this specific investment?" comes back mainly to financial comparisons and management considerations.
BC's attractive return on equity of 51% (ttm) comes from a small invested capital base ($2.3 billion market capitalization) owning a large, low-debt, productive asset base on which a modest return is earned from the current $3.7 billion revenue stream. Earnings are in a recovery phase following 2009 contraction due to public consumer shock over their own spending-saving imbalances. Cash of $400+ million is 2/3 of its $600 million long-term debt, which is steadily being reduced. Current financial ratios are now improving as economic circumstances recover.
Management's comments on recent quarter operations reinforce the notion that the business' sensitivity to general economic cycles, and public reactions to them, are conditions that have been experienced time and again in BC's over 150-year history. Detailed discussions of such minutia of the moment are more likely to obscure the company's important resources than to provide useful insights into reports or other influences on future investment valuations of BC stock.
Instead, the company's demonstrated geographical diversity, inventory disciplines, costs management, marketing initiatives, divestiture of losing lines, and constructive personnel policies are all evidences of a continuing ability to deal with repeated circumstances at detailed levels that are not new tests of Brunswick management skills.
Why buy this stock, rather than some 3-year old high-tech, communications-based, consumer-fad operation, with juvenile management experience? The potential for ultimate risk of loss of investment capital must be part of that decision process.
Yes, but is this a good time to invest in BC?
The single most important factor in that deliberation has to do with the stock's present price, and its probable future prices, within a defined time-commitment horizon.
A reasonable set of tests considering - 1) the odds for profit success from those price anticipations, 2) the size of likely payoffs when successful and the loss exposures when not, and 3) the emotional stress of potential capital loss from interim market price drawdown - all pits one against another, in combination, at this point in time and price.
The first task in meeting these tests is to find some qualified and credible set of future price expectations within a practical time horizon. The second task is to determine how well that source has had its similar prior forecasts match up with actual events. The third task is to present a comparison of those results with other acceptable or relevant investment alternatives as fairly and completely as practical.
Why look to behavioral analysis?
Our choice of the most qualified price forecast source stems, as usual, from our orientation to that segment of behavioral analysis that focuses on things that humans do logically and skillfully, rather than on errors of perception or other psychological miscarriages.
We are particularly interested in that part of the market-making community that is active in the day-by-day price-setting transactions on established securities exchanges. They are professionals, highly-motivated (by exceptional compensation), typically long in experience, continuously and immediately supported by the most up-to-date human and electronic worldwide information-gathering systems, developed over decades-long periods, and backstopped by research and analysis teams constantly updating data comparisons between securities of competitor organizations.
The market-makers' sense of what prices may lie ahead in time is refined by the repeated need to commit their firm's capital temporarily to at-risk positions in the stub-ends of large transaction orders that cannot be absorbed by other investors at current market prices, within the time constraints posed by the initiator of the trade order.
Making those capital commitments typically requires the acquisition of protective price insurance to prevent possible loss to the firm's exposed at-risk capital. The cost of such insurance, and the way it is structured, provides the means of determining just how far (in both directions) the parties to the insurance transaction believe it is likely for the price of the subject investment to go, within defined time limits.
While the market-making risks may have extremely short time exposures, the causes of potential loss may occur at any time (including immediately) over more prolonged periods. So the costs of price insurance reflect exposure potentials into a future limited only by the term defined by the insurance contracts. That term usually is limited to just the next few months.
A standardized price insurance analysis model, applicable to any equity investment situation, produces a range of possible future prices with limits equally likely to occur during the period being protected. This provides a means of directly comparing the separate risk and return dimensions of investments in widely varying competitive circumstances. This is a method which is not likely to be able to be gamed, due to the acute buyer-seller confrontation of the insurance's creation and employment.
This proprietary model has been in existence for a number of years, and has a history of daily price range forecasts made live through time, since the year 2000, on over 2,000 stocks, ETFs, and equity market indexes. Actuarial tables of the comparison of some 7+ million such forecasts, followed by actual subsequent market prices, provide a gauge of how well each subject has been appraised.
The history of market-maker forecasts for BC is revealing in its comparison to the present evaluation. Below is a picture of how the upside vs. downside price prospects for BC have been foreseen over the past 5+ years.
In order to simplify the presentation of the balance between upside and downside price change prospects, we employ a measure we call the Range Index. It is simply that percentage of the forecast range that lies between the current market quote and the bottom end of the range. For example, a range index of 50 indicates a price at midpoint, and one of 25 happens when there is 3 times as much upside as downside.
Market-makers' history in assessing BC future prices
Here is the frequency distribution of BC Range Indexes, daily since the market's last high some 5+ years ago in September, 2007, with an indication of its present measure.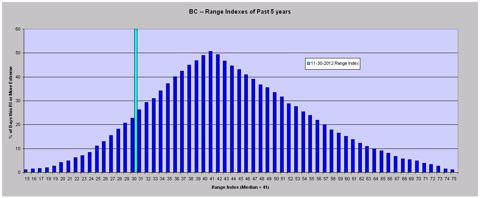 This is an actual count of those Range Indexes, not some statistical function construction. Their frequency of appearances is arranged cumulatively from their median value out toward the upper and lower extremes, to provide an easy sense of what is implied by a "no worse than current" RI value.
Range Indexes on the left have large upside potential, and those on the right have proportionally large downside exposures.
The Friday, November 30th BC price range forecast, implied from market-maker hedging actions, runs from $24.39 to $28.86, surrounding a market-close quote of $25.77. Price moves to those extremes offer an upside potential of +12.0% and a downside exposure of -5.4%. The upside-to-downside balance is a Range Index of 30, calculated by: [(25.77-24.39)/(28.86-24.39)=.308]. It is indicated in the distribution by the light-blue separating bar between the RI bars of 30 and 31. Historically, about one quarter of the days of the past 5+ years have offered such a proposition, so it is not a rare event.
So, how well have the forecasts for BC worked?
Is this a worthwhile, opportune time to commit capital? We now proceed on to the second task to see how well similar prior forecasts have matched up with actual events.
The price insurance from which these forecasts have been derived typically has been bounded in its term in the area of 3 to 6 months. To get a sense of the ODDS for investment success, we look to see what proportion of the market days of the next 3 months have positive or negative price changes. Here are those odds, at each level of Range Index. The upside events are in green, the downside ones in red, with their proportion of the time shown by the right-hand scale.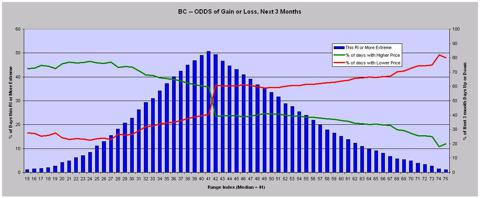 The market-makers apparently have a good sense of what price changes lie in store for BC stock, since this history goes back through the financial crisis and market collapse of 2007-2009. Low range indexes are accompanied by odds often better than 7 out of 10 for higher prices, and high range indexes provoke lower prices in similar extent.
Are these changes big enough or favorable enough to provide investment attraction? This picture provides the PAYOFF average sizes, at each RI level, for both the up days and the down days.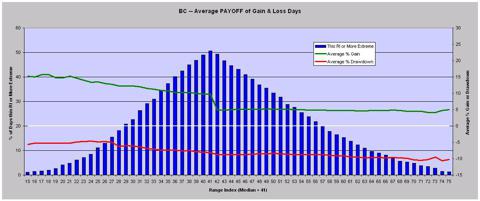 The right-hand scale shows low RI up-days changes ranging between +15% to +10%, while those of RI down days typically have been in the -5% to -7% range. High RI days show gains of +5% to +8%, while losses expand to as much as -10%.
Putting it all together, we create a net, odds-weighted, picture of what a continuous every-day investment process would create, at each forecast level. This is what that looks like: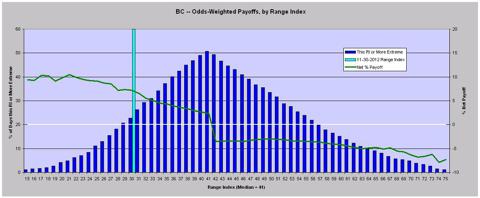 The pattern suggests that market-makers for BC have very few surprises. It is a well-maintained market, which, given the nature of the business, is what might logically be expected.
At the current forecast level, a typical average net gain of +7% to +8% is a reasonable prospect. While that at first blush sounds mundane for an investment return, please remember that these are quarter-year returns, so annuals would be in the +30% to +35% area.
Also note that this historical analysis has nothing to contribute to the forecasting process, it is merely a quality-control type of after-the-fact examination. The forecasts are all ex-ante propositions, made live, in advance of any knowledge of what was actually to come, and have not been updated in any way.
We further seek to measure what a reasonable disciplined investment process might add to the "blind" type of measurement just described. As a standard procedure to provide realistic investment results, we propose using the upper limit of the forecast range as a sell target for any commitment on the following market day. For the next two months, each day-end market price is compared, and the first time it equals or exceeds the target, the position is liquidated and the incremented capital is freed for reinvestment. If the target is not reached, at the end of that patience limit the position is liquidated, regardless of the consequence.
This process forces a time discipline onto the selection procedure making parsimonious the commitment of this most valuable resource. It allows the reasonable capture of chance occurrences of favorable price vagaries, but treats each investment equally.
The "time-test," as it has become known among us, creates another preference-making means between investment alternatives when applied to all instances of a stock's prior Range Indexes that were at least as attractive as the present. That test for BC now has identified, since the September '07 market peak, 215 prior-day forecasts at least as attractive to a long-position investor as Friday's.
Of the 215, 81% either reached their sell targets, or were at prices higher than the market closing "investment cost" price the day after the forecast. Their average gain, including the 41 losers, was +10.4%, achieved in average holding periods of 35 market days. That is an annual rate of +105%. During those holding periods the positions experienced maximum drawdowns averaging -9%.
The question that we are addressing with all this analysis is: "Is this an opportune time to make a capital investment in BC? Well, a +100% a year opportunity looks good, but could it get better? By pursuing the same lines of examination at more favorable levels of Range Index we can see what those opportunities might be.
A quick visual scan of the Odds picture above shows that the current RI of 30 provides nearly as good a proportion of profitable days as can be had at the best of a lower RI (74% now vs. 77% as RI=24). The Payoffs picture doesn't do much better (average gain days of +12.2% vs.+15.3% at a RI of 21). Another ½% might be had at a Range Index of 18, but that level of RI has only happened 2% of the time, compared to Friday's-level, happening 22% of the time. So a stretch to the better RI might only happen 1/10th as often.
The combined Odds and Payoffs history only goes up from +7.2% to +9.2% at a 24 RI, and that only happens about 1/3rd as often as what we have in hand now. And besides, the time test results at the 24 RI level only put the annual rate of return up from a +105% level to +139%.
Nothing wrong with making an additional (but separate) BC commitment if a 24 RI is presented, but it makes little sense to be so greedy as to defer acting now in the hopes of getting a little better chance later.
There is no guarantee that BC's price performance will duplicate or exceed these prior experiences. But the evidence of so many achievements, over a fairly long period of mixed circumstances, under consistent disciplined procedures, ought to be more encouraging than a vaguely reasoned hope, offered by a casual observer from a distance.
Our answer to Question C is "Yes, make the buy now, and cash it out when the stock gets to $28.86 (up +12%), or by the end of January, if it has not gotten there by that time.
Comparison: BC vs. alternatives
Now that we have a measure of potential performance, it is time to revisit the question of "Why this particular investment choice?"
If you want a consumer stock that is oriented to active recreational pursuits, the alternatives now are Harley-Davidson (HOG), Polaris Industries, Pool Corp, Cedar Fair, Six Flag , Nike or Dicks Sporting Goods. And the issue is that the decision needs to be made on the basis of what is available now.
Using the same metrics detailed above for BC, here are comparisons of today data for the above stocks.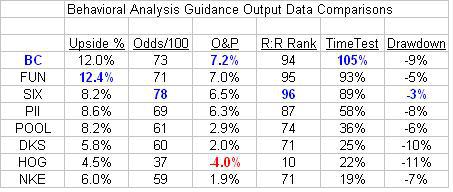 The upside % column is the implied forecast as of Friday, November 30, 2012. Odds/100 and O&P are historical results following prior forecasts like the current day. O&P is the odds-weighted net combination of Odds and Payoffs of those forecasts. R-R Rank is a percentile ranking among our analysis population of over 2,000 stocks, ETFs, and market indexes, based on the tradeoff of risk and reward experiences from their prior forecasts. Higher numbers are better in this ranking on a scale of 100 to zero.
The Time Test column shows the annual rate of return from buy choices from all prior forecasts like today's, subjected to that standardized discipline. Drawdowns are the average maximum negative price change from initial day cost for all relevant forecasts.
Data highlighted in bold blue are the most favorable in each column; in red are negatives.
Rows are ranked by the Time Test annual rates of return.
Our intended investment purposes (demonstrated modest-risk, high probability capital gains) lead us clearly to a preference for BC. Others might find more appeal in some of the alternatives, due to their combined preferences from the guidance data.
Synopsis:
We have chosen BC as a reasonable illustration of the advantage of having highly comparable evaluative data in making portfolio-choice investment decisions. Other equity investments at this moment in time offer higher demonstrated past annual rates of return performance, but involve different diversification dimensions.
Investors should be aware that there are portfolio performance improvement prospects being offered every day that have good odds-discounted likelihood of major satisfaction in accreting capital worth through time.
Those opportunities require the ability to be regularly aware of their presence, the willingness to act upon them, and the means to productively choose between them.
Here's to more satisfying investment results!
Disclosure: I have no positions in any stocks mentioned, and no plans to initiate any positions within the next 72 hours. I wrote this article myself, and it expresses my own opinions. I am not receiving compensation for it (other than from Seeking Alpha). I have no business relationship with any company whose stock is mentioned in this article.