Investment Strategy
The stock's attractive valuation combined with recent insider activity make me bullish on Annaly Capital Management (NYSE:NLY). The management's attempt to tilt its MBS portfolio away from Agency RMBS is a positive step in the prevailing situation. Therefore, I recommend investors to buy Annaly Capital Management and benefit from a combination of 13.66% dividend yield and 5% capital appreciation.
Annaly Capital has a higher prepayment risk compared to American Capital Agency (NASDAQ:AGNC). At the end of the third quarter, Annaly had a conditional prepayment rate (CPR) of 20% compared to 9% CPR for American Capital. View another detailed report on American Capital Agency.
Company Description
Annaly stands to be the largest mortgage REIT that largely invest in Agency mortgage backed securities. The company is allowed to invest no more than 25% of its total assets in securities other than high-quality Agency MBS. This gives the company the leverage to shift its portfolio from Agency only to a more diversified mix in challenging times. At the end of the third quarter, most of the company's holdings were backed by single-family residential loans. The capital investment policy of the company allows it to invest in securities backed by multi-family or commercial loans.
Recent Quarter's Results
The results for the third quarter of the current year for Annaly Capital were not as expected by the Street. Earnings per share of $0.45 remained 3.9% behind its consensus mean estimate of $0.47. However, revenues of $3.1 billion exceeded analysts' expectations of $2.5 billion. The results for the most recent quarter were hit hard by the decline in Annaly Capital's net interest margin, which plunged to half what the company earned a year ago. As most of the company's asset portfolio is composed of fixed rate Agency residential mortgage backed securities, QE3 had a major role to play in the decline in the net interest margin.
Past Trends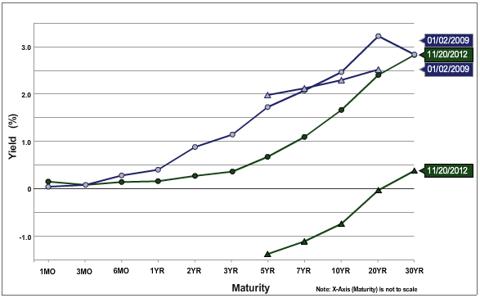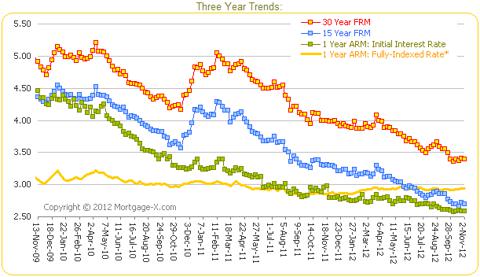 Source: Mortgage-x
The graphs above show past trends in net interest margin for Annaly Capital, its earnings per share over the same time and a comparison of treasury yield curves and mortgage rates from year 2009 to 2012.
Throughout the time period considered, the short-term rates remained largely unchanged. In December 2009, 30-year mortgage rates were at their peak (just above 5%), which is why with the net interest margin of 2.56%, the company posted a bottom line of $2.73 per share. As the 30-year mortgage rates continued to decline below 3.5%, so did the earnings per share of Annaly Capital. The company is expected to post earnings per share of $1.58 for the year 2012.
Diversification Strategy
The management at Annaly took an intelligent decision to diversify its assets portfolio by including commercial mortgage backed securities though its proposed acquisition of CreXus Investment (NYSE:CXS).
A closer look at the market capitalization and the size of their asset portfolios reveal that CreXus Investments is only 6.7% of the size of Annaly Capital. Using the quarterly SEC filings of both the companies, I find out that the size of CreXus Investment's assets portfolio is less than 5% of Annaly Capital's assets portfolio. Where CreXus earned $66.5 million during the third quarter of the current year, Annaly Capital earned $224.8 million. Annaly Capital earned a net interest spread of 1.02%, while CreXus was able to capture a spread of 10.37% during the third quarter of the current year.
Even though the difference in the net interest spreads for both the companies is significant, the market cap of CreXus compared to Annaly Capital is insignificant. Where Annaly Capital's step towards diversification is the need of the time, we believe CreXus proposed acquisition will have little effect in expanding the company's net interest spread and the bottom line.
Insider Trading
Recent month's insider trading by the company's President Kevin Keyes makes me more bullish on the stock. The President purchased 100,000 stocks of Annaly at $13.9 per share. This means management expects the company to perform well after the proposed change in strategy is implemented.
Are the Elevated Shareholder Distributions in Danger?
The stock offers a dividend yield of 13.66% well supported by an operating cash flow yield ((NYSE:TTM)) of 39%. Generally the dividends are not predictable as they are tied to a mortgage REIT's income. A closer look at the company's latest SEC filings reveals that a 25 basis points decline in the interest rates will lead to a 3.58% increase in the company's projected economic net interest rate income. Therefore, incase interest rates decrease further, Annaly Capital's dividends are not in danger.
Attractive Relative Valuation
Amongst the Agency mortgage REITs, Annaly has attractive valuations. Annaly Capital is trading at 12% discount to its third quarter book value compared to only a 3% discount for American Capital Agency.
Analysts have a mean price target of $15.39 for Annaly Capital's stock. The stock is currently trading at $14.64. This is an upside of 5.1%.
Disclosure: I have no positions in any stocks mentioned, and no plans to initiate any positions within the next 72 hours. I wrote this article myself, and it expresses my own opinions. I am not receiving compensation for it (other than from Seeking Alpha). I have no business relationship with any company whose stock is mentioned in this article.