The holiday retail shopping season is officially under way, so it is logical that investors are focused in on retail shares and exchange traded funds. Apparel retailers have had a strong 2012 for sales, although discounts are a part of the driving force of sales.
"Apparel inflation has also contributed to top-line growth. Higher cotton prices and rising manufacturing costs drove retail prices up last fall (2011) and this spring. Fortunately, many apparel retailers found that their customers, while demanding value, were willing to stretch their budgets when the product was right. However, as price increases only partially offset higher apparel costs, most retailers felt a pinch on their merchandise margins," S&P Capital wrote in recent note.
Cotton prices have deflated this year, allowing retailers to lower apparel costs, while offering a higher quality product. Overall, lower clothing prices are expected to propel the retail apparel sector through Spring of 2013. Exchange traded funds that focus on the retail apparel sector are an effective way to capture the uptick in sales from varied brands. Limited Brands (LTD), TJX Companies (NYSE:TJX) which includes HomeGood Stores, Marshall's and TJ Maxx have been able to differentiate themselves from the rest.
The PowerShares Dynamic Retail Portfolio (NYSEARCA:PMR) has been rated "Marketweight" by S&P Capital, which tracks an index of U.S. listed retail companies. There is a large exposure to small-cap stocks in this index and about 45% of it are entirely retail apparel companies. However, during market uncertainty, the allocation to this asset class can increase risk.
Another retail ETF to focus on is the Market Vectors Retail ETF (NYSEARCA:RTH) which is rated "Overweight". Only 8.5% f the index is dedicated to retail apparel, with TJ Maxx making up 4.5%. RTH is a large-cap focused pay and has outperformed PMR this year. PMR does have the potential to rally and perform ahead of other retail ETF, should the sector gain traction next year, reports Benzinga on MinyanVille.
As of last week, PMR was down 0.9%, and RTH lost 2%, as Black Friday sales were not enough to bring retail ETFs and companies out of the red.
"We were not able to overcome the weak start to the month," Chief Executive Terry J. Lundgren said in a statement, adding that Macy's remained "on track to deliver a very strong sales performance in the fourth quarter."
PowerShares Dynamic Retail Portfolio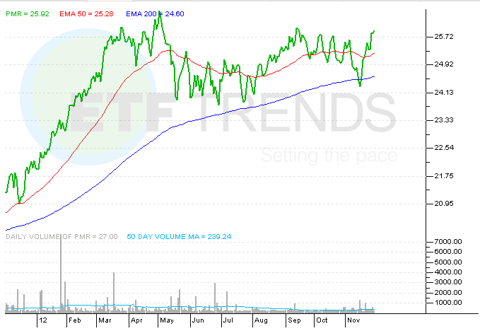 Tisha Guerrero contributed to this article.
Disclosure: I have no positions in any stocks mentioned, and no plans to initiate any positions within the next 72 hours. I wrote this article myself, and it expresses my own opinions. I am not receiving compensation for it. I have no business relationship with any company whose stock is mentioned in this article.