VIX - Market Sentiment:
Tuesday saw S&P futures moving higher in the pre-market again, trying to push up and through resistance for the third day in a row. Futures were moving in a fairly tight 7 handle range before the market opened. When the opening bell did ring, the uptick was met with heavy selling just after 10:30, sending the markets down to the 1403 level before bouncing back near the opening print of 1409. The market continued to see weakness in stocks such as Apple (NASDAQ:AAPL), BIADU (NASDAQ:BIDU) and casino stocks Las Vegas Sands (NYSE:LVS) and Wynn Resorts (NASDAQ:WYNN). However, positive price action was seen in Netflix (NASDAQ:NFLX), First Solar (NASDAQ:FSLR), Hewlett Packard (NYSE:HPQ), and Chipotle (NYSE:CMG). This helped to push the market back towards mostly flat for the day. This price action will more than likely continue to burn off the NYMO oscillator, which continues to drop after the snap back week last week. The NYMO closed with a reading of 32.87 Monday, and should pull back further after today's flat to down close.
The clear tell of the day was the spot CBOE Volatility Index (VIX), as it began to rise rapidly just after 10:00 as SPX puts began to catch a bid. The oscillator moved from a low of 16.38 to a high of 17.37 before settling back down near 17.14 to end the day. Volatility ETF (NYSEARCA:VXX), 2x ETF (NASDAQ:TVIX), and alternative 2x ETF (NYSEARCA:UVXY) saw gains as front month VIX futures caught a bid for the second day in a row. The move was somewhat muted, as large sellers of the December 20, 21, 24, and 25 strike calls came in once again. This is reflected by the negative net premium on the VIX, with calls overall sold to the tune of 233K. It is important to note the puts were sold almost 3x as much on the bid, as those who believed volatility would continue to drop pare back these positions.
(click images to enlarge)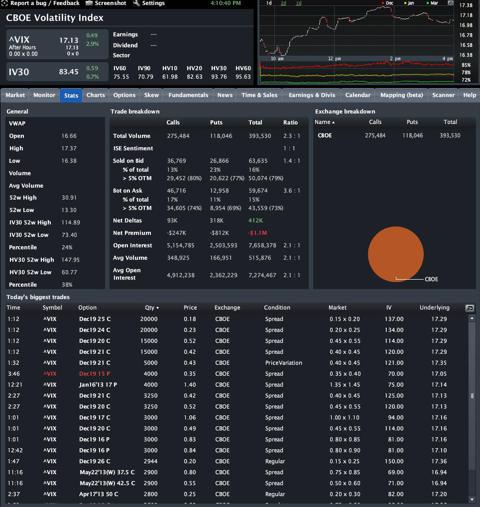 Statistics and Screenshot Provided By LiveVol
VIX futures are below.
Yesterday
· December VIX futures 16.08
· January VIX futures 17.45
· February VIX futures 18.63
Today
· December VIX futures 16.53
· January VIX futures 17.83
· February VIX futures 18.88
Options Paper:
Volume today was near average trading almost 14.5M contracts. Large block trades dominated the majority of the trading today. Large 10K put and call blocks on the Financial ETF (NYSEARCA:XLF), Small Cap ETF (NYSEARCA:IWM) and S&P ETF (NYSEARCA:SPY) showed bears and bulls battling it out yet again with no clear direction. Names such as Bank of America (NYSE:BAC), Yahoo (NASDAQ:YHOO), Facebook (NASDAQ:FB), and metals such as Silver ETF (NYSEARCA:SLV) and Gold were all active today. For those who follow me and my trades on twitter I did cover my AAPL short I mentioned in Friday's sonar report (here). My number was 571 and AAPL did trade down to 572.13 but unfortunately I lowered my stop just a little too far and missed out on another 40% upside on my puts. I currently sit very cash heavy waiting for the next opportunity.
The Gap (NYSE:GPS) saw a big sell off today trading down more than 10.3%. The move was exacerbated when a large 3,333 block of puts were bought for .67 at 11:01. At the time of the trade GPS was trading just over 33.00 but saw a large volume spike and volatility spike as people began to run for protection. Implied volatility screamed to the upside moving higher by more than 35% as puts continued to be bought throughout the day. Put premiums were bought net bought on the day to the tune of 553K as investors obviously shot first and asked questions later. GPS traded an amazing 83.5K contracts today which is almost 12x average daily volume. The other interesting part is the call activity wasn't as bearish as one would think on a day such as today. Of the 33.4K calls which traded more than 16.5K were bought on the ask. Although it should be mentioned the majority of these were bullish call rolls as people gave up on December options and rolled to January. I have no position in GPS but could get into a few calls playing for a rebound.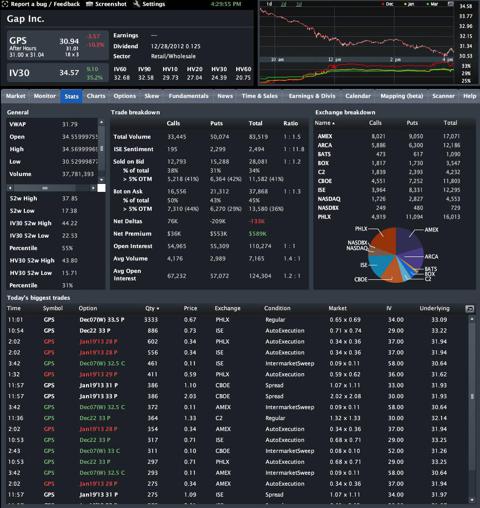 Statistics and Screenshot Provided By LiveVol
Popular ETFs and equity names with bullish/bearish paper:
Bullish Option Flows - ISE and % OTM calls bought on offer
Melco Crown (NASDAQ:MPEL) 24.5K OTM calls bought out of 31K traded
Monster World Wide (NYSE:MWW) 77% of the 3K calls bought on offer
Mechel (NYSE:MTL) 75%
Avon Products (NYSE:AVP) 74% -- I just can't get behind this name
NYSE Euronext (NYSE:NYX) 65% -- Second day of OTM call buying
Zynga (NASDAQ:ZNGA) 4K OTM calls bought
Symantec (NASDAQ:SYMC) 3K OTM calls bought
Apollo Group (NASDAQ:APOL) 60%
EMC Corp (EMC) 3.2K
Advanced Micro Devices (NYSE:AMD) 51% as large call rolls appeared to dominate
Bearish Option Flows - ISE and % OTM puts bought on offer
Dean Foods (NYSE:DF) 95% of 8K OTM puts
Frontier (NYSE:FTR) 9.7K of the 12.7K OTM puts bought on offer
KLA-Tencor (NASDAQ:KLAC) 3.6K
Qihoo 360 (NYSE:QIHU) 6.7K
Comcast (NASDAQ:CMCSA) 4.7K
Nexen (NXY) 17.7K of the 34.3K OTM puts bought appeared to be bearish put rolls
Goodyear Tire (NYSE:GT) 52%
Pitney Bowes (NYSE:PBI) 4.8K OTM puts bought -- Long-hated stock of mine where I short on any pop.
Disclosure: I am long AGNC, APC, KERX, MNST, MTGE, WLL, and I am short FXE, LYV, RIMM, SPY.
I am long straddles: ABC (Could look to close, as this is up 33% in two days)
Trades today: Closed AAPL short
I wrote this article myself, and it expresses my own opinions. I am not receiving compensation for it (other than from Seeking Alpha). I have no business relationship with any company whose stock is mentioned in this article.
Disclaimer: The opinions in this document are for informational and educational purposes only and should not be construed as a recommendation to buy or sell the stocks mentioned or to solicit transactions or clients. Past performance of the companies discussed may not continue and the companies may not achieve the earnings growth as predicted. The information in this document is believed to be accurate, but under no circumstances should a person act upon the information contained within. I do not recommend that anyone act upon any investment information without first consulting an investment professional as to the suitability of such investments for his or her specific situation.