MEI Pharma (NASDAQ:MEIP) focuses on the clinical development of therapeutics for the treatment of cancer. It develops various lead drug candidates, including ME-143 that has completed Phase I clinical trials in patients with refractory solid tumors; ME-344, an active metabolite of NV-128, which is in Phase I clinical trials in patients with solid refractory tumors; and Pracinostat, an orally histone deacetylase inhibitor that has completed various Phase I clinical trials in patients with hematologic disorders.
There are upcoming catalysts that could spark attention from the investing community. Today, I will go through these along with additional due diligence I have uncovered after studying MEI Pharma.
Going back to August, MEI acquired the Pracinostat asset from a Singapore based company named S*BIO Pte Ltd. Pursuant to the terms of the agreement, MEI Pharma issued $500,000 of common stock to S*BIO. The agreement also includes potential success-based clinical, regulatory, and sales milestone payments of up to $75.2 million, as well as low single-digit contingent earn-out payments based on net sales.
On Nov. 6, 2012, the company announced it will be presenting data on Pracinostat, in combination with Azacitidine in patients with advanced myelodysplastic syndrome at a poster presentation at the American Society of Hematology Annual Meeting on Dec. 10, 2012.
An abstract of the presentation titled, "Very high rates of clinical and cytogenetic response with the combination of the histone deacetylase inhibitor Pracinostat (SB939) and 5-azacitidine in high-risk myelodysplastic syndrome," submitted by Dr. Quintas-Cardama and Dr. Garcia-Manero of the MD Anderson Cancer Center, is available online at Hematology.org.
Regarding this combination of drugs, Daniel P. Gold, Ph.D., president and CEO of MEI Pharma remarked:
We are very encouraged not only by the response rates reported to date, but also by the rapid appearance of the responses with the combination of Pracinostat and Azacitidine. These data are particularly compelling given that most patients in the study had treatment-related MDS and expressed high-risk cytogenetic abnormalities, both of which carry a poor prognosis. With these data in hand, combined with the capital raise we announced yesterday [Nov. 5, 2012], we expect to be in a position to rapidly advance to the next stage of development and initiate a randomized Phase II trial of Pracinostat in combination with Azacitidine in patients with MDS by the second quarter of next year.
As the CEO notes, a big reason for his encouragement surrounding the drug combination is that most patients in the study had treatment-related MDS. MDS are a group of diseases that cause immature blood cells to accumulate in a person`s bone marrow that results in a shortage of mature red blood cells, white blood cells, and platelets. The mature blood cells that are made may also be defective.
MDS is not cancer, but about 30% of the time the syndromes are a precursor to leukemias such as acute myeloid leukemia and chrome myelomonocytic leukemia. MDS predominately strikes older adults. More than 80% of patients are over 60 years old. MDS is believed to affect between 10,000 and 30,000 people in the United States each year.
GlobalData estimates that the MDS market was valued at $652.6m in 2010 and forecasts it to grow at a compound annual growth rate (CAGR) of 12.2% to reach $1.5 billion by 2017. The existing market is strong, although GlobalData found there is still a high unmet need. The market is represented by three FDA-approved drugs Vidaza (azacitidine) and Revlimid (lenalidomide) manufactured by Celgene (NASDAQ:CELG) and Dacogen (decitabine) manufactured by Eisai.
GlobalData reported on current and future competition in the key portions of the MDS therapeutics market. The market players identified are Amgen Inc (NASDAQ:AMGN), Arno Therapeutics (OTCQB:ARNI), Array Biopharma (NASDAQ:ARRY), Cyclacel Pharmaceuticals Inc (NASDAQ:CYCC), Medac GmbH, Novartis AG (NYSE:NVS), Onconova Therapeutics, Sanofi-Aventis (NYSE:SNY), Synta Pharmaceuticals (SNTA), S*BIO Pte, and Telik Inc. (OTCQB:TELK). GlobalData found that the myelodysplastic syndrome market has high unmet needs, which implies that the market is not well served by the current products in terms of efficacy and safety, and there is high potential for new entrants.
In the remarks above, the CEO also touched on MEI Pharma raising capital recently, which will allow the company some breathing room as they move through various trials. On Nov. 4, MEI Pharma announced that the company had obtained commitments to purchase $27.5 million of its common stock and warrants in a private placement. The financing was led by new investors Vivo Ventures and New Leaf Venture Partners with participation from additional institutional investors, including RA Capital Management and Three Arch Opportunity Fund, among others.
Albert Cha, managing partner at Vivo, commented: "We believe that Pracinostat has the potential to become a best-in-class compound and that MEI Pharma's management team is equipped with the drug development expertise to secure marketing approval and realize its significant market potential."
In addition to the Dec. 10 catalyst, the company also recently announced that its lead mitochondrial inhibitor drug candidate, ME-344, has been named one of the Top 10 most licensable oncology products to watch for in 2012 by Elsevier Business Intelligence and Campbell Alliance.
ME-344 is MEI Pharma`s lead mitochondrial inhibitor and an active metabolite of NV-128, its first-generation compound. In April 2011, Ayesha Alvero, M.D., Department of Obstetrics, Gynecology and Reproductive Sciences at Yale University School of Medicine, presented data at the American Association for Cancer Research Annual Meeting. This data was from a pre-clinical study of NV-128 demonstrating its ability to induce mitochondrial instability, ultimately leading to cell death in otherwise chemotherapy-resistant ovarian cancer stem cells. In additional pre-clinical studies, ME-344 demonstrated superior anti-tumor activity against a broad range of human cancer cell lines compared to NV-128.
I believe the biggest of these catalysts is data presented at the American Society of Hematology Annual Meeting. This is sure to get MEI some coverage. If positive data is unveiled, this could rally the stock significantly higher than its current price level. Therefore, I bought some shares of it as a catalyst trade.
Click to enlarge image.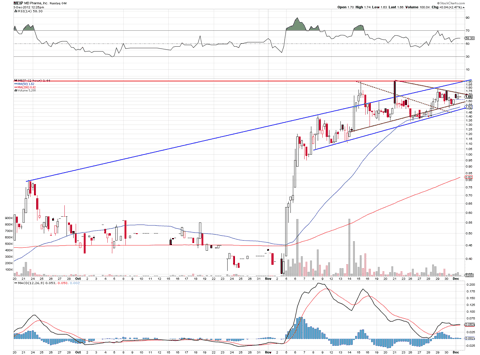 From a technical standpoint, the stock appears to consolidating in a pennant, which indicates it can make another nice run. It hasn't gone parabolic yet, and still remains in a nice up channel. I would expect volume to pick up as the company nears the Dec. 10, 2012, trade catalyst event, with a move to around $2.25 per share.
Disclosure: I am long MEIP. I wrote this article myself, and it expresses my own opinions. I am not receiving compensation for it. I have no business relationship with any company whose stock is mentioned in this article.
Disclaimer: This article is intended for informational and entertainment use only, and should not be construed as professional investment advice. They are my opinions only. Trading stocks is risky -- always be sure to know and understand your risk tolerance. You can incur substantial financial losses in any trade or investment. Always do your own due diligence before buying and selling any stock, and/or consult with a licensed financial adviser.