In addition to reporting declining earnings and sales, Hewlett Packard (NYSE:HPQ) announced an enormous $8.8 billion write-down on the purchase of UK-based software firm Autonomy. Fourth quarter 2012 revenue dropped 7% year-over-year to $30 billion, a larger decline than previously anticipated. Earnings, net of $4.65 per share of impairment charges, fell by just a penny to $1.16 per share, which was slightly better than expected. The company registers a 3 on our Buying Index, but please read here on how to interpret it.
The meaningful write-down of Autonomy stole the thunder from the actual underlying results, as several short sellers had questioned the validity of Autonomy's financial reporting prior to it being acquired by HP. CEO Meg Whitman herself confessed the business was somewhat fraudulent, stating:
"The majority of this impairment charge is linked to serious accounting improprieties, disclosure failures and outright misrepresentations that occurred prior to HP's acquisition of Autonomy and the associated impact on the expected financial performance of the business over the long term. The balance of the impairment charge is linked to the recent trading value of HP stock."
Luckily the acquisition didn't occur during her tenure, but it brings into the spotlight the company's existing relationships with its bankers, as well as its internal finance department's ability to execute acquisitions. Oddly, she admits the company remains focused on improving Autonomy's operations and its "industry leading technology."
Aside from the obvious taint from the Autonomy write-down, the rest of the quarter was lackluster, but results were certainly better at HP than at rival Dell (NASDAQ:DELL). The company managed to squeeze an operating profit of $309 million out of its personal systems segment, where total revenue fell 14% year-over-year to $8.7 billion. Though not great, it underlies that HP has been able to position its products ahead of Dell's, which is positive for the firm's long-term survival. We think the company may be better-positioned to capture future enterprise PC-refresh cycle revenue.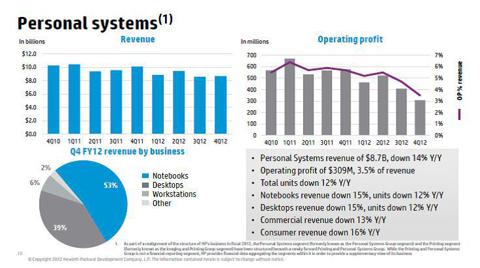 Click to enlarge
Source: HPQ Q4 2012 Slides
Printing revenue declined only 5% year-over-year to $6.1 billion, though hardware units fell 20% on the personal side and 15% on the enterprise side. It also posted a solid 17.5% operating margin, allowing profit to come in at over $1 billion. Printing, while declining, isn't at risk of going to zero, so we expect profitability to stabilize when the segment finds its right size.
The enterprise business remained weak, with Services and Enterprise Servers, Storage, and Networking (ESSN) down 6% and 9%, respectively. However, both segments posted positive operating margins, and management remains confident that ESSN and Services will both ramp in fiscal year 2014 after spending on R&D throughout fiscal year 2013, leaving the company in a relatively strong position. Services in particular are expected to accelerate in fiscal year 2015, though we believe actual results are much harder to forecast, particularly given the difficulty in predicting the economy in the near term.
Software was the lone bright spot, with sales growing 14% year-over-year to $1.2 billion, as the company continues to monetize software services (up 48%). Although the operating margin compressed about 70 basis points year-over-year to 27.1%, we're optimistic about HP's future in the software business. Not only did the company achieve a few large enterprise contracts, but we also like the recurring revenue inherent to the business. In our view, the odds of HP making a successful transition are better than Dell's.
Cash flow generation also remains strong, as HP generated $4 billion in operating cash flow during the fourth quarter and $10.6 billion in cash during the year. The company is using this money to pay down large amounts of debt, and we expect it to also fund capital investment.
Looking ahead, first quarter guidance was weaker than anticipated, as the company expects to earn $0.68-$0.71 per share versus a consensus of $0.86 per share. However, the firm reiterated its full-year earnings outlook $3.40-$3.60-which seems achievable, in our view.
While the company isn't the same cash cow that Apple (NASDAQ:AAPL) or Microsoft (NASDAQ:MSFT) is, we think the firm's turnaround is showing signs of life. Assuming the company continues to improve its product suite and both printing and PCs find a bottom (a big if), we think the company could make a solid comeback. Still, the company scores just a 3 on the Valuentum Buying Index (our stock-selection methodology), so we aren't too excited about shares at this time. Valuentum members know we're only interested in high-quality firms that register a 9 or 10 on our index.
Disclosure: I have no positions in any stocks mentioned, and no plans to initiate any positions within the next 72 hours. I wrote this article myself, and it expresses my own opinions. I am not receiving compensation for it (other than from Seeking Alpha). I have no business relationship with any company whose stock is mentioned in this article.