Should America fall off the fiscal cliff and the Dow drop by a thousand or more points, these are my top five fiscal cliff biotech buys. I don't mind adding, I am anticipating a major market drop; that is my view. Therefore, this article is highly speculative and entertains an extreme risk scenario. Nevertheless, I am sitting in cash because I think cash buyers are going to reap the greatest buying opportunities going into 2013.
I begin with an observation. Irrespective of what the market gurus may be suggesting, I unequivocally state that the Dow is in bearish territory and the past few day are signaling a new drop is on the way. The dead-lock in Washington will escalate the situation. The market needs a major correction and it's setting up to happen. The bull case is dead until the market corrects in a major way.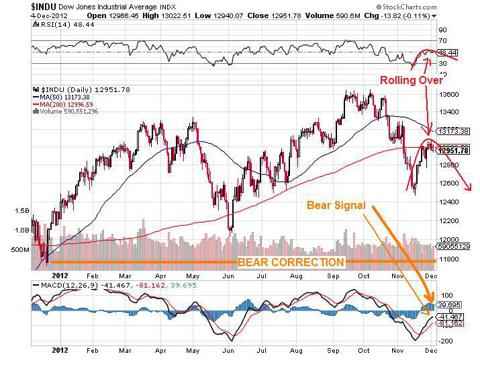 Assuming the speculative and high risk variables of biotech stocks, the top five fiscal cliff biotech buys are as follows:
Arena (NASDAQ:ARNA)
Even though I correctly predicted Vivus' (NASDAQ:VVUS) two drug outcomes in 2012, the obesity market is going to belong to Arena in 2013. This is simply because Arena's obesity drug is going to receive rapid market acceptance given its preferred safety profile. Watching Arena's stock price, you can see the market is poised for events in 2013. My view is that Arena stock will gain momentum and traction by Q2 2013 when early revenues begin to register. By the end of 2013, I expect Arena to be a double-digit stock. Why buy Arena now if the market is going to fall? Look to grab Arena shares for under $7/share which is a number long-holders don't want to read.
Questcor (QCOR)
The greatest risk for Questcor investors is that other insurers may join Aetna (NYSE:AET), but beyond that Questcor remains in oversold territory. If a market fall drives Questcor towards $20/share, it would become an extreme buy as the company is on a successful revenue path. Unless the economy collapses, I see Questcor shooting for $40/share in 2013. That means savvy buyers who wait for the overall market to fall are going to have an exceptional entry point. At $19/share, Questcor would be a major coup for anyone who jumps in; just remember that when markets drop, unexpected prices suddenly become the new reality. I wager that going over the fiscal cliff could be great news for cash-ready Questcor buyers.
Celsion (NASDAQ:CLSN)
The way to buy Celsion is wait out the market going into the end of the year. Expect wide fluctuations in the share price.
This is a very high risk situation, but if Celsion reports successful phase III results, investors who wait for the next dip could take advantage of early 2013 triple percent gains. However, the situation is highly speculative and I am yet to render an opinion on Celsion's impending clinical results.
I will state that situations that address an oncology need could easily mimic an explosive $30/share scenario. Short interest is going to be extremely high going into January 2013. The FDA has leap-frogged Celsion's technology and I find that highly inviting, however, I prefer to entertain buying the stock on a global market drop. While it may never happen, if Celsion falls below $7/share I would consider it a great buy going into January 2013 news.
Zalicus (ZLCS)
If you're a blood-thirsty, high-risk biotech investor, then look at this one. Like I'm stating with other biotech stocks, wait for the market to drop before buying. However, there is one major exception here. If Zalicus announces that Z944 is successful in multiple dose phase I testing, then I would load up on shares irrespective of the market cliff. While Zalicus may appear to be in a tenuous situation, the outcome of Z944 could change the company's share price in one day.
I am already bullish on Z160's phase IIa results in 2H 2013, but the addition of Z944 would earn my very bullish recommendation in a heartbeat. As a caveat, I would highly recommend that investors study Novartis' (NYSE:NVS) combination research in the area of oncology; the library of registered patent applications is growing and Zalicus remains at the center of this research. Just ask a few oncology centers (including major hospitals) in the U.S. and you might discover that Zalicus' cHTS Chalice footprint is more than alive and growing.
Amarin (NASDAQ:AMRN)
I kicked around a good many biotechs, but returned to the view that Amarin could be a home run in the short-term. There is a lot of risk here and I am generally risk adverse on indecision.
Amarin has a lot of nervous investors and its outcome may be revealed before the end of 2012. However, the gutsy side of the trade has me mentioning it going into 2013.
If Amarin earns market exclusivity for its cholesterol lowering fish oil than you've got a whopper of a game changer. Whether the FDA adds Amarin's technology to its Orange Book in mid-December could be the major trigger for its share price, up or down. If Amarin falls below $11/share, it's a strong buy. With exclusivity and a partnership, Amarin would be on its way above $30/share.
Conclusion
Just remember, I am not recommending buying any of these biotech stocks right now. In fact, I think buying right now would be a big mistake. I am suggesting to investors to wait for these stocks to fall when the market goes over the fiscal cliff. Let these stocks fall with the rest of the market. Avoid the temptation to buy any of them too early. Let the market drop.
My view is that these top five fiscal cliff biotechs offer the best opportunity for high percentage gains. No stock is immune from a market drop. My view is that the market is going to drop. Therefore, sitting in cash for quality biotech stocks to come your way, while contrarian, is savvy.
Disclosure: I have no positions in any stocks mentioned, but may initiate a long position in AMRN, ZLCS, QCOR, ARNA, CLSN over the next 72 hours. I wrote this article myself, and it expresses my own opinions. I am not receiving compensation for it (other than from Seeking Alpha). I have no business relationship with any company whose stock is mentioned in this article.
Additional disclosure: Investors buy and/or sell at their own risk. You are warned to seek the advice of a licensed market professional. This article is for entertainment purposes only and does not offer individual market advice.