Trading and investing in small biotech stocks is not for the faint of heart. It requires copious amounts of due diligence, patience, market awareness, timing, and a little bit of luck. The four biotech stocks I am highlighting in this article have been on a rollercoaster ride for the last year and have provided several opportunities to trade around multiple catalysts. Each of the four stocks highlighted below has important catalysts coming up in the next several months that could provide lucrative opportunities for the nimble trader.
1) Arena Pharmaceuticals, Inc. (NASDAQ:ARNA)
Quick Summary:
Arena, based out of San Diego, California earned FDA approval for its flagship drug Belviq (locaserin hydrochloride) for treatment of obesity in June of 2012. Belviq was approved with a clean label and will sell into a market conservatively estimated in the billions of dollars. It is partnered with Eisai Co, Ltd. (OTCPK:ESALY) to distribute the drug in North and South America with Arena retaining rest-of-world rights. Eisai and Arena will launch Belviq in the United States as soon as the United States Drug Enforcement Agency schedules Belviq. The company estimates the DEA scheduling in late 2012 or early 2013. Expect a healthy share price appreciation once the DEA schedules Belviq and the drug launches.
Catalyst - DEA Scheduling and launch of Belviq
Timeframe - Late 2012 or early 2013 (most likely)
Cautionary Note - If Arena receives Schedule I, II, or III it will likely go down - the street is anticipating a Schedule IV or V designation.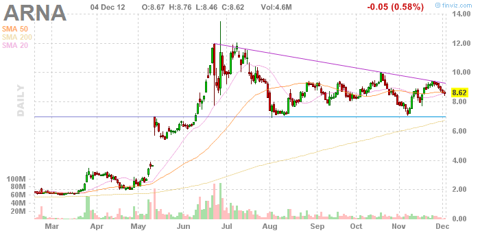 2) Amarin Corporation, PLC (NASDAQ:AMRN)
Quick Summary:
Amarin is a biopharmaceutical company headquartered in Dublin, Ireland that recently earned FDA approval for its flagship drug Vascepa (Omega 3 fatty acid) for very high triglycerides. The market potential for Vascepa is large with street estimates at $1.8B in sales by 2018. Amarin is currently in limbo as it awaits NCE (new chemical entity) status from the FDA which will determine if it gets three years of statutory market exclusivity or five years of statutory market exclusivity from generic competition. Once the NCE status is determined Amarin will likely decide whether to sell the company or launch Vascepa on its own. Once the NCE status is determined it should give potential suitors a better idea on how to value Amarin and shares should appreciate accordingly.
Catalyst - FDA NCE Designation
Timeframe - Unknown for sure but expected in December 2012 or January 2013.
Cautionary Note - If Amarin decides to launch Vascepa on its own shares will most likely drop due to the cost and difficulty of small pharma drug launches.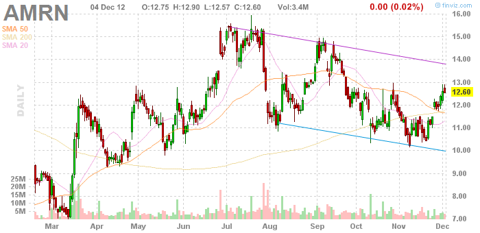 3) Avanir Pharmaceuticals (NASDAQ:AVNR)
Quick Summary:
Avanir is a commercial biopharma based in Aliso Viejo, CA that earned FDA approval for its flagship drug Nuedexta (dextromethorphan & quinidine) in October of 2010. Nuedexta, indicated for uncontrollable laughing and crying - known as PBA (psuedobulbar affect), was launched Nuedexta in the U.S. in February of 2011. After approximately 22 months on the market the company is currently not selling enough Nuedexta to cashflow breakeven. The company is attempting to gain European marketing approval and has recently announced submitting responses to the "day-120" questions posed by the EMA in March of 2012. Avanir expects an opinion from the CHMP in the first calendar quarter of 2013. If they gain approval it would open up Europe and expand the market for Nuedexta.
Catalyst - European opinion on Nuedexta
Timeframe - First calendar quarter of 2013
Cautionary Note - FDA approval doesn't guarantee a positive opinion and approval from the CHMP as recently demonstrated by Vivus Inc. (NASDAQ:VVUS).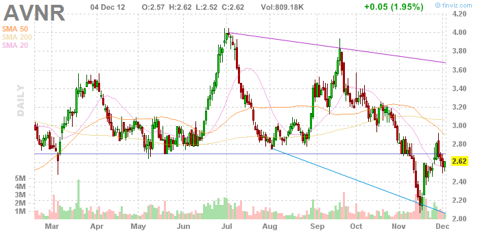 4) Sarepta Therapeutics, Inc. (NASDAQ:SRPT)
Quick Summary:
Sarepta is a clinical stage biopharma headquartered in Cambridge, MA. Sarepta focuses on the discovery and development of RNA-based therapeutics for the treatment of serious and life-threatening rare and infectious diseases and has set the biotech world abuzz with their Duchenne Muscular Dystrophy drug candidate eteplirsen. I wrote in depth about Sarepta in this article on September 3rd when the share price was around $14 per share - within a month it had risen to over $45 intraday and recently has settled around $29 per share. The reason for this parabolic rise was the release of extremely positive 48 week clinical data on eteplirsen. Expectations are that Sarepta will announce 60 week clinical data confirming the 48 week data and seek accelerated approval from the FDA for eteplirsen. The release of the 60 week data could occur anytime and, if positive, would certainly propel the stock and give Sarepta more leverage for accelerated approval from the FDA.
Catalyst - 60 week data for eteplirsen confirming the excellent 48 week clinical data.
Timeframe - Expected by end of first calendar quarter 2013
Cautionary Notes - This stock is highly volatile and difficult to trade with a low float. If the 60 week data is not up to par it will likely tank.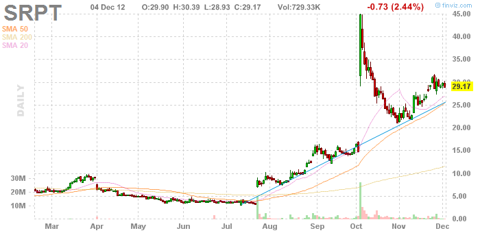 Graphs and financial data sourced from FinViz and Yahoo Finance.
Disclosure: I have no positions in any stocks mentioned, and no plans to initiate any positions within the next 72 hours. I wrote this article myself, and it expresses my own opinions. I am not receiving compensation for it (other than from Seeking Alpha). I have no business relationship with any company whose stock is mentioned in this article.
Additional disclosure: This article is informational and intended to spur thought and discussion. This article is NOT a substitute for your own extensive due diligence and does NOT qualify as investment advice. DO NOT BUY OR SELL STOCKS BASED ON THIS ARTICLE. I do not short stocks nor do I invest in options.