A Good Time to Sell
If you bought any Vale (NYSE:VALE) stock in the past two years, the chances are you are holding it at a loss. If you bought it in 2011 you paid between 37 and 22 for it. You will have a long-term capital loss at the end of the year. As you may be aware, if your capital losses exceed your capital gains, up to an annual limit, you can deduct the loss to reduce other income, such as wages. The "good news" is that if you happen to own a lot of Vale stock, and your total net capital loss is more than the yearly limit on capital loss deductions, you can carry over the unused part to the next year. Tax regulations are ever changing and can be complex. Check with your CPA or tax lawyer before making tax related decisions.
Regardless of your tax situation, I believe you should sell your Vale stock. Seeking Alpha published an article of mine on Monday, A Sea Change in Mining, 1 stock to Buy, 1 to Hold and 2 to Sell. Vale was one of the 2 stocks to sell. I said,
"Vale is the world's largest iron ore producer and its fortune rises and falls on the worldwide demand and price of that commodity. It is best located to serve Europe, and that market is very soft. It is at a disadvantage with seaborne ore as it costs $20 a ton more to get the ore from Brazil to China than it does from Australia, the shipping point of Rio and BHP. It has two weaknesses, lack of product diversification and the necessity of serving as an instrument of the Brazilian government. If I owned VALE I would sell it, regretting only that I had not done so sooner."
Changing Priorities
In that article, I talked about the changing priorities of the firm since Murilo Ferreira took over as CEO, replacing Roger Agnelli. A story in Tuesday's Financial Times confirmed that Vale has focused on Brazilian assets since Ferreira took over and it sold some non-core assets, such as those in Guinea, and put others up for sale such as those in Columbia. Vale will invest in projects closer to home such as its vast Carajás mine in the Amazon.
Capital Budget Slashed
Vale's December 3, 2012 press release affirmed their budget for capital expenditures for 2013 would be $16.3 Billion. This is a dramatic reduction from expectations, which were for a capital budget over $21 Billion. This is less than the $17.5 Billion spending for 2012 or the $18 Billion, which spent in 2011. The low price of iron ore is at the core of their problems.
Credit Rating Concerns
Part of the pressure that management is feeling is that their credit rating may be in jeopardy if they do not strengthen their balance sheet, thus raising their borrowing costs. Vale is rated investment grade since July 2005. Current credit ratings: A- by S&P, BBB+ by Fitch and Baa2 by Moody's. S&P rates both BHP Billiton (NYSE:BBL) and Rio Tinto (NYSE:RIO) at A. Vale's 2012 Q3 results remove any doubt as to the validity of their concerns.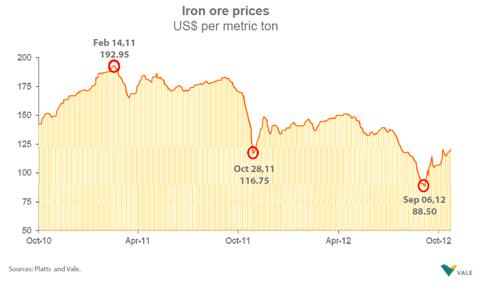 The Outlook is Not Good
The company is not optimistic about medium term prospects. They speak of a "moderate expansion" in demand and emphasize that the current conditions, "require a stricter discipline in capital allocation and a stronger focus on maximizing efficiency and minimizing costs". In other words, it is time for them to cut their losses.
I suggest that it is a good time for the investor in the company to do the same.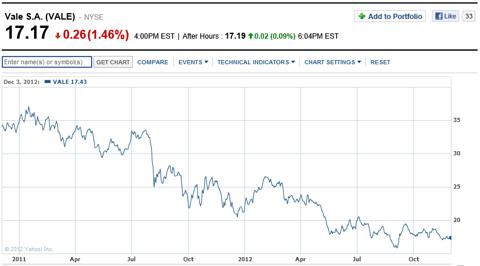 Good luck!
Disclosure: I am long BBL. I wrote this article myself, and it expresses my own opinions. I am not receiving compensation for it (other than from Seeking Alpha). I have no business relationship with any company whose stock is mentioned in this article.