CoreLogic reported Tuesday that its repeat-sales Home Price Index, based on sales prices for the same homes over time, posted a 6.3% year-over-year gain in October, which was the largest annual increase in home prices nationwide in more than six years, since June 2006. It also marked a period of eight consecutive monthly increases in home prices on a year-over-year basis starting in March. The last time there were that many back-to-back increases was in 2006.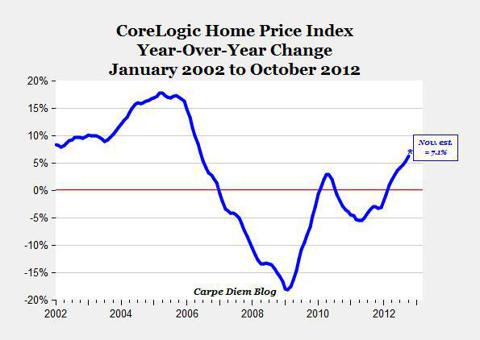 Looking forward one month, the CoreLogic Pending Home Price Index predicts that national home prices will rise by 7.1% in November compared to the same month last year (see chart above). That would be the largest annual gain in home prices since May of 2006, six and-a-half years ago.
CoreLogic chief economist Mark Fleming commented: "The housing recovery that started earlier in 2012 continues to gain momentum. The recovery is geographically broad-based with almost all markets experiencing some appreciation."
CoreLogic CEO said, "We are seeing an ongoing strengthening of the residential housing market. Reduced inventories and improving buyer demand are contributing to stability and growth in home prices which is essential to the long term health of the housing market and the broader economy."
The case that a U.S. housing market recovery is now underway is further strengthened by Tuesday's report on national home prices from CoreLogic, which is based on repeat-sales like the Case-Shiller indices, but is more comprehensive geographically and more representative of recent sales activity. With almost every report on housing prices, home sales, construction, and builder confidence showing ongoing improvements, at some point even the housing bears and skeptics will have to admit that the robust housing recovery in the U.S. is real.