Introduction
Amira Nature Foods Ltd (NYSE:ANFI) sells Basmati rice, a premium long-grain rice grown only in certain regions of the Indian sub-continent, under their flagship Amira brand as well as under other third party brands. Amira sells its products primarily in emerging markets through a broad distribution network. Amira's headquarters are in Dubai, United Arab Emirates, and it also has offices in India, Malaysia, Singapore, the United Kingdom, and the United States.
Although Amira has been around for a long time, the company just went public in October. Amira has done well even before the IPO, but the proceeds will allow the company to expand and provide shareholders with strong returns.
Strong Revenue and EBITDA Growth
Amira has seen fantastic sales growth YOY. For the first six months ended September 30, 2012, net revenue increased 23.9% to $159.5 million compared to $128.8 million for the same period in fiscal 2012. EBITDA increased 37.3% to $20.5 million compared to $15 million in the same period of last fiscal year. Keep in mind, these figures only show half the picture. While Amira has not given an outlook for next twelve months, if we are assuming a conservative estimate, I believe the company can generate EBITDA of $35 million.
Penetration In Worldwide Retailers
Amira has already struck distribution deals with many major retailers. In India alone, the company estimates that they are in 26% of modern retail stores. Given the sizable number of retail stores that exist in India, that is a significant chunk of stores that are caring Amira products.
Products can also be found in Easy Day Walmart and Best Price Walmart. These are two major retail stores that formed due to a joint venture between Bharti and Wal-Mart (NYSE:WMT). They are basically the equivalent of Wal-Mart and Sam's Club for the United States.
Amira isn't just taking market share in India, but it has been growing fast in the U.S. as well. Amira entered into a deal with Costco (NASDAQ:COST) in 2010 and has fared well since. Amira's products are located in a 134 out of 433 locations. This is more than 25% of Costco stores in less than two years.
Their products are not only in Asia and in the U.S., but also in Europe. They can be found in Carrefour supermarkets, which is the second largest retail group in the world. So as you can see, Amira's products are found all over the world in the largest retailers around. This brand presence has allowed everyday consumers to become more and more familiar with their brand.
Deal With Indonesian Client
Amira's management announced this month that they have locked in a large deal with an Indonesian client. Amira will be supplying 90,000 metric tons of rice for a total price of $39.4 million. This revenue will be recognized in FY 2013 and will be a huge boost for revenue growth next year. This same client had a previous order that was significantly smaller than this one. So it seems that the company's products are in demand in locations around the world.
Growth of the Rice Industry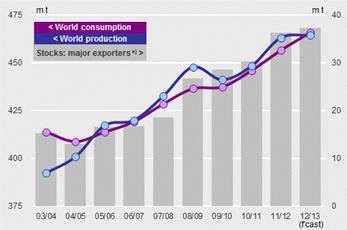 Global consumption for rice is expected to rise by 2%. This would equal a record 466 million tons, most of it being consumed by countries such as China and India.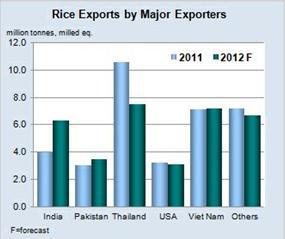 India is outpacing most markets in growth of rice exports. Not only is the production of rice in the country for domestic use, but the decline in production in many nations worldwide has allowed Indian companies to take advantage of the international market.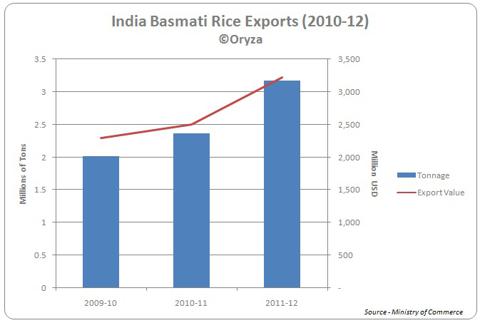 Click to enlarge
Exports for Basmati rice are continuing to rise as demand from international markets continues to rise. Companies such as Amira will benefit from the continued boom.
Concerns Over Debt
The company has total debt around a $163 million as of the most recent quarter. This makes the company highly leveraged given that the company's market cap is around $277 million. While the company does have a significant amount of leverage, it is easily manageable given the EBITDA that it currently generates. For the six months ended Sept. 30, 2012, the interest expense was nearly $8.7 million. In that same amount of time, the company generated over $20.5 million in EBITDA.
Another major factor we need to consider is that the company has netted proceeds of $81 million from the IPO. Management plans to use more than $50 million of that to pay down their debt, which means interest expense will decline going forward. Management projects to have total debt at $111 million after the pay down. The remaining $30 million would be left in the cash balance and most likely used for costs related for expansion such as the construction of a new production facility, which is slated to be completed by 2015.
Outlook
The outlook for Amira looks bright going forward. The company has already retained $4 million, which should help cover operating expenses through 2015. The IPO will help strengthen the company's balance sheet. Even though, the overall market for rice is heavily saturated, Amira is growing at a much faster pace than the industry. This is due to expansion into the right markets and also due to partnering with large retailers with strong footholds. The company is currently in 40 countries, but has plans to be in 70 in five years. The company's leverage is significantly declining and there are plans to refinance existing debt at a much lower interest rate. The company seems to be on the right path and revenue should continue to grow.
Valuation
Since the company has a significant amount of debt, I believe it's a good idea to factor this into our valuation. So instead of using P/E to measure value, EV/EBITDA is a better multiple to use. Given that the company earned $20.5 million in EBITDA for a six-month stretch, I imagine it would easily be able to generate around $35 million in EBITDA over 12 months. Using the current enterprise value of $440 million, this would give us an EV/EBITDA of 12.5. This is fairly cheap considering that the company is growing at a remarkable rate.
Conclusion
I believe Amira Nature Foods is a buy at these levels due to a cheap valuation and strong growth prospects going forward. Investors that purchase now will be heavily rewarded as the company continues to expand its footprint.
Disclosure: I am long ANFI. I wrote this article myself, and it expresses my own opinions. I am not receiving compensation for it (other than from Seeking Alpha). I have no business relationship with any company whose stock is mentioned in this article.