If you have not read my last article, The Coffee Shop Knows, then I suggest you read it or at least the beginning.
Now I know that the mountain range of debt has got everyone in a dither. For as long as I can remember, governments find a way to spend more than they take in. Until that changes, we need to invest accordingly. I am speaking of the fiscal cliff which has everyone in a cliffhanger.
So, what can we do and what should we invest in now?
The Coffee Shop knows that we can stand aside just so long, then we need to get back in the game as soon as practicable. I have had my financial head in the sand for too long. Since a bit before the nasty slide in the 2008 circa, and missed the entire ride back up. The only salve for my financial soul is most of the issues I was in are not quite back up to where they were when I got out. So, that being said, I have focused on the sector I like. I figured out why, where, and how much to begin my attack on getting a double digit return on my stash. I mean also a double digit 'net return'. I have been in the loop, news-wise but out of the market, mostly in cash.
For me to be able to focus on an investment, it first needs to come to my attention. A while back, the REIT sector heated up and has paid pretty nicely easily filling the double digit goal. BDC's also have helped to a large extent as their dividends (choosing the right one of course) can also give you a double digit goal getter.
After the REIT market seemed to pause, as prices dropped and pundits talked negatively about REITs causing the worries about the fiscal cliff. I feel, that the market knows, somehow, call it collective intelligence, the market knows in advance of a major move, and usually adjusts before an event. I think the worry and market adjustment has happened for that 'event', and we will now look at business as usual, a slow paper thin recovery, and the continued ability for America to keep climbing the financial ladder and grow at 'a' rate. Growth and low interest rates should keep us on track for the foreseeable future.
Forget about the fiscal cliff. Let me enlighten you, we are already over the fiscal cliff and quite a bit too. Don't worry about it. So, what are we to invest in? I am going to buy some silver now, and sell it later (for I suspect a durned sight more than I paid for it).
Lots of usually conservative people, (I mean in this use of the word, not politically, but risk wise) do not invest in silver. I cannot for the life me understand why an investor or broker/advisor would not look at everything there is, then, like a camera lens, focus on the best thing at the time, not just what he is comfortable with. Sometimes, one has to color outside the lines. Try it (silver), you may like it. With a look at silver, its usage and history, which would make great reading as an extra, but make this article too long. I suggest you peruse it without a lot of delay. It would get you thru and away from the cloud of experts that would keep you from it. Silver is not the poor man's gold. It is a greatly needed (and waning in availability) commodity that is a precious metal. Silver has long been valued as a precious metal, and is used as an investment. Please allow silver and the other precious metals into your think bag anyway. Give them a look. Supply and demand is one thing keeping silver at these levels. Don't be swayed against it because the dollar is not dropping. The dollar probably won't drop much, and certainly not drop out of sight as myriad gurus profess that it will at any moment. I cannot say why they continue to flog us with the demise of the dollar. Well, I can't imagine a world without money, can you? So, as long as we have money, we will have silver, and my bet, it will continue to move up in price as it has been doing for many years now.
My bet on silver is below:
Let me give you an example:
If you must play in the sandbox, (stock market) you're going get dirty. If you like silver, but can't 'do it' emotionally, do it anyway. I suggest iShares Silver Trust (SLV) and ETFS Physical Silver Shares (SLVR) then buy a little Proshares UltraShort Silver (ZSL) along with it for insurance against stupid, or bad luck. Play the ZSL only after a bit of a run-up, as nothing goes straight up.
I have been told for a long time, the wealthy will always collect coins, and I am convinced, numismatics are okay also, so I'm reticent at selling any of mine just yet, but may trade some lower grade coins for actual physical American Silver Eagles. If you want the best price, check the governments price, (sometimes they are out of eagles for some reason). I really like, due to their entire operation, the Turving company. I like it because of their policy of shipping and the buy sell spread. I very strongly urge you to go to a FUN show if you can. But just looking at the link here, will show you it is no small market. Now there are four of these coin and paper money shows around the country. I am sure many coin and money shows are offered in cities across the country. A visit to one of these will begin a voyage into the wonderful world of coins (and silver). It can be a stormy sea if you are not prepared, so don't jump in without knowing what you are doing. But, investing in precious metals is, I think, going to be the return of a lifetime as cost inflation is definitely working, prices are rising on the high end coins, and base metal prices are in a definite up trend. Look at the charts to see and track where the price is for your favorite metal.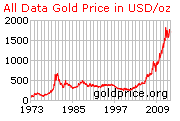 SILVER CHART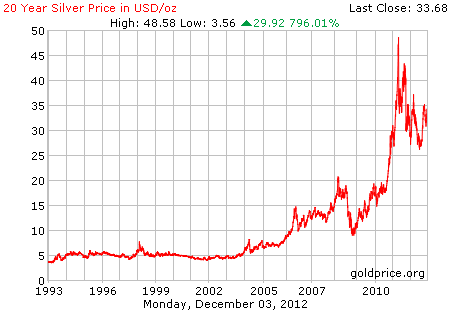 PLATINUM CHART
PALLADIUM CHART.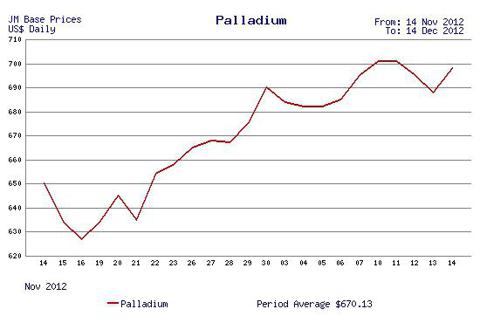 I figure, with the current drift of politics and the economy in general, there will be continued choppy water ahead. I think we will continue on course, slightly up. With the GDP or recovery limping up, (at least it is up), with interest rates not rising, nor any prospect of rates rising in the foreseeable future. With that in mind, I say, has to be good on average, and we should have a go at some REITs in here. I feel the truth is, it is a shaky situation, (and things are not going to be fixed perfectly) but will continue in slow recovery phase for quite sometime yet.
Falling is a primal fear, so is the unknown, and investing in metals may be close to that if you have not yet tried it. Falling over the financial cliff is a great fear. Ignore it, we are already dropping, and our parachute for a soft landing is (in my opinion), 1) Buy some physical silver as mentioned above. 2) Get SLV as above. 3) Look seriously at palladium, Coins or physical bars, not the stocks. Only get the Canadian Maple Leaf. You can get it from Tulving Company. Please, before you buy any coin, be sure of the dealer. I have done my homework and settled strongly on Tulving. 4) REITs. Let's look at the best, (in my logbook, looking over the range of REITs available, I like the American Capital Agency (AGNC) the best. Look them over, and focus on their history of dividends, stock price, and fundamentals surrounding the REIT industry. I feel REITs are in fertile soil for continued dividends and a lack of worry regarding equity pricing. Basic feeling of mine is, we aren't going to stop trading mortgages. Look at the 5 year chart, then drop down to shorter term charts, and I like the REIT sector best (after the Precious Metals, PM's) There are other REITs that deserve more than honorable mention. A quick scan of SA will uncover many for your consideration. I just named my favorite.
I would say again, don't test the water depth with both feet, a toe in the water will be sufficient. Perhaps 10% of your sidelined capital. Then if things go as foreseen add another 10% and so on. Take your time this time. I smell rain in the near future, and it may be more than a squall.
This year there may be a bonus if you don't wait too long. Check the ex-dividend date and be sure there is one before the end of the year. (and as far this side of the end of the year as you can get). Some companies like Disney and others are paying off higher dividends this year, to avoid the possible dividend tax increase after the first of the year.
I am going to capitulate a little bit of my fears and go with the sluggish flow we have been watching. I sure like a stronger trend to jump on but this is all we are going get for a while. There is one heck of a lot of dollars in financial closets, and the holders of all kinds are waiting for some consumer confidence to show up. The investors big and small need a kick in the wallet to free up some of the mega bucks waiting.
CONCLUSION: If you have stayed with me this far, I strongly suggest 1)SLV, 2) SIVR, 3) actual physical silver American Eagles (start with 500 coins), 4) Market Vectors Junior Gold Miners ETF (NYSEARCA:GDXJ). I like the Junior ETF for the miners because it is a beaten down, but recovering sector, and should move up percentage-wise more, I think, than individual stocks or gold ETF's. Lastly, if you can, numismatics, stick with quality and knowledge there.
Happy Holidays
Capt. Brian
The Lost Navigator
Disclosure: I am long CIM, ARR, FB, NLY, DRR, EUO, FAZ, SIVR, SLV, TEU, NMM. I wrote this article myself, and it expresses my own opinions. I am not receiving compensation for it (other than from Seeking Alpha). I have no business relationship with any company whose stock is mentioned in this article.
Additional disclosure: I only have 20 shares of FB and bought them on a lark. I also bought 2 shares of FAZ as an educational entry, to follow graphically that ETF, (being in is best teacher) I intend to sell DRR and swap into more EUO at the first rise in DRR, it is not acting the way I like, but I want to stay short the Euro Dollar. My biggest holding is NMM, and I intend to keep it.