Those who abandoned technology investing in 2001 when the NASDAQ bubble burst missed out on fantastic gains in the last decade. Since the technology bubble burst in 2001, those who continued investing in technology crowded into Google (NASDAQ:GOOG), Apple (NASDAQ:AAPL), LinkedIn (NYSE:LNKD), and other high-performance names.
In the same fashion, even when the majority of Frontier Markets (NYSEARCA:FM) and Emerging Markets (NYSEARCA:EEM) decline, there are always others on the rise.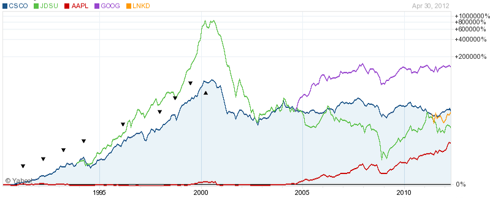 Apple is in last place on this chart. Timing matters. Source: Yahoo! Finance, April 2012.
In Dumb Money Still Flocks To Emerging Markets, Howard Gold emphasized the BRICs ETF (NYSEARCA:BKF) was trading below its 50 and 200 day moving average. John-Paul Smith of Deutsche Bank, a bear on emerging markets for two years, added:
The biggest problem with emerging markets now... is massive government involvement in the corporate sector... there's no comparison with the relative laissez-faire approach of developed markets like Singapore, Hong Kong and even the U.S.
This is a gross generalization. A savvy tech investor could have flipped from Cisco to cash to Google to Apple. Emerging and Frontier Market investors should likewise look for the next countries that will have exponential growth.
The idea that Emerging Markets are collectively fading lumps together countries in a single class overlooking individual performances among roughly 196 independent countries. While the BRICs (Brazil, Russia, India and China) may have been your Cisco or JDS Uniphase of the past decade, there remain Googles and Apples for the next decade to discover.
Trying To Define The Target
Emerging Markets such as the BRICs are in theory maturing toward becoming developed markets. Further off the radar, Frontier Markets are still maturing toward becoming Emerging Markets. One can find local brokers, hedge funds and private equity funds to invest in Frontier Markets. While these markets are challenging for retail investors to invest in, closed-end funds, ETF companies such as Van Eck & iShares, and others, are making headway.
Yet, what qualifies as a Frontier or Emerging Market is contestable and cannot be summed up in an index. "The MSCI Emerging Markets Index consists of the following 21 emerging market country indices: Brazil, Chile, China, Colombia, Czech Republic, Egypt, Hungary, India, Indonesia, Korea, Malaysia, Mexico, Morocco, Peru, Philippines, Poland, Russia, South Africa, Taiwan, Thailand, and Turkey."
Grouping Colombia, Egypt, Indonesia, Malaysia, and the Philippines in the same class as the Czech Republic, Taiwan and Korea is already a definition too broad to have concrete meaning.
A look at Wikipedia's page on Frontier Markets provides sortable lists which may be a handy resource for readers to evaluate markets to invest in. However, defining Frontier Markets remains subjective.
Furthermore, when looking at any data about Frontier or Emerging Markets the data on these markets is unlikely to look the same in any two sources. For example, Leopard Capital reports Qatar's GDP performance in 2010 and 2011 at nearly double of Erik Van Dijk's reports.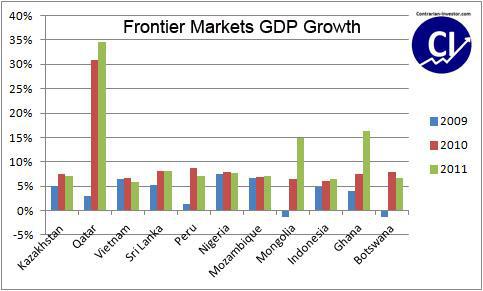 Source: Leopard Capital's Emerging Frontiers Blog.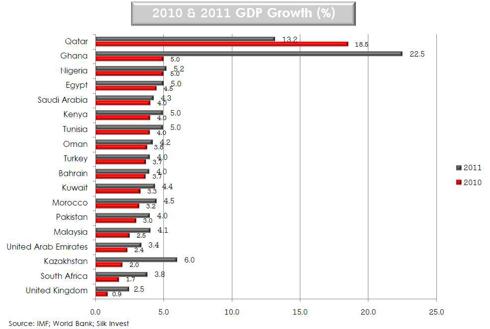 Source: Erik Van Dijk's Tigers And Frontiers Blog.
Qatar, Model Example For A Growth Story
Qatar, with its recent natural gas boom, represents a playbook for the type of growth story investors seek. Qatar was a great Frontier Market story until Qatar was upgraded to an Emerging Market.
Can we find a story like Qatar's in today's Frontier Markets? There are more country stories that will have great returns, but each has unique qualities.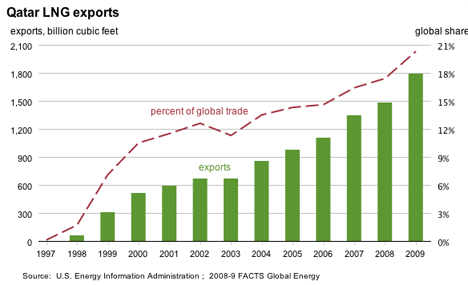 Forget the angle on the chart. Look at the "global share" numbers on the right. Source: Bit Tooth Energy.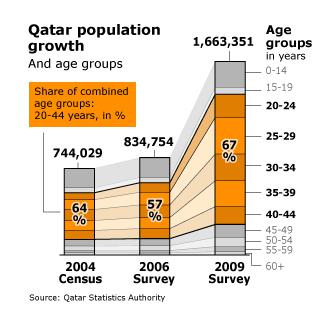 Source: Fanack.
Where Does This Lead?
I have written articles and blogs on Seeking Alpha about Mongolia for the past year and a half and recently began writing about Sri Lanka after my first trip there.
Mongolia's 2011 GDP was about $8.5 billion according to the World Bank in Mongolia's February 2012 quarterly report which puts per capita GDP around $3,000 for Mongolia's 2.8 million people. In U.S. terms, Mongolia's 2011 GDP was between the 2010 GDP of Binghamton, New York, and Lynchburg, Virginia. Unlike Binghamton and Lynchburg, Mongolia is among the countries ranked recently as countries expected to be in the top 10 of GDP growth through 2050.
As a friend of mine who also attended the Mongolia Investment Summit in Hong Kong this year with me said, "Can you imagine an investment conference for Lynchburg, Virginia, in Hong Kong, or anywhere?"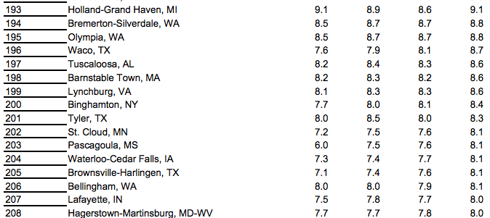 List of America's metropolitan areas by Gross Metropolitan Product from the U.S. Metro Economies report. Columns are: metropolitan area's nationwide ranking, name of metropolitan area, and GMP in billions of dollars for 2007, 2008, 2009, and 2010.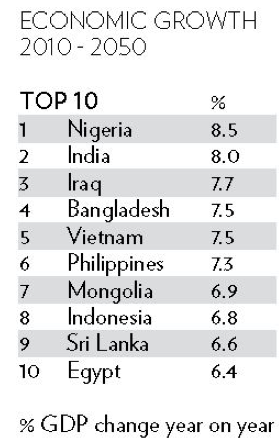 For these 10 countries, economists estimate annual GDP growth will exceed 6% per year on average for the next 38 years. Source: Global Economic Intersection; Advisor One.
The above list is a good starting point for the magnitude of growth we seek out when investing in Frontier and Emerging Markets, but it does not address the returns on our investments.
In 2010:
The BBC stated Mongolia's Stock Market went up 136% whereas the FT excluded exchange rate gains to arrive at 121%.
The Independent concurred with the BBC on the 136% and listed Sri Lanka at 92.3% gains whereas PinoyMoneyTalk came up with Sri Lanka at 96% and excluded Mongolia below.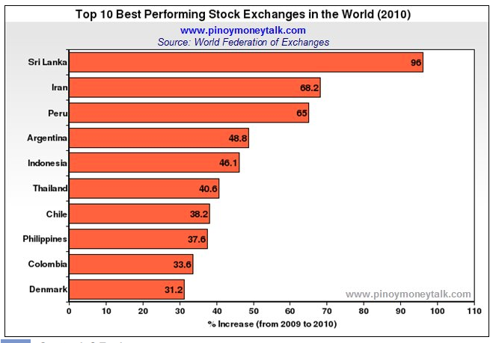 Source: PinoyMoneyTalk.
The variations in numerical data is normal. Statistical data for these markets is an exercise in finding the truth by way of triangulating inconsistent data. For example, another article lists the Philippines as 2010's number one market with a 58% gain. In an interesting coincidence, the same author who wrote that 58% article in 2010 wrote another article in 2011 for CBS that once again found the Philippines as 2011's #1 market. Business Insider differed and provided the below data.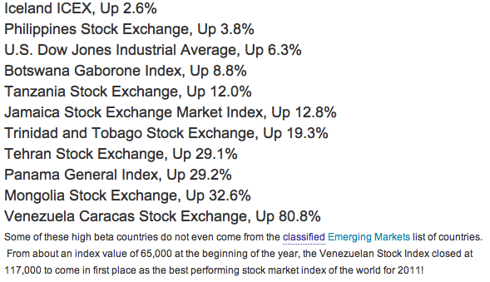 The top 11 stock markets in 2011. Source: Finance Manila (Manila's in the Philippines).
Frontier Markets are arguably 9 of the top 11 on this list, excluding Iceland and the U.S. Consider that in 2011, a very hard year globally, the overwhelming majority of markets yielding a positive return were Frontier and Emerging Markets.
Meanwhile
Kyle Bass noted in his November 2011 letter to investors:
[T]he total credit market debt is 310% of [global] GDP. We are saddled with the largest accumulation of peacetime debts [in history] without any playbook for what happens next.
The Economist has an interactive global debt clock.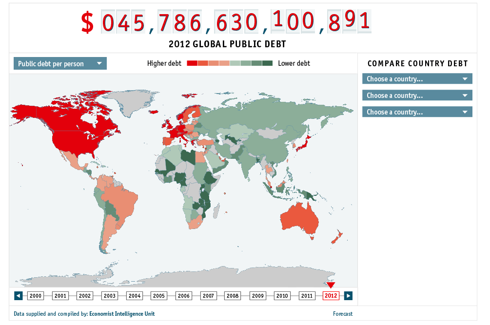 The hot spots in bright orange and red are all in developed countries that are experiencing slow GDP growth and other assorted problems we are familiar with. These countries, including the U.S., much of Europe, and Japan, are the worldwide leaders in debt. The question is which places with lower debt loads and higher GDP growth have the right blend of circumstances and investment opportunities to both protect and grow our wealth.
It is hard to accept that the places in bright orange and red may be in economic trouble for an extended period.
Acknowledging that the places with the best investment stories for the next decade are predominantly Emerging and Frontier Markets is the next step to answering the question of where we can look to grow our money.
For the economies of the U.S., Europe and Japan, GDP growth beyond 5% is a distant memory. In Emerging and Frontier Markets, there are genuine economic growth stories to invest in with GDP growth in excess of 5%.
Here is a free list of Emerging and Frontier Markets ETFs, ETNs and closed end funds to look at for ideas on what countries are and are not covered by these investment vehicles so far.
Disclosure: I have no positions in any stocks mentioned, and no plans to initiate any positions within the next 72 hours. I wrote this article myself, and it expresses my own opinions. I am not receiving compensation for it (other than from Seeking Alpha). I have no business relationship with any company whose stock is mentioned in this article.