Cliff, cliff, cliff. That's all the mainstream financial press can cite to explain recent market action. "US Stocks Close Slightly Lower as 'Cliff' Worries Weigh" says CNBC. "Wall Street ends down slightly amid cliff talks" says Reuters. "S&P 500 Falls as President Obama Holds Ground on Taxes" says Bloomberg. The S&P 500 spent a few minutes in positive territory this morning, but went red an hour later, hitting its intraday low, off -0.41%, around 1 PM. A weak rally failed to gain traction, and the index closed the day with a fractional loss of 0.17%. The cliff certainly has the attention of the financial press. But rather than showing a dramatic response to the cliff banter, the market is in wait-and-see mode.
Here is a five-minute look at the week so far. Over this timeframe the trend was a steady decline to today's intraday low. But hopes for a reversal at that point must remain on hold.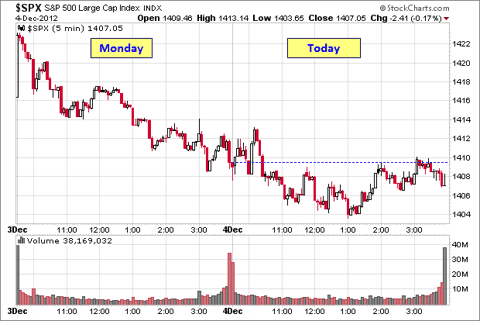 The S&P 500 is now up 11.88% for 2012 but 4.01% below the interim closing high of September 14th.
From a longer-term perspective, the index is 108.0% above the March 2009 closing low and 10.1% below the nominal all-time high of October 2007.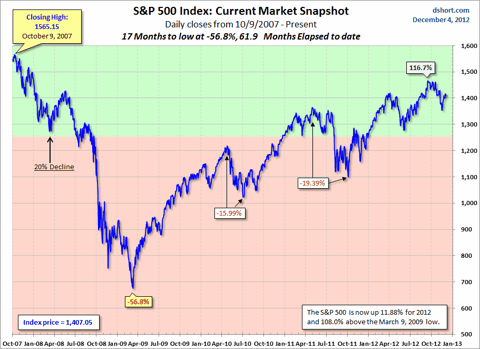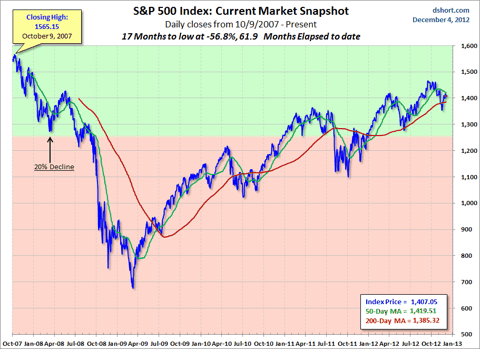 For a better sense of how these declines figure into a larger historical context, here's a long-term view of secular bull and bear markets in the S&P Composite since 1871.