A company makes a strategic acquisition of another and the analysts fawn over the deal. The stock of the takeover target rises to reflect the offer. But before the ink is even dry on the transaction, the buying company's stock falls as a result of the costs and/or debt associated with that deal. The market usually figures it will take time to digest the acquisition before returning value to the acquiring company. How often have you seen this happen?
It happened, once again, to Halcón Resources (NYSE:HK) after its recent takeover of GeoResources (NASDAQ:GEOI). I owned some GEOI, and I wrote about the likely possibility of a buyout with my Seeking Alpha article GeoResources Likely To Be A Prime Takeover Candidate about 6 months before the announcement in April of this year. I was tempted to hold some Halcón, but I have seen the scenario above played out so many times I simply banked my GEOI profits. But I have been keeping my eye on HK ever since, waiting for an opportunity to pounce. The time to pounce is now.
Halcón's stock has suffered since the GEOI takeover announcement on April 24, 2012. While the company has issued stock and taken on debt to fund recent acquisitions, the stock price has dropped by 50% from $12/share in March 2012 to $6.25 today. Halcón's market cap today ($1.36 billion) is much less than the combined purchase price of the GEOI (~$1 billion) and Petro-Hawk Williston Basin assets (~$1.45 billion). And this doesn't even take into account the company's other significant assets including its position in the high quality Woodbine/Eagle Ford play. Not surprisingly, significant insider buying has recently taken place at prices close to today's. I will go into more details on these issues in the rest of the article. The point is, Halcón is extremely undervalued and should be considered by anyone looking to invest in tight-oil recovery in the U.S. The stock could easily double in 2013.
HK = $6.29
Shares Outstanding = 216,220,000
Mkt Cap = $1.36 Billion
P/E = N/A
EPS

(ttm)

= -$1.38
Div (Yield) = N/A (N/A)
Indeed, the company has taken its lumps as a result of the GEOI takeover and other acquisitions. In the recent Q3 earnings announcement, the company posted a net loss of -$0.11/share (before adjustments) which brings the total loss for the first nine months of the year to -$1.01 per fully diluted share. The loss was primarily due to the non-cash impact of derivatives as well as acquisition and merger transaction costs. This compared to a profit of $0.41/share (before adjustments) in the first nine months of 2012.
The stock-and-cash deal for GEOI was valued at $1 billion dollars and closed on August 1, 2012.
Additional financing was announced at the close of the deal:
Concurrent with the closing of the GeoResources transaction, approximately $725 million of net proceeds from the issuance of senior unsecured notes on July 16, 2012 were released from escrow and used to fund the approximate $532 million cash portion of the GeoResources acquisition, and to partially fund the cash consideration of the East Texas Assets acquisition. Halcón also issued approximately 51.3 million shares of common stock to GeoResources stockholders to fund the stock portion of the transaction.

The total transaction value for the East Texas Assets acquisition is approximately $300 million in cash plus the issuance of approximately 20.8 million shares of the Company's common stock to a consortium of private oil and gas companies. The effective date of this transaction is April 1, 2012.

Effective August 1, 2012, Halcón's Credit Facility was amended to increase the facility size to $1.5 billion, increase the borrowing base from $225 million to $525 million and modify the commodity hedging limits to allow the Company to hedge up to 85% of anticipated production from total proved reserves. The next borrowing base re-determination is scheduled for the fourth quarter of 2012.
The company has been very busy since the GEOI deal closed:
On September 12, Halcón announced a secondary offering by a selling shareholder:
Halcón Resources Corporation ("Halcón" or the "Company") today announced the commencement of an underwritten secondary offering of 35,000,000 shares of its common stock offered by EnCap Energy Capital Fund VIII L.P. (the "Selling Shareholder"). The underwriters will also have a 30-day option to purchase up to 5,250,000 additional shares (100% secondary) of common stock from the Selling Shareholder. Halcón will not sell any shares or receive any proceeds from the offering.

....The Selling Shareholder will retain approximately 66% of its original interest in the Company on a fully diluted basis.
Williston Basin Asset Acquisition
In a deal even bigger than the GEOI acquisition, Halcón announced on October 22 it would buy Williston assets from privately held Petro-Hunt LLC for $1.45 billion. The deal was structured as $700 million in cash $750 million in stock. A day later, the company announced pricing of $750 million dollars in senior unsecured notes.
The Williston Basin properties will add 81,000 net acres in the Bakken and Three Forks as well as 10,500 Boe/day in existing production. Total proved reserves, as estimated by third party reserve engineers, are approximately 42.4 million barrels of oil equivalent (MMBoe), 88% oil, with an internally estimated resource potential of greater than 100 MMBoe. Currently there are five operated drilling rigs running on the properties.
On a pro forma basis for this transaction, Halcón has over 135,000 net acres in the Williston Basin and current average net production is approximately 26,500 Boe/day. The deal is expected to close in mid December and will include the 5 rigs currently operating on the property.
The Canada Pension Plan Investment Board has agreed to purchase $300 million of the company's common stock at $7.16 per share, subject to customary closing conditions and the successful closing of the Williston Basin Assets acquisition.
Whew! What a whirlwind of activity! I have no doubt some shareholders probably bailed on Halcón because it was just too much work to keep track of everything the company was doing. However, in the last earnings release Chairman and CEO Floyd C. Wilson said:
We have achieved our goal of building an oil company with a multi-year drilling inventory in several liquids-rich basins. Now we turn to exploitation. The drill bit is spinning to the right in all three of our core plays, plus a few others. We have the knowledge, people and capital necessary to execute on our growth initiatives.
So, now we can take a snapshot of the company and see where they stand. First off, I'll list some important bullets taken from the Q3 earnings release (Nov. 1):
Net production in Q3 was 11,185 boe/day (77% oil and NGL) compared to 3,924 boe/day: an increase of 285%
Q3 revenues were $73.1 million compared to $24.2 million: up 302%
Realized prices:
Oil: 102% of NYMEX average price
NGL: 41% of NYMEX average price
Nat Gas: 120% of NYMEX average price
Lease operating expenses decreased 26% to $15.07 per Boe versus $20.40 per Boe in Q3 2011
Company had liquidity of $356.8 million, which consisted of $18.1 million in cash and $338.7 million of borrowing capacity available on its $1.5 billion senior revolving credit facility.
It should be noted Q3 results contained 2 months of GEOI and East Texas assets results. It is anticipated that Q4 results will contain 1/2 month of the Williston Basin Assets results.
Now let's take a look at the company's major assets. Halcón has three core resource plays: Woodbine/Eagle Ford, Bakken/Three Forks, and Utica/Point Pleasant.
Woodbine / Eagle Ford
200,000 net acres leased or under contract. HK is the most active operator in this play. There are currently 15 horizontal wells producing, 6 wells being completed or waiting completion, and 6 wells being drilled. All 6 wells being completed or waiting completion are expected to be online before year end. During Q3, the company averaged 4 operating rigs and spud 6 operated wells across Leon, Madison, and Grimes Counties, TX.
To reduce drilling costs by approximately $1 million per well, the company has reduced intermediate drill hole size to 8.75" from 9.875", eliminated intermediate casing in some areas, and is utilizing pad drilling. Total drilling and completion costs are expected to decrease by 15%.
Proved Reserves (Mboe) / %Oil/NGLs 19,049/ 92% : (As of April 1,2012 using SEC Pricing for the year ended December 31, 2011 estimated by Halcón's internal reserve engineers).
Bakken / Three Forks
135,000 net acres after the Williston Basin Assets acquisition is completed. Currently there are 33 wells producing, 1 well being completed, 5 wells waiting on completion, and 3 wells be drilled on Halcón operated acreage. Halcón averaged 3 operated rigs and spud 7 wells in Williams County, ND and 3 wells in Roosevelt Country, MT during Q3. In addition, the company participated in 22 non-operated wells in North Dakota. Over 700 drilling locations have been identified in the play.
Halcón's Williams County property is just north of McKenzie County where Continental Resources (NYSE:CLR) announced Monday it successfully completed the Charlotte 3-22H (91% WI), the first horizontal well to test the third bench (TF3) of the Three Forks zone in the Bakken field of North Dakota and Montana. "This could be a real game-changer," CLR Chairman and CEO Mr. Hamm said. The Charlotte 3-22H flowed 953 barrels of oil equivalent per day (Boepd) at 1700 psi on a 28/64 choke in its initial one-day test period.
Halcón's Williams County properties are likely to benefit from the Three Forks third bench (TF3) as well, which could lead to a significant upgrade in estimated reserves. The Marmon properties being purchased from Petro-Hunt are also adjacent to CLR's TF3 well in McKenzie County. Great news for HK shareholders, although the stock did not pop much Tuesday. The properties we are talking about are the yellow and blue properties in the picture below titled "Bakken/Three Forks Overview".
Proved Reserves (Mboe)/ %Oil/NGLs 7,044/ 93% : (As of December 31, 2011 using SEC Pricing. Does not include Williston Basin Assets acquisition).
Slide from a recent presentation on the Williston Basin Assets Acquisition: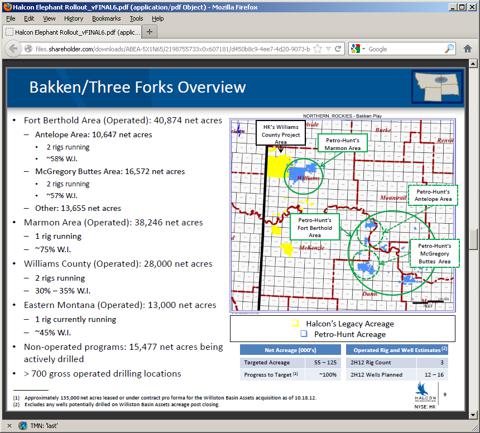 Click to enlarge
Utica / Point Pleasant
130,000 net acres leased or under contract. First two wells spud in PN in October. Plans to add a 3rd operated rig in early 2013 and a 4th operated rig later in 2013. The first 3 wells drilled are spread across the company's acreage position and plans are to core and log each well. First production is planned for late Q1 2013 as a 60 day resting period after fracture will be implemented.
Non-Core Plays
In addition to its 3 core plays, Halcón has several "non-core" asset plays which can be thought of as wildcat opportunities or potentially disposable assets:
70,000 net acres in the Tuscaloosa Marine Shale (TMS)
25,000 net acres in Southeast Texas believed to be prospective Midway and Navarro formations. Drilling has commenced.
95,000 net acres in East Texas and South West Louisiana believed to be in the Wilcox formation. Activity has commended.
45,000 net acres in Osage County, OK believed to be in the Mississippi Lime formation. Drilling has commenced.
200,000 net acres in the Austin Chalk trend in Southeast Texas.
24,000 net acres in the Fayette and Gonzales Counties Texas. Believed to be in the Eagle Ford and other formations. Due to a non-compete agreement, HK expects to divest this property and the marketing process is underway.
"Other Conventional" which have the following metrics:
Total proved reserves: 38.6 MBoe (Dec 31, 2011 SEC pricing)
PF% Developed: 68%
PF % Oil/NGLs: 72%
PF Total Q3 Avg Net Production: 6,155 Boe/day
More on Eagle Ford (Non-core)
As noted above, due to a non-compete agreement, Halcón plans to divest its 24,000 net acre Eagle Ford position. The marketing process is underway. This is a prime asset and should raise some nice cash.
Since August 2012, Halcón has completed eight wells that have averaged 545 Boe/d (93% oil) during the first 30 days of production, which represents a 47% improvement when compared to the first three wells completed on this acreage position. There are currently 20 wells producing, 3 wells waiting on completion and 2 wells being drilled in this play. According to the company's website, Q3 average daily net production is over 1,000 Boe/day.
A geographical summary of HK's asset base was shown on slide 11 of the Oct 22, 2012 presentation: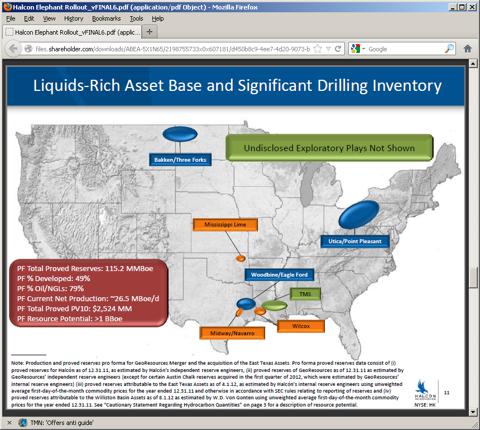 Click to enlarge
PF Reserves By Area After Acquisition:
Bakken/Three Forks: 43%
Woodbine/Eagle Ford: 17%
Utica/Point Pleasant: TBD
Other: 40%
OUTLOOK:
Q4 Production: 17-20,000 boe/day
Q4 Exit Production: 25,000 boe/day (by year end)
2013 Production: 40-45,000 boe/day (80% oil)
Pro Forma Proven Reserve Summary
On slide 7 of the Oct 22, 2012 presentation, management listed the company's pro forma reserve summary including the Williston Basin Assets (to be acquired) as follows:
Total MBoe: 115,184
79% Liquides
PV-10 ($MM): $2,523.5
Summary Opinion on Halcón Resources
In summary, HK's stock has taken a hit while the company has gone about acquiring oil property. A flurry of deals to finance the acquisitions has probably confused investors. However, on the latest quarterly conference call, management alluded to the fact that their plate was full and it was now time to exploit these assets with the drill bit. Financially, the company has obtained the funding to complete its current asset acquisitions as well as to move forward with their exploitation plans.
With 2013 production guidance pointing to a near doubling of Q4 2012 average production, the outlook is excellent. Disposing of its non-core quality Eagle Ford holdings, which the company expects will be its first non-core asset sale, will bring in a nice hunk of cash to bolster the balance sheet. The assets HK has assembled in the Bakken and Three Forks are high quality and come with 10,500 boe/day of production and 5 rigs.
Due to its production growth, Halcón should experience explosive EPS growth in 2013. As a result I expect momentum to easily push the stock over $10/share in 2013 and back to its early 2012 level of $12/share. That would be a double from Tuesday's closing price.
But don't take my word for it. What does management have to say?
Insider Buying
HK management is speaking with their wallets. Barron's reported eight Halcon executives bought nearly 354,022 shares of the company stock for $2,020,015.
CEO Floyd Wilson bought 175,000 shares of HK on Nov 9 for $999,827, an average of $5.71/share. This brings the CEO's total stake in the company to 3,280,000 shares or about 1.5%.
But it wasn't just the CEO who was buying:
Scott M. Zuehlke, vice president of investor relations, bought 2,055 shares for $11,569
Charles E. Cusack III, executive vice president of exploration bought 20,000 shares for $111,400
Leah Kasparek, vice president of human resources bought 4,667 shares for $24,968
Director James W. Christmas bought 100,000 shares for $572,600
Director Tucker S. Bridwell bought 30,000 shares for $172,200
Director Thomas R. Fuller, who bought 17,300 shares for $99,700
I cannot remember the last time I saw such widespread insider buying in a relatively small energy company's stock across its upper management. This is very bullish and shows management is confident in its ability to digest and exploit the properties they have this year.
On August 3, 2012 CEO Floyd Wilson was interviewed on CNBC and you can watch it here. It's clear Wilson is building a company which will have multi-decade drilling opportunities in quality oily asset plays. He believes this will make Halcón attractive to larger companies. He says within 2-3 years the company could be sold.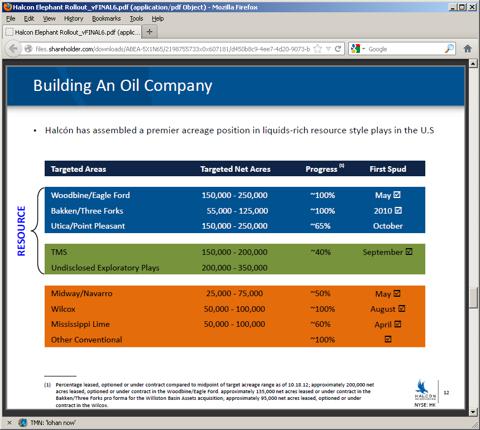 Click to enlarge
And why should we doubt Mr. Wilson's experience and capabilities at building an oil company? After all, this is the man who created PetroHawk for $60 million and then sold it for $12.1 billion. As he said in a recent teleconference "This is not our first rodeo". And after listening to his recent Q3 teleconference, I got a real feel for this man. He is a no-nonsense kinda guy. He gets to the facts and doesn't waste time. You get the feeling he's got important work to do and would prefer to get off the phone as soon as everybody's questions are addressed. I like the guy. Very much.
Buyout Price?
From my analysis of the company's acreage holdings, the longer any acquirer waits, the more expensive a buyout will be. As time goes on, I expect large increases in proved, possible, and probable reserves - especially in the company's Bakken holdings and as a result of CLR's announcement Monday about its TF3 well results. Also, the company's Woodbine/Eagle Ford position should not be underestimated. This asset could rival the Eagle Ford in economics, and we all know the Eagle Ford has the best margins of any U.S. property.
Putting a price on a future buyout is very difficult. While it is possible to put a price tag on the company's holdings in the Bakken/Three Forks and Woodbine/Eagle Ford properties, it is not so easy for the Utica/Point Pleasant core holding nor for the many "non-core" holdings Halcón has. There are many wildcat opportunities within the combined acreage and much will depend on the drill bit. But I have confidence in CEO Wilson and I think surprises will be on the upside. However, for now, I prefer not to estimate a buyout price. That said, I will be keeping an eye on Halcón and will offer an estimate sometime in 2013. All that said, I am confident the company is worth integer multiples (with an "s") of its current price.
Yesterday, StreetInsider.com reported hedge fund Citadel Holdings disclosed a 5.2%, or 11,238,005 share, stake in the company. This is up 44.67% from the 7,768,275 shares held at the end of the latest quarter ending September 30, 2012.
I have decided to "walk-the-talk" and buy some shares in HK around the current $6.25 price, slightly above where insiders plunked down their own money. Once Wall Street realizes the hidden value of this company's assets, I expect to do quite well with HK in 2013. CLR's Charlotte well results should lead to increased reserve estimates for a number of companies in the Bakken/Three Forks: Halcón and Whiting Petroleum (NYSE:WLL) are just two.
Disclosure: I am long HK, WLL. I wrote this article myself, and it expresses my own opinions. I am not receiving compensation for it (other than from Seeking Alpha). I have no business relationship with any company whose stock is mentioned in this article.