CYS Investments Inc. (NYSE:CYS) is a mortgage REIT that invests primarily in Agency RMBS. It pays a great 14.05% dividend. With the Fed backing up the housing industry, this is one of the safest investments in an uncertain investment world. The Fed is not likely to let the housing market drop much from here. The Fed is keeping mortgage rates low. It has said that it will keep Fed Funds rates low until mid-2015 (and perhaps longer). Operation Twist, which ends at the end of 2012, and the Fed's buying of MBS ($40B per month for QE3) have succeeded in doing this so far. The Fed is also replacing expiring MBS with new ones. The total in long term securities buying is about $85B per month. The Fed may increase its MBS buying after it ends Operation Twist. However, the Fed is unlikely to crowd mortgage REITs out of the industry because it also wants to foster this industry. This may mean that mortgage rates may go up slightly after the end of the year. This should increase the interest rate spread that mortgage REIT companies can earn on their investments.
With the above in mind, the only major problem these companies face is a possible increase in the foreclosure rate on mortgages. With the new HARP 2.0 program, this too seems unlikely. However, a deep recession brought on by the fiscal cliff could precipitate this. People without jobs have a hard time paying mortgages. With the above in mind, your investment strategy for mortgage REITs should be to average in around the fiscal cliff with good mortgage REITs. CYS is one of the good ones.
CYS saw tightening net interest rate spreads in Q3 2012 as did the other mortgage REITs. The interest rate spread net of hedges was 1.24% for Q3. This was a significant decrease from the 1.71% net spread in Q2 2012. The adjusted interest rate spread net of hedges was 1.41% in Q3 2012. This was bad relative to recent results; but it did not reflect badly on management. Rather it was likely a result of the Fed actions narrowing rates. CYS says its expects near future net spreads to be in the 1.50% to 1.70% range.
The constant prepayment rate (CPR) was approximately 17.3% in Q3. This was a decrease from the 18.1% in Q2 2012. However, CYS expects the CPR to rise slightly in Q4 2012. The management decreased operating expenses in Q3 to 0.93% of average net assets compared to 1.33% in Q2 2012 as it took advantage of economies of scale with a 46 million common shares offering at $13.70 per share ($622 million in net proceeds) and a 3 million share preferred offering ($72.5 million in net proceeds). Plus it did increase net asset value per common share to $14.46 as of September 30, 2012. This was an increase of $0.94 per share over the NAV at the end of Q2 2012. As described above, mortgage rates are likely to stabilize or even rise after Operation Twist ends. CYS forecasts a net interest rate spread of 150 to 170 bps for the near future. This should lead to continued reasonable results for the near term. If spreads widen again slightly in 2013, CYS' net interest rate spread should widen too. The leverage ratio was 7.7 to 1 at the end of Q3 2012.
Core earnings were $41.2 million, or $0.25 per diluted share. The dividend was $0.45, which was down from the $0.50 dividend in Q2 2012. The core earnings might seem out of line with the dividend. However, CYS' GAAP net income was $241.9 million for Q3 2012 (or $1.46 per diluted share). This more than allows for the $0.45 dividend. It also compares well to the $0.87 per diluted share in GAAP net income for Q2 2012.
CYS sold about $5.5B of Agency RMBS during Q3 2012 for a net profit of $27.3 million in realized gain. CYS also made $10.9B of forward purchases during Q3 2012. It made $0.19 per $100.00 per par value per month on these. This compared well to the $0.18 per $100.00 in drop it earned on its Q2 investments. CYS made $36.9 million (or $0.23 per diluted share) in drop income in Q3 2012. Basically CYS did great in Q3 except in the area of core earnings, which were good under the current circumstances.
The table below shows the approximately overall assets and performance in Q3 2012.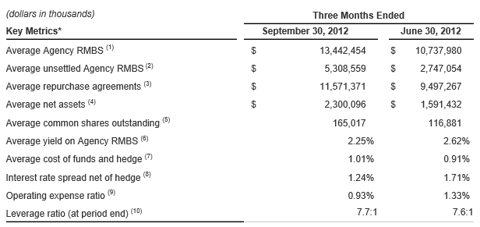 The table below shows the portfolio makeup as of September 30, 2012.

The Agency RMBS portfolio is all relatively new RMBS. It has 0.7% of 2009 production; 5.8% of 2012 production; 24.2% of 2011 production; and 69.3% of 2012 production. There is some risk of too much interest rate expansion. However, with hedging and the Fed backing the real estate market, the risk should be reasonable. Plus the company is expanding. It had investments of $9.47B at FY2011E. At the end of Q3 these had expanded to $22.86B. Net assets expanded from $1.077B to $2.605B during the same period. The NAV per common share expanded from $13.02 to $14.46. By almost any measure the company is doing well while continuing to pay a great dividend.
The table below shows the fall in mortgage rates of par priced Fannie Mae 15 year RMBS during that time.

As you can see from the latest results, prices cannot possibly go down much more. They are due to start expanding, and the ending of Operation Twist at the end of 2012 may signal the start of that process. CYS could possibly see a further dividend decrease in Q4 2012. However, CYS is clearly being actively managed with almost 70% of its portfolio being 2012 production. This company should continue to do well.
The two year chart of CYS provides some technical direction for this trade.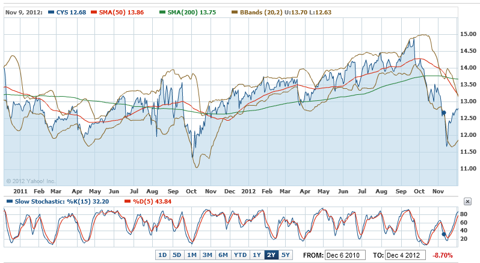 The slow stochastic sub chart shows that CYS is currently overbought near term. The main chart shows that it may be starting a down trend. Alternatively, CYS could be headed upward to recover its recent price losses. At $12.81 per share, it is far under its NAV of $14.46 per share. Mortgage REITs often trade at a slight premium to their NAV's. Many other mortgage REITs have rallied significantly of late. CYS may follow them upward. A gain to its net asset value would be almost 13%.
Even with the threat of greater dividend taxes (especially on the rich), CYS represents a good bargain compared to US Treasuries. The housing market will eventually recover. Its management has been doing a good job. CYS is worth consideration as a buy for your portfolio. However, it would be prudent to average in around the fiscal cliff. If the US goes into recession in 2013, this strategy will give you a chance to buy a reasonable portion of your investment in the stock at the bottom of the market. Plus with the Fed backing the housing market, there is very little doubt of an eventual recovery of any share price loss. Meanwhile you will get to collect a great dividend. CYS trades at a very low PE of 5.53. With a recent high close of $14.88 in September, CYS has a lot of room to rise. It has an average analyst recommendation of 2.1, so a lot of other analysts agree with me. It is probably appropriate to start to nibble at this high dividend company.
If you like the security of Agency REITs, you might also consider American Capital Agency Corp. (NASDAQ:AGNC). It had a good Q3, and it had low CPRs.
Note: Some of the fundamental financial information above is from Yahoo Finance.
Good Luck Trading.
Disclosure: I have no positions in any stocks mentioned, but may initiate a long position in CYS over the next 72 hours. I wrote this article myself, and it expresses my own opinions. I am not receiving compensation for it (other than from Seeking Alpha). I have no business relationship with any company whose stock is mentioned in this article.