The U.S. Energy Information Administration said Tuesday that U.S. crude-oil production reached its highest level in nearly 15 years in September. Production was up 16% Y/Y and stands at 6.5mmbpd. The production increases were primarily driven by production from North Dakota and Texas. I believe we are still in the early innings of this energy production expansion and high yielding infrastructure MLPs are great places for yield investors to park their money. One of the heavyweights in this space is Energy Transfer Partners (NYSE:ETP) which yields over 8% and has substantial growth prospects ahead of it as well.
Key recent catalysts for ETP:
The Eagle Ford region of Texas is seeing the fastest expansion of energy production in the state. ETP has invested over $1.2B in the region since 2010 and should be a beneficiary of the continued production expansion in this region.
The company just completed a Natural Gas Liquid (NGL) pipeline in a joint venture that has more than 200,000 bpd initial capacity that will move this production from the Permian and Delaware basin to processing facilities.
The Sunoco acquisition was completed earlier in this quarter.
Consensus earnings estimates for both FY2012 and FY2013 have risen over the last month.
The stock has built technical support at just under this price level over the last six months (See chart)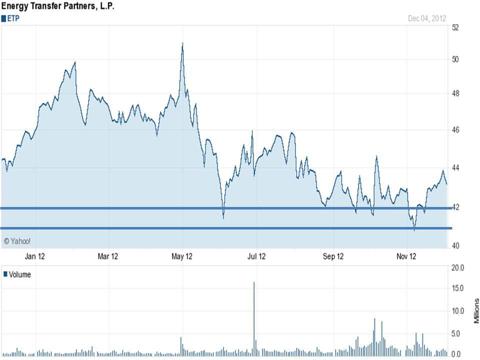 Click to enlarge
Energy Transfer Partners, L.P. engages in the natural gas midstream, and intrastate transportation and storage businesses in the United States
4 additional reasons ETP is good yield play at $43 a share:
ETP yields over 8% (8.2%). In addition, if the company hits the significant revenue growth numbers analysts have penciled in for FY2013 primarily due to the Sunoco acquisition (see below), distributions should increase after being flat for years.
The Sunoco acquisition will more than double revenues in FY2013 and expands the company's footprint into the oil and natural gas liquids space.
The stock has a low five year projected PEG (.71) for a high yielder.
The nine analysts that cover the stock have a $49 median price target on ETP, decent potential capital appreciation on top of an 8% yield. S&P has a "Buy" rating and a $53 price target on the shares.
Disclosure: I have no positions in any stocks mentioned, but may initiate a long position in ETP over the next 72 hours. I wrote this article myself, and it expresses my own opinions. I am not receiving compensation for it (other than from Seeking Alpha). I have no business relationship with any company whose stock is mentioned in this article.