Despite Deere & Company's (NYSE:DE) most recent financial reports, DE provides a highly feasible investment opportunity on the basis of a potential industry play. DE operates in an industry that is surrounded with positive catalysts. Corn has experienced a recent influx in price and on top of that dairy farmers are experiencing growing profit margins. Given the large quantity of DE's products that are readily available for sale, the combination of these two factors makes purchasing DE's product far easier than before. The primary reason I decided to analyze this investment opportunity is the fact that Warren Buffett established a position in DE with an initial outlay of $300 million after poor guidance was already released for FY 2013. Although Buffett's position was not tremendous relative to his largest holding of $14.4 billion in Coca-Cola Co (NYSE:KO), there was still significant reasoning behind this investment decision. In fact, if you take a deep look inside the valuation metrics of DE, intrinsic valuation metrics reveal a rather favorable upside. This article provides an overview to the most recent guidance that was given for DE in regards to FY 2013 then concludes with modeling the intrinsic value of DE.
FY 2013 Guidance
It is clear DE's third quarter financial statements were a disappointment, but analysts' reasoning behind lowered guidance it not quite as clear. It seems the vast majority of the reasoning behind lowered guidance for FY 2013 lies at the heart of the economic issues at a macro level, and has little to do with DE's internal operations. Here is an excerpt of an article from Construction Equipment Guide that provides insight on the outlook for DE:
"In recent years, that's been a booming business as strong crop prices have put money in farmers' pockets. But there were signs of a slowdown in farm spending in Deere's outlook for the fiscal year that began this month. Deere expects agriculture sales in the United States and Canada to be flat for the year, as farmers continue to recover from a major drought in 2012. It also predicted that European sales would be flat to down 5 percent, and little changed in Asia. It expects 10 percent growth in South America. Overall Deere predicted that worldwide equipment sales will rise 5 percent for the year. In addition to farm equipment, Deere makes construction and forestry equipment such as backhoes, excavators, riding mowers and leaf blowers, making the company sensitive to movements in the global economy."
A Brief Synopsis of the Models Used
The model used in this analysis is a variation of the corporate valuation model that takes into account three key variables including DE's free cash flows, a firm-specific growth rate, and DE's weighted average cost of capital. The model works by projecting free cash flows forward at a multiple of the growth rate and then discounts them back by the difference between the weighted average cost of capital and the growth rate. This computation equates to what is referred to as the intrinsic value of operations, essentially the fair value of DE's operations are actually worth. The next step in the model, (which is clearly outlined below in each figure), simply involves subtracting debt and preferred stock in order to arrive at the value of equity. Then last, to derive the intrinsic value per share you divide by the current number of shares outstanding in the market. The weighted average cost of capital was computed based off DE's current capital structure, which was 6.30%. DE has zero preferred stock. Therefore in this computation the only variables used to compute the weighted average cost of capital were the respective weights and costs of debt as well as equity.
Two additional things that I would like to disclose are how I approximated the firm specific growth rate used in the first part of the constant growth model as well as how I projected DE's future short-term investments. In order to account for the expected increases in short-term investments over the next year, I computed an average growth rate based on the historical value of short-term investments since 2009. Short-term investments increased from $192 million in FY 2009 to $227.90 million in FY 2010, approximately an 18% increase over that period. For FY 2011 and FY 2012's current short-term investments, the values are $787.30 million and $1,470.40 respectively. These figures imply increases of 245% and 87% respectively, which in combination with the increase from the previous year results in an arithmetic average of 117% growth in short-term investments on an annual basis. In this model, I accounted for 85% growth in short-term investments on an annual basis, which is relatively conservative given my calculations.
There are three scenarios presented below. The first scenario is designated to be the "Base Case" because it is by far the most modest and realistic, yet given the abnormalities investors face in financial markets it is imperative to used scenario analysis to scrutinize alternative outcomes that can potentially arise. For comparative purposes, consider Scenario 1 the benchmark for the following two scenarios.
Scenario 1: Base Case
Figure 1: Corporate Valuation Model Scenario 1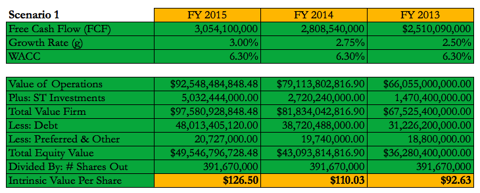 Click to enlarge
The most conservative estimate revealing a constant growth rate of 2.50% implies that by the end of FY 2013 DE's true value per share will be approximately $92.63. This is nearly a 10% upside from DE's current market value per share. FY 2014 and 2015 estimates combined yield an average return of approximately 17% per year.
Scenario 2: Increase in Net Operating Profits After Taxes (NOPAT), Holding Investments in Operating Capital Constant
The difference between net operating profit after taxes (NOPAT) and investments in operating capital equates to a firms free cash flow, so if you increase NOPAT while holding investments in operating capital constant this ultimately increases free cash flow. The next scenario shows exactly what happens to DE's intrinsic valuation estimates when free cash flow estimates for every year increase by 5%. From an investors perspective this scenario is by far the most appealing, however still extremely realistic.
Figure 2: Corporate Valuation Model Scenario 2

Click to enlarge
The primary difference from this scenario in contrast to the previous one is the growth in DE's operations, which allows for a greater intrinsic share value estimate in FY 2013. This scenario projects a FY 2013 intrinsic value per share estimate of $101.06, which implies a 20% upside from current market valuation.
Scenario 3: Reduction in Capital Expenditures for Projects
The looming uncertainty that is constantly being spread by market participants as well as owners of corporations, makes a worst case scenario almost an inevitable part to any investment analysis. However, I would not classify this scenario as one of those so called "worst case" situations. Scenario 3 is being used to address one of the major concerns that led to lower guidance in FY 2013. The "fiscal cliff", which as it may seem is factored in to everything in current financial market news, however it has caused DE's management to raise a few concerns on the topic. Here is another excerpt from Construction Equipment Guide:
"With the so-called "fiscal cliff" of potential tax increases and spending cuts looming in the United States, Deere is cautious about big spending projects. Deere is holding off on big spending projects as much as possible until January because of economic uncertainty, said Chief Financial Officer Rajesh Kalathur on a conference call."
Regardless of DE's intentions in terms of capital allocation for projects, there is nothing at the moment we can do, but analyze the potential situations by creating what-if analysis. The figure below models a scenario that shows the potential impact on DE's market value per share in scenario where DE decides to cut back in the amount of capital they allocate to major projects. To provide accurate estimates for this scenario, I decreased free cash flow estimates for each year by approximately 10% from the base scenario. All other variables were held constant.
Figure 3: Corporate Valuation Model Scenario 3

Click to enlarge
As you will see above, decreasing capital expenditures on projects does have a negative implication on DE's intrinsic value. FY 2013 intrinsic value per share estimate is only $76.14, which is rather unfavorable from an investment standpoint. The probability of this scenario occurring is extremely rare, however it is important for investors to realize how such a simple action of a corporation can lead to a significant decline in intrinsic value.
Conclusion
DE's intrinsic value, in a conservative state is worth far more than any estimates in line with lowered guidance in FY 2013. Buffett does not seem concerned with these forecasts either. In conclusion, DE has a strong set of products aimed to serve customers operating in an industry that has existed for centuries. Taking into account the most conservative, yet realistic growth estimate (Scenario 1), DE will be intrinsically worth $92.63 by the end of FY 2013 at a bare minimum. For any individuals investing now, this implies an upside of nearly 10%.
Sources: The Wall Street Journal, Construction Equipment Guide, & Google Finance.
Disclosure: I am long DE. I wrote this article myself, and it expresses my own opinions. I am not receiving compensation for it (other than from Seeking Alpha). I have no business relationship with any company whose stock is mentioned in this article.