The Canadian REITs have been declining since early August with the XRE ETF down hard, but they have been given a sign of life today.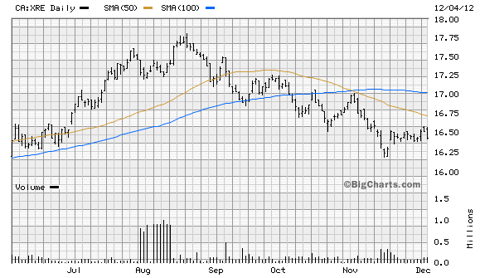 A consortium of Canadian pension funds led by private equity firm KingSett Capital propose to bid for Primaris REIT (OTC:PMZFF) at $26.00 CAD per unit, or about 13% over the closing $23.04 price yesterday. Primaris will be split up into pieces and sold to the various partners if this unsolicited bid is successful.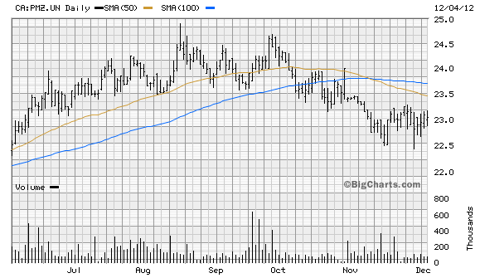 The deal is valued at $2.6 billion (99.9 million units X $26) plus $1.5 billion in total debt.
Primaris units at 10:20 am trading at $26.18 up $3.14 or 13.6% on 6.3 million volume.
Primaris was in the process of buying two malls in New Brunswick for $317 million, so the total prospective bid is valued at $4.4 billion as indicated by KingSett.
Jon Love, the head of KingSett, used to be President of Oxford Properties, and knows the office real estate market very well.
As a side note: we made over $1.4 million for a group of investors on Oxford Properties during the mid 90s. Oxford was subsequently sold to another pension fund, OMERS.
Will this deal boost other Canadian REIT unit prices?
Yes and no.
Lately, there have been not a few junior REITs being floated on the market, primarily in the industrial space (Dundee Industrial, Agellan, FAM), which is usually a sign a sector is peaking.
But I think the Primaris deal could give the retail sector a boost here. The retail space is much more stable than industrial or office.
We like and own RioCan (OTCPK:RIOCF), Calloway (CWYYF.PK), Artis (OTCPK:ARESF) and Cominar REIT (OTC:CMLEF) in this area, which are either retail or diversified with a retail component.
If only, because the equity unit yields are well in excess of GOC bonds and the REITs' own straight or even convertible debenture yields.
For a few unique reasons this deal is perhaps a one off:
Firstly, the buyers already owned almost 7% of Primaris, so they had a leg in.
Secondly, the Primaris portfolio of 33 principal properties (13.7 million square feet of leasable space) is under leveraged with only 38.9% debt to total assets as of September 30, versus 50% which is more the norm.
Their portfolio is spread across Canada with 40% in Ontario, 15% in Alberta, 14% in British Columbia and 12% in Quebec, making management of a smaller portfolio more expensive.
Thirdly, the Primaris REIT was bite-sized with only a $2.0 billion equity market cap.
The Primaris REIT yield was nothing to shout about, at 5.3% yesterday, so the cash flow was not the driving force behind the surprise bid.
My guess is the bidders also wanted the 2 malls in New Brunswick, with GLA (gross leasable area) of almost 1 million sq ft.
Since they didn't get it, they decided to buy the whole REIT with the deal included.
Others in the retail sector are substantially larger or controlled by a single shareholder
RioCan REIT, the largest, is valued at $8 billion and coincidentally, is taking $1.1 billion of the almost $4 billion in pro forma Primaris assets if the deal goes through. RioCan is after the 1.5 million square feet of largely empty Zellers locations Primaris is converting to Target (NYSE:TGT) locations, so it can continue to be the leading Target landlord in Canada.
Calloway REIT is valued at $3.5 billion but is controlled by Mitch Goldhar's SmartCentres.
First Capital Realty is valued at $3.7 billion but is controlled by Gazit-Globe. Both Calloway and First Capital have a handful of Target store locations, and probably would want more. However, this in itself would not indicate a competing bid for Primaris is likely. Having said that, KingSett and partners might have to sweeten their $26 bid to get the Primaris board on side.
So we see this more as a one-off transaction of a smaller REIT by informed buyers.
I see the most undervalued REIT right now as Artis, which yields 7% at current prices and is diversified across industrial, retail and office, with a weighting towards Western Canada.
The Primaris REIT I always considered less quality, due to its exposure to weak retailers Sears Canada (SEARF.PK), Hudson's Bay Company and defunct discount retailer, Zellers. Obviously beauty is in the eye of the beholder.
The Primaris offer, if it is consummated, would give a sign that the Canadian REITs have been beaten up enough, and their market caps and yields are more compelling than earlier this year.
Offsetting this bullish sign, is the continued flooding of new REIT units, both equity and convertible debenture, into the investor community, which is probably satiated at this point.
Disclosure: I am long OTCPK:ARESF, OTC:CWYUF, OTC:CMLEF, OTCPK:RIOCF. I wrote this article myself, and it expresses my own opinions. I am not receiving compensation for it (other than from Seeking Alpha). I have no business relationship with any company whose stock is mentioned in this article.