Alcatel-Lucent (ALU) signed a mega deal with Telefonica (NYSE:TEF) and is likely to play a key role in the ongoing telecom network infrastructure upgrade taking place around the world. Alcatel-Lucent announced it will provide its 7950 XRS core router to Telefonica, one of the world's leading communications service providers, to upgrade Telefonica's internet protocol networks. The deal initially covers Argentina and the Czech Republic.
The importance of this deal for Alcatel-Lucent is profound. Telefonica operates in 22 different markets: Argentina, Brazil, Chile, Czech Republic, Colombia, Costa Rica, Ecuador, Germany, Guatemala, El Salvador, Ireland, Mexico, Nicaragua, Panama, Peru, Puerto Rico, Slovakia, Spain, United Kingdom, USA, Uruguay and Venezuela.
Assuming this relationship goes well, this deal will provide a long-term revenue stream for Alcatel-Lucent, as Telefonica slowly upgrades its infrastructure to the next generation of core routers to handle the exploding need for bandwidth, as more and more people use IP services around the world.
According to Alcatel-Lucent, the 7950 XRS family supports five times the density of today's core routers and, using the latest techniques in silicon and system design, slashes power consumption by 66 percent compared to typical core routers.
Alcatel-Lucent has excellent probabilities to make a good name in the core router space and command a sizable share of the market. In 2003, it entered the edge router space and today commands a 24% market share, surpassing even Juniper Networks (NYSE:JNPR) as of last year. As such, it has the customer base to be able to sell its new line of core routers.
Carriers in general are hesitant to change router platforms and don't often favor incumbents. Such a transformation involves downtime and staff training and many carriers just don't want to go through the process. So when a deal is signed with Telefonica to equip its IP infrastructure with the company's new line of advanced core routers, it means that the new line of core routers are stacked up to the competition and then some.
Pertaining to market share, several months ago Nomura research analyst Jeffrey Stuart said:
"Alcatel-Lucent has captured a 24 percent share of the edge router market over the past 10 years. €œIf the company can launch a compelling solution and leverage its customer relationships, then it may see faster share gains in the core routing market. Our analysis shows that a 10 percent core routing share would drive a 6 percent increase in our operating income forecast for 2014 (all else being equal) and a 20 percent share 14 percent upside to estimates."
Jeffrey Stuart expects to see a drop of up to 10% in Cisco's market share and a drop of 4% market share for Juniper in the core router market by 2014.
Both Cisco and Juniper have over 90% of the core router market. This means that Alcatel-Lucent can only gain in market share and the other two competitors will lose market share. When you have zero market share, you can only gain.
Juniper by far has most to fear from Alcatel-Lucent's new line of routers, for about 65% of its revenue comes from telecom sales.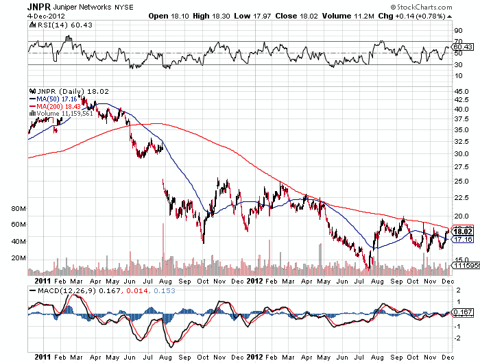 To what degree the market is discounting any loss of market share for Juniper is hard to tell, but the stock is down considerably since 2011. Also notice that it has been trading below its 200 day moving average for some time now.
Cisco (NASDAQ:CSCO) on the other hand does not need to worry, for it has a more robust product offering and is not threatened by a 10% reduction in core router market share.
Margins however might be threatened. Remember both Cisco and Juniper have been able to command high margins because they were the only two in the space. For Alcatel-Lucent, which wants to penetrate the space, it is only natural it will do anything it can (a margin squeeze in the space is one of those things) as an incentive for carriers to buy the new platform.
So overall the Telefonica deal is good news for Alcatel-Lucent and probably the best news the company has given shareholders in a while.
A while ago, I told you that a financing deal with Goldman Sachs (NYSE:GS) will be very good news for the company (please consider: Alcatel-Lucent: An Asset Based Opportunity).
Yesterday, Bloomberg reported that Alcatel-Lucent is closer to a loan amid turnaround plans.
Alcatel-Lucent SA is closer to obtaining financing of at least 1 billion euros ($1.3 billion) from banks led by Goldman Sachs Group Inc. (GS) and Credit Suisse Group AG (CSGN) amid a wide-ranging overhaul that will probably require deeper job cuts and major asset sales, people familiar with the talks said.
Reuters just today reported an even better deal:
Telecom equipment maker Alcatel-Lucent is close to hiring banks to back an up to 1.4 billion euro ($1.8 billion) loan refinancing that will provide more cash for looming debt repayments. Goldman Sachs and Credit Suisse are among banks expected to lead the refinancing, along with Citi and JP Morgan as well as French banks, the sources said.
Granted that $1.3 - 1.8 billion is not that big of a sum in either case, however, it does bring the company a bit closer to be able to close the refinancing gap of 2015. Remember, the company only needs about $3-4 billion to close this gap. If this financing deal is sealed, it will help the company towards that goal. Restructuring efforts, which are ongoing, will also help, and the company is on target to reduce its total workforce by about 5.000 people.
Technical note: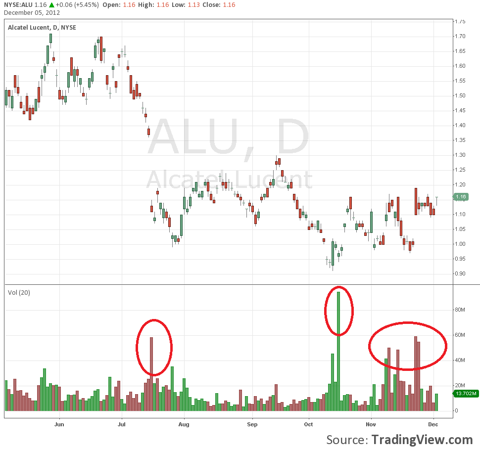 The chart says nothing as is. The stock is basically muddling along and doing nothing at these levels. However, I believe, as in the case of Nokia (NYSE:NOK), the market is buying the dips.
Remember big volume always happens at bottoms or tops. The smart money knows this. The herd always panics and sells the kitchen sink at the bottom and always buys the hype and buys like crazy at the top (as in Apple's case).
I believe the same thing is happening here and the smart speculative money that understands this is buying.
Bottom line
I reiterate my buy for Alcatel-Lucent, because while the stock is still a speculative play, its new router offering and the financing that will logically take place soon remove much of that speculative aura from the stock. Above all, if I am right, this stock will reward investors with above average appreciation from these levels.
Disclosure: I have no positions in any stocks mentioned, and no plans to initiate any positions within the next 72 hours. I wrote this article myself, and it expresses my own opinions. I am not receiving compensation for it (other than from Seeking Alpha). I have no business relationship with any company whose stock is mentioned in this article.