As I write this, Apple (NASDAQ:AAPL) is taking a straight down 4% beating in the market. This has come out of the blue and is rather rare for Apple when there are no news and the market itself was rather stable.
At this point, the most plausible explanation is not very reassuring. It seems that COR Clearing is increasing Apple's margin requirements to 60% from 30% due to excessive concentration. This is supposedly leading to mechanical selling to re-establish maintenance margins of leveraged traders.
Although the motive itself is not fundamental to Apple, it does lead one to believe that the excessive speculation which befell Apple months ago, then visible in the call option trades, is still present in the form of leverage. To invest an entire portfolio into a single equity is already ill-informed. To do so even beyond 100% of the portfolio, using leverage to a point where an increase in margin requirements would require selling, is even worse.
This unique environment around Apple is somewhat amazing. While the funds themselves don't really overweight the stock due to its already heavy presence in the indexes, it seems that individual investors are all too willing to compensate by overexposing themselves.
Apple rogue trader
The sentiment around Apple got so frothy that Apple even attracted its own rogue trader, David Miller from Rochdale Securities, now under FBI custody. David Miller, flush with optimism near Apple's latest earnings report, went and bought 1.6 million Apple shares. Things didn't go so well and the trade handed its firm $5 million in losses, imperiling its future. This trade does illustrate the kind of sentiment which surrounded Apple and its "can't miss" image.
Margin debt
This situation in Apple might be a consequence of generally elevated margin debt levels as we can see below. This would be even more relevant, if some of this margin debt ended up concentrating in few stocks, as seems to be the case due to the move by COR Clearing (Source for margin debt data: NYSE).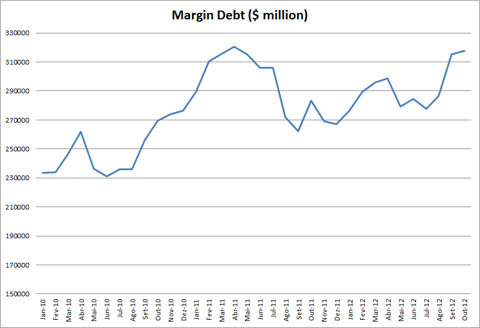 Conclusion
Over the short term and until excessive speculation is wrung out of Apple, the stock is likely to remain pressured. This latest move to increase margin requirements should already take care of most leveraged speculation, while the call option speculation has ceased a while ago as well, so the process is well advanced now.
Once this temporary excessive-sentiment related phenomenon is over, Apple will be able to go back to reflecting its own fundamental prospects, namely those affecting the iPhone 5 and the iPad.
Disclosure: I have no positions in any stocks mentioned, and no plans to initiate any positions within the next 72 hours. I wrote this article myself, and it expresses my own opinions. I am not receiving compensation for it (other than from Seeking Alpha). I have no business relationship with any company whose stock is mentioned in this article.