Picking retail winners and losers has always been a challenge. Fickle trends create inventory risks and the battle over wallets pinches margins.
Instead of guessing whether American Eagle (NYSE:AEO) will trump Abercrombie (NYSE:ANF) or if Wal-Mart (NYSE:WMT) will beat out Amazon (NASDAQ:AMZN), investors may want to focus instead on MasterCard (NYSE:MA).
Shopping continues to move online.
Consumers appetite for convenience has pushed revenue away from traditional retail stores to online sites. The e-commerce revolution is shown clearly on the following chart.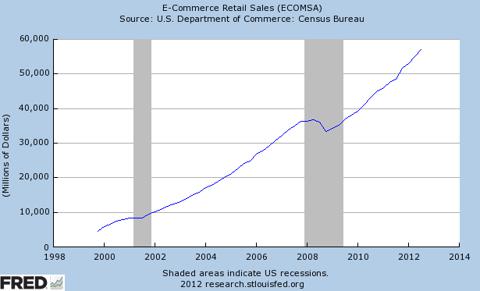 Despite a hiccup during the recession, e-commerce sales have grown significantly over the past decade, reaching $56.9 billion in Q3, up 17% from $48.6 billion in Q3 2011. Since Q1, 2009 e-commerce sales have climbed a remarkable 66%.
Overall, retail sales have moved higher too. But at a much slower pace. In October, real retail and food services sales, excluding autos, totaled $336.8 billion, up 3.5% from $325.16 billion a year ago. Since spring 2009, they've climbed a solid 21%, well below the growth rate for online.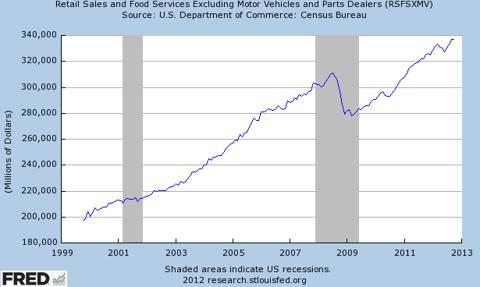 While overall retail sales are hitting new highs, revenue formerly destined to box stores has increasingly migrated to various e-commerce sites.
While some of these sites are still operated by big retailers, the shift has made it even more difficult to pick individual retail winners and losers.
And, the prevalence of mobile devices isn't likely to derail the rapid growth in clicks instead of bricks anytime soon. As a result, we're likely to continue to see double digit e-commerce sales at the expense of traditional retailers.
MasterCard is brick and click agnostic.
Whether they're capturing fees from a shirt sold at Macy's (NYSE:M) or a handbag sold online at Michael Kors (NYSE:KORS), it doesn't matter much to MasterCard. Either way, as long as the customer purchases using their MasterCard branded card, the company makes money.
And we're not talking about penny candy.
In Q3, revenue increased to $1.9 billion, up 5%, while operating margins expanded to 55.5% from 55.1%, year-over-year.
The gross dollar volume ("GDV") handled in the quarter increased in every region of the world, partially driven by a 13% increase in debit cards. GDV in the U.S., where MasterCard generates 40% of its sales, rose 7% in the quarter from last year.
The number of transactions processed increased too. Globally, transactions were up 24%, helping transaction fees increase 10% as cards increased 8%.
More cards, more transactions totaling more money mean bigger sales and profits for MasterCard. Q3 revenue rose 10% and GDV was up 16% through the first 9 months of the year. Transactions were up 27% year-to-date, outpacing the 17% growth in the comparable 2011 versus 2010 period. And, year-to-date operating margins expanded to 55.3% from 54.6% in 2011.
As volume and value have grown, MasterCard has also firmed up pricing, which added 3% to net revenue this year.
Healthier balance sheets will drive growth.
In the U.S., the percentage of domestic respondents tightening consumer credit card standards in October was -11.1%, down from -7.9% in Q4'11 and a peak of 66% in Q3 2008. Banks continue to ease their standards for credit cards, bullish for issuance and usage trends.
Meanwhile, the delinquency rate on credit cards fell to 2.83% in Q3, down from 3.47% in Q3 '11 and a peak of 6.76% in April 2009. Fewer people are looking like they'll default on their credit card debts, which means more cards in more hands this holiday season.
That's good news for the company. According to the National Retail Federation, a record 247 million shoppers were out over the Thanksgiving shopping period. The record number spent $423 on average, up from $398 last year. This worked out to $59.1 billion in spending, up 12.8% from a year ago.
Those numbers are likely to help MasterCard continue to post strong results. The company has beaten estimates in each of the past 4 quarters and analysts expect EPS to climb 16% to $25.50 in 2013, following a 17% increase in 2012 from 2011. As you can see from the accompanying chart, this is better than both the average large-cap stock and the average financials sector stock.
Source:E.B. Capital Markets, LLC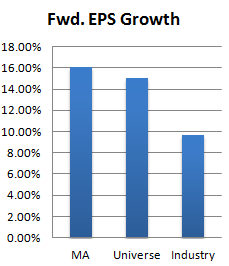 The company's success has generated $2.88 billion in leveraged free cash over the past 12 months, which has brought cash and equivalents to $5.68 billion, or $45.67 per share. The fact the company is debt free doesn't hurt the chances investors will see some of that money put to work in the form of shareholder friendly dividends and buybacks.
While shareholders have pushed share prices to $480 from a low of $390 this past May, shares are still reasonably priced compared to peers. Shares forward price to earnings ratio, divided by its 5 year PE low, is still lower than the large cap universe and large cap financials sector averages. This may suggest investors aren't adequately valuing the company's forward earnings.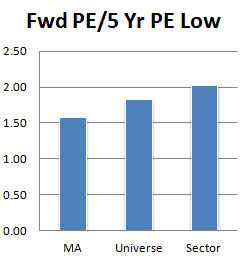 While back of napkin forecasts are fraught with risk and error, a simple extrapolation of the share's current PE to 2013 estimates gives a target price of $586, up 22% from here.
Historically, Q4 has been a good time to own shares.
Over the past 6 years, MasterCard has finished the quarter higher than it starts 5 times, producing an average 18.48% return.
Source: The Seasonal Investor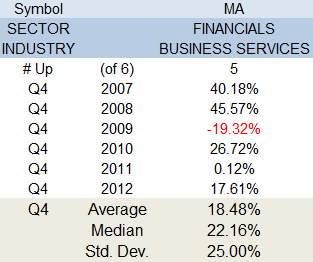 And, in the three months starting December 1st and finishing February 28th, shares have gained in 4 of the past 6 years, increasing a respectable 2.67% on average.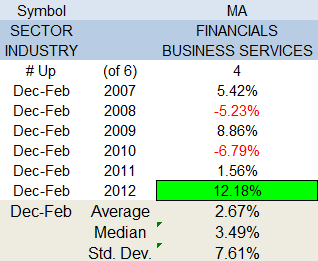 Given the strong holiday results, improving card issuance and declining default rates, MasterCard appears positioned to benefit nicely, regardless of whether shoppers stay at home or visit the mall. If so, picking up shares may end up being the best play on retail sales this season.
Disclosure: I am long KORS. I wrote this article myself, and it expresses my own opinions. I am not receiving compensation for it (other than from Seeking Alpha). I have no business relationship with any company whose stock is mentioned in this article.