Commodity Chart Of The Day
Daily Euro Currency
(click image to enlarge)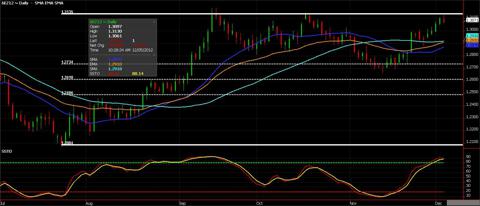 Click to enlarge
How to position for what I perceive to be a U.S. dollar appreciation that will play out in the coming weeks? Well, I guess one could buy the dollar, but I prefer to position clients in markets that I think will exhibit an inverse relationship. The fact that I think the greenback could rally also explains why I advised clients to exit bullish crude oil trades and why I think the metals -- both gold and silver -- could continue south in the coming weeks.
The ECB meets tomorrow, though I expect the rate to remain unchanged at 0.75%. I want to be positioned ahead of the number, because if there are any surprises, I expect them to be bearish, not bullish. Looking at the chart above, you can clearly see a triple top in the making, as prices have failed around these levels three times in the last four months. Past performance is not indicative of future results. I also like the fact that prices are overbought, and it appears by the stochastic that we could potentially roll over. A dollar rally, if it happens, would obviously accentuate the move.
My favored play with clients today was to buy out of the money put options with just over two months' time, attempting to capitalize on a trade to the 20 day MA, which is identified by the dark blue line at 1.2870.
Risk Disclaimer: The opinions contained herein are for general information only and not tailored to any specific investor's needs or investment goals. Any opinions expressed in this article are as of the date indicated. Trading futures, options, and Forex involves substantial risk of loss and is not suitable for all investors. Past performance is not necessarily indicative of future results.
Disclosure: I have no positions in any stocks mentioned, and no plans to initiate any positions within the next 72 hours. I wrote this article myself, and it expresses my own opinions. I am not receiving compensation for it. I have no business relationship with any company whose stock is mentioned in this article.