Historically investors have utilized a dividend dog ranking system to select portfolios of five or ten stocks in the Dow Index to trade as of the last day in December. Thereafter dog investors awaited results from their investments in the lowest priced, highest yielding stocks and prayed that the price of every stock they now owned climbed higher (having locked in a high yield percentage at purchase).
As the traditional Dow dividend dog trading horizon nears, the following information is provided for you to evaluate and determine if a walk with dogs of the Dow is for you in 2013.
Dogs of the Dow Index Metrics
Two key numbers determined the yields that ranked stocks in each index: (1) stock price; (2) annual dividend. Dividing the annual dividend by the price of the stock declared the percentage yield by which each dog stock was ranked.
This Dogs of the Index strategy, popularized by Michael B. O'Higgins in the book "Beating The Dow" (HarperCollins, 1991), revealed how high yielding stocks whose prices increase (and whose dividend yields therefore decrease) could be sold off once each year to sweep gains and reinvest seed money into higher yielding stocks in the same index. Prior to the publication of O'Higgins book, Dow dogs were known by some market watchers as "fallen angels."
Investor Empowerment from the Dow 30
Listed below are the thirty Dow Index stocks by yield as of 12/31/11 per DogsoftheDow.com data. CME Group, publisher if the index, states, "The Dow Jones Industrial Average (DJIA) is a price-weighted index of 30 blue-chip U.S. companies representing nine economic sectors including financial service, technology, retail, entertainment and consumer goods. The leadership position of the component stocks in the DJIA tends to result in an extremely high correlation of the DJIA to broader U.S. indexes, such as the S&P 500 Index providing additional opportunities." Note: pink tint denotes the five "small dog" high yield selections with lowest share prices out of the top ten.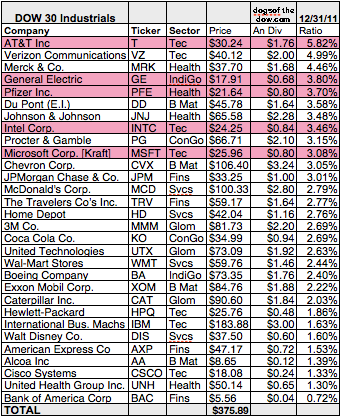 The December 31, 2011 Dow included seven dogs continuing on to the November 30, 2012 top ten Dow Dogs by yield: AT&T (NYSE:T); Verizon (NYSE:VZ); Merck (NYSE:MRK); Pfizer (NYSE:PFE); Dupont (NYSE:DD); Johnson & Johnson (NYSE:JNJ); Intel (NASDAQ:INTC).
Kraft (KFT) was replaced on the Dow 30 list by UnitedHealth (NYSE:UNH) on September 21, 2012. Shareholders still holding KFT after the close on October 1, 2012, saw the firm change its name to Mondelez International, Inc. and spin-off Kraft Foods Group, Inc. Post-spin-off, investors received one share of Mondelez (NASDAQ:MDLZ) and .33 shares of Kraft Foods Group (KRFT) for every share of Kraft Foods Inc. (KFT). Microsoft (NASDAQ:MSFT), the number 11 Dow dog rose to replace KFT.
Two suspected stock trades loom for Dow Dog investors in the new year as those stocks showed up out of the top ten by yield. Procter & Gamble (NYSE:PG) gained 4.7% for the year and fell to twelfth position as of November 30. General Electric (NYSE:GE) gained 18% for the year and fell to thirteenth place on the Dow 30 list.
Seed money from the investor's Kraft, General Electric, and Procter & Gamble trades would finance purchases of Hewlett-Packard (NYSE:HPQ), McDonald's Corp (NYSE:MCD), and Microsoft Corp. which came to populate three of the top ten slots. The investor can pocket or reinvest the net gains from his three trades for the year.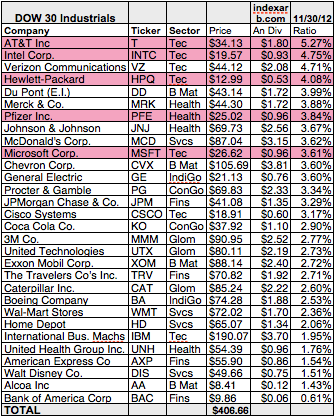 The above chart from IndexArb.comreveals yields projected based on the economic health of a company and its propensity to increase dividends in the coming year. This chart shows a mere .01% gap between ninth and tenth place and the same .01% gap between tenth and eleventh and twelfth positions on the Dow 30 chart. In other words, anything can happen between now and the end of the month come Dow dog trading time. Either General Electric or Chevron Corp. (NYSE:CVX) could jump .01% or .02% to knock Microsoft or McDonald's out of the top ten Dow dogs by yield come year end.
Dividend vs. Price Results for Dow 30 Dogs
Relative yield strengths of the top ten Dow 30 Index stocks were graphed below as of November 30, 2012. Projected annual dividends from $1000 invested in the ten highest yielding stocks each month and the total single share prices of those ten stocks created the data points for each of the past eight periods shown in green for price and blue for dividends.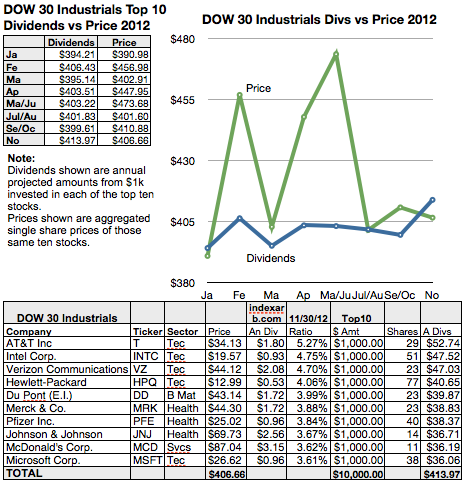 Actionable Conclusion: Dow Dividend Rises as Bearish Price Slumps
Dow 30 Index dogs reflected bear market symptoms since October as projected dividend total for $1000 invested in the top ten popped 3.6% while their aggregate total single share price dropped 1%.
January 2012 marked the last time the projected dividend from $1000 invested in each of the top ten Dow dogs exceeded the aggregated single share price of those ten. March 13 aggregate price came within $8 over dividends. Until now dividends exceeded price as the Dow showed as overbought. This new great bearish drop in aggregate single share price accompanied by a sizable increase in projected dividends from $1k invested was long overdue for the top ten Dow dogs. Perhaps dividend from $1000 invested in each of the top ten Dow dogs can continue to exceed their aggregate single share price into 2013.
Actionable Conclusion Too: Analysts Forecast November 2013 Net Gains up to 12.32% for Dow Dogs
Top ten dogs for the Dow Index component list were graphed below to show relative strengths by dividend and price as of November 30, 2012 and those projected to November 30, 2013.
Historic prices and actual dividends paid from $1000 invested in the ten highest yielding stocks and the aggregate single share prices of those ten stocks created the data points for 2012. Projections based on estimated increases in dividend amounts from $1000 invested in the ten highest yielding stocks and aggregate one year analyst mean target prices as reported by Yahoo Finance created the 2013 data points green for price and blue for dividends.
The number of analysts contributing to the mean target price estimate for each stock is noted in the last column on the charts. Three to nine analysts is considered optimal for a higher probability projection estimate. Note that all ten Dow dogs are tracked by more than ten analysts each.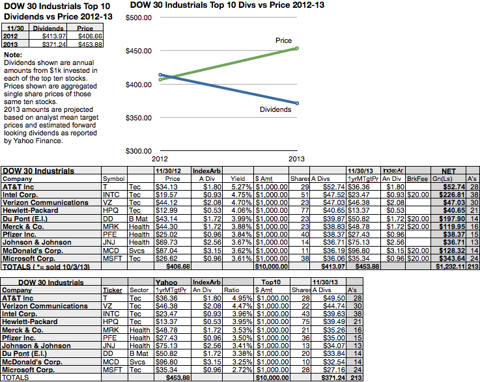 For the coming year IndexArb projected a 10.3% lower dividend from $1k invested in each stock within this group while aggregate single share price for the ten was projected by Yahoo Finance analysts to increase by 11.6%.
Probable profit generating Dow dog trades one year from now revealed by analysts as reported by Yahoo Finance were:
Intel netting $226.81 based on mean target price set by 38 analysts;
DuPont (E.I.) netting $197.90 based on mean target price set by 14 analysts;
Merck & Co. netting $119.95 based on mean target price set by 16 analysts;
McDonald's Corp. netting $128.32 based on mean target price set by 14 analysts;
Microsoft Corp. netting $343.64 as of next November based on mean target price set by 24 analysts.
The resulting top ten Dow dog potential net gain to 2013 from dividends and swept price gains was 12.32% from $10k invested according to analyst estimates.
Will Dow Index dog price swoons continue through the coming month or will they pull back? Standby for the dawning December/January Dow Dividend Dog Decision.
Disclaimer: This article is for informational and educational purposes only and should not be construed to constitute investment advice. Nothing contained herein shall constitute a solicitation, recommendation or endorsement to buy or sell any security. Prices and returns on equities in this article except as noted are listed without consideration of fees, commissions, taxes, penalties, or interest payable due to purchasing, holding, or selling same.
Disclosure: I am long T, VZ, INTC, JNJ, CVX. I wrote this article myself, and it expresses my own opinions. I am not receiving compensation for it (other than from Seeking Alpha). I have no business relationship with any company whose stock is mentioned in this article.