By Steven Orlowski
Emerging Money recently reported that Vietnam is an excellent long-term investment, but still faces short-term struggles given the seemingly eternal global slowdown. What's changed since then?
Not much.
Vietnam maintains an advantageous geographic position, bordering China and the South China Sea, and by having close physical proximity to fellow emerging markets like Thailand, Malaysia, the Philippines and Myanmar.
Vietnam's economy has grown appreciably over the past few decades. Its per capita GDP is more than 10 times what it was 30 years ago. Efforts by the State Bank of Vietnam to stimulate growth in 2012 have failed to meet objectives. However, the long-term progress of the Vietnamese economy should continue despite short-term frustration and under-performance.
The Market Vectors Vietnam ETF (NYSEARCA:VNM) remains the primary ETF to invest exclusively in Vietnam. A new emerging market index fund, the MSCI Frontier 100 Index Fund (NYSEARCA:FM), has a small percentage in Vietnam, but not enough to make a difference in a portfolio. VNM has modest but acceptable liquidity for an ETF that targets a smaller market like Vietnam. It is averaging a shade less than 140,000 shares per day. The ETF has a current dividend yield of a little more than 1%.
Since VNM's inception, the fund has been in a seemingly endless decline. It has had its moments of upside, but an investor that bought the ETF in 2009 could be down nearly 50% at this point.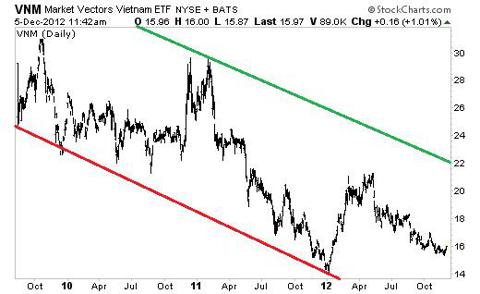 For now anyway, I see a glimmer of hope that we may be watching the ETF bottom.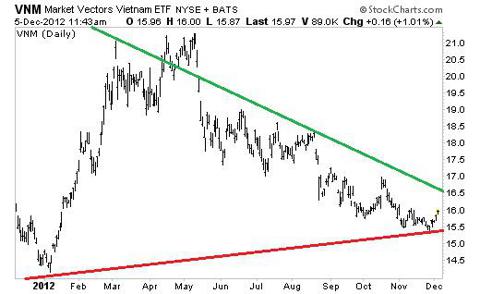 If the 52-week low of $14.15 set in early 2012 holds, then I expect the ETF to regain much of its past 2012 glory. But that is a big "if."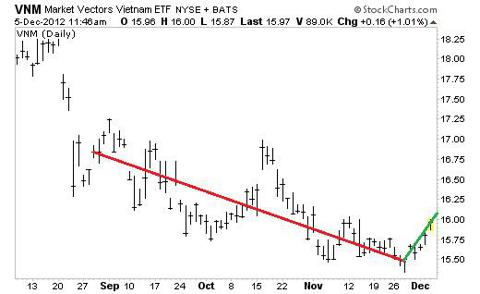 The ETF has been in a determined decline since August. Although it has popped up between then and now, it has seemed intent on resuming its decline. Given the ETF's short history, it is difficult to chart the bottom. It hasn't reached one yet but hopefully, this is it.
Vietnam, like many frontier and emerging markets, will be victimized to a degree by the mess the rest of the world is in. And not unlike some of the more developed emerging markets of today, Vietnam will prevail and eventually rise to a level so far unrealized. Investors in VNM and the like will need patience and commitment until things clearly trend higher.