Friday is shaping up to be a crucial testing day for the global equity markets. The S&P 500 is down 10% since election day, which Bespoke Investment Group notes is the worst two-day showing since 1987:
click to enlarge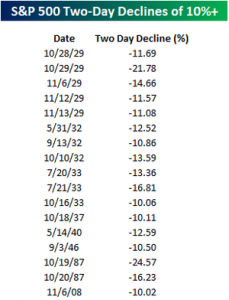 Almost every sector has approached the lows of October, and the S&P is a mere 50 points from its own closing lows. Relative strength is fading rapidly, as less than 38% of stocks are trading above their 20-day moving averages.
Given the daily volatility we've become accustomed to, the market could easily test its lows if it starts lower today. There are several forces at work which are throwing off our pulse-taking ability in the market right now; between tax-loss selling, capital gains harvesting (you never know), de-leveraging, and hedge/mutual fund redemptions we're already caught in crosswinds. Add in the fact that few CEOs seem to be brave enough to call the coastline for 2009, and we're largely left to our own devices to determine the "E" in the P/E ratio.
Into the Ring
Today is shaping up to be a big battleground session. Everything you thought was on sale two weeks ago "but started to run away" has come back to you. We knew there was a global recession coming two weeks ago, and we know it now.
However, in the last two weeks, we've seen major rate cuts in Europe, Asia, and the U.S., and we've seen LIBOR rates drop nearly 200 basis points. New fiscal stimulus and infrastructure spending have been discussed, and commercial paper issuance has risen dramatically. My point is that good things have happened in the past two weeks.
Yes, we've heard plenty of bad news and lots of weak guidance. However, is it 38% worth, the drop in the benchmark index this year? For my part, even when I model extremely weak earnings figures for 2009 - and this goes for hundreds of quality companies - I get earnings multiples of 14-19 times, which is well within the historical ranges for trough earnings. Now that's a key distinction…if we believe 2009 is a trough year, then we can begin to find a range of earnings estimates we can work with. However, if we feel that this recession could not even hit its midpoint until tail end of 2009 or later, then all bets on trough earnings are off.
We know there's capital out there; whether or not it's willing to commit today and suppress the automated selling activity just might give us the answer.