While Humana Inc (NYSE:HUM) was added to my portfolio universe in my last article, it was not time to allocate any amount to it yet. In this article I will add three more stocks to our investment universe (shown in the Appendix below) for allocation when the time is right.
The Right Time
The hybrid rebalancing process that I employ, while recognizing that empirically historical returns generally do not conform to normal distribution assumptions, assumes that non-normality may be attributed to the likely existence of mixed normal return distributions. See my earlier article entitled "Bershire's Portfolio: The Art of Rebalancing Part II" for a fuller description.
When stocks in the Model universe (see Appendix below) become candidates for allocation at different times, they do so not because of price movement predictions but because this "mixture" of normal return distributions has together created the right environment for optimization to work based on the celebrated but occasionally maligned mean-variance algorithm.
If we started our portfolio on November 19, 2008, the performance of the portfolio (blue bars) based on the hybrid rebalancing process would have beaten the equal weights portfolio (green bars) significantly. For good measure, I have also included the performance of an optimal portfolio rebalanced monthly to the original optimal weights (grey bars), which it turns out, the hybrid rebalanced portfolio also out-performs.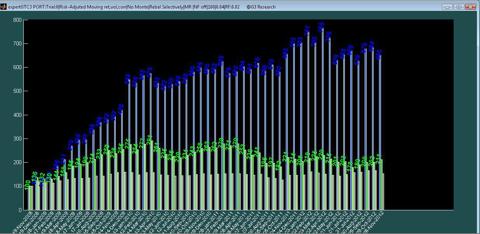 As is always the case throughout my articles we use starting portfolio values of $100 so it is easy to translate to percentage growth. Taxes, commissions, and the use of a risk-free proxy are not included in the calculations. Price data has been sourced from Seeking Alpha on a dividend-adjusted basis. The results are obtained by going back in time to use only the data available as at each review point, calculating the optimal weights, then going forward to compare the performance between the optimized and equal-weights portfolios. The portfolios are assumed to be 100% invested throughout.
3 More Stocks for the Fold
The 3 stocks that I have added to the portfolio universe are Best Buy Co (NYSE:BBY), McDonald's Corp (NYSE:MCD), and Potash Corp of Saskatchewan (NYSE:POT) where correlations with the rest of the Model portfolio stocks are illustrated below.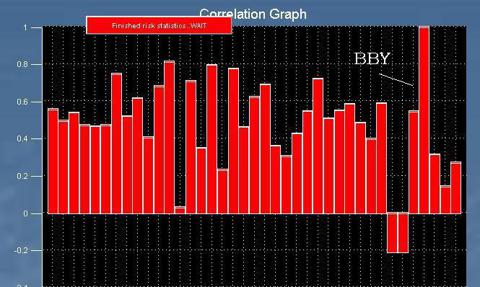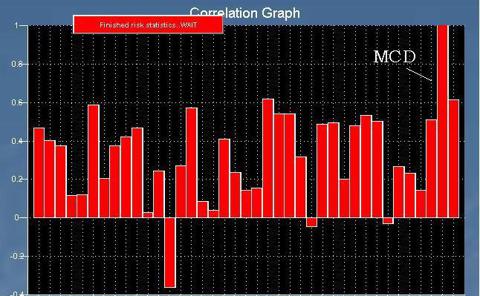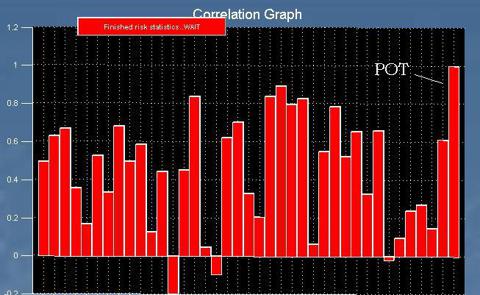 Value Added
Did the three stocks added to the portfolio universe create value along the way? Yes, they did. As a basis of comparison, if we used the same investment horizon as the previous article with a portfolio that began on November 2, 2008 but with this new universe, the portfolio would have yielded the following portfolio growth.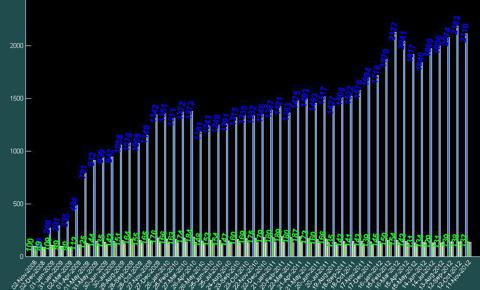 Conclusion
The portfolio above grew from 100 to over 2000. While this might be impressive, the growth in any portfolio would depend on the actual day invested.
What we are aiming for is an optimized portfolio that capitalizes on the upside and minimizes the downside. Most importantly, it should do better in both respects when compared against a simple equal-weights portfolio or even a mean-variance optimized buy-and-hold.
Based on the two sample portfolios purchased at both a high point and a low point illustrated above, the hybrid rebalancing process seems (not to be construed as rigorous proof) to have done its job fairly well.
Last but not least, it is probably worth reiterating that the strategy we are using is a portfolio strategy and not a stock-picking strategy or an attempt to time the market based on future prices.
Appendix: Stocks in the High-Volatility Model Portfolio (stocks in Italics are sourced from the OxStones Investment Club:
Alumina Ltd (AWC), Aluminum Corp Of China Ltd (ACH), Arch Coal (ACI), Archer Daniels Midland Company (ADM), Best Buy Co , CEMEX, S.A.B. de C.V. (CX), CNH Global NV (CNH), Cameco Corp (CCJ), Central European Dist Corp (CEDC), Central European Media Ent Ltd (CETV), China Life Insurance Co. Ltd (LFC), Coeur d'Alene Mines Corp (CDE), Corning (GLW), DRDGOLD Ltd (DRD), Fibria Celulose SA (FBR), France Telecom (FTE), GOL Linhas Areas Inteligentes SA (GOL), Harmony Gold Mining Co. Ltd (HMY), Humana Inc , Impala Platinum Holdings Ltd (IMPUY.PK), Kinross Gold Corp (KGC), McDonald's Corp , Net 1 Ueps Technologies (UEPS), Newmont Mining Corp (NEM), Nokia Corp (NOK), Oi SA (OIBR), Potash Corp of Saskatchewan , Owens-Illinois (OI), Petroleo Brazileiro (PBR), Pilgrim's Pride Corp (PPC), Repsol Ypf SA (REPYY.PK), Telefonica SA (TEF),Teva Pharmaceutical Ind Ltd (TEVA), Total SA (TOT), Universal Corporation (UVV), Veolia Environnement SA (VE),Wal-Mart Stores (NYSE:WMT), Western Refining Inc. (NYSE:WNR), Yahoo! (YHOO)
Disclosure: I have no positions in any stocks mentioned, and no plans to initiate any positions within the next 72 hours. I wrote this article myself, and it expresses my own opinions. I am not receiving compensation for it (other than from Seeking Alpha). I have no business relationship with any company whose stock is mentioned in this article.