Nothing is sweeter for us retired folks (or dividend seeking investors in total) than adding a really big company that has a darn good dividend yield, to our Team Alpha core portfolio. It is even sweeter when the stock has dipped to bargain levels. CSX Corp. (NYSE:CSX) has shown up on my radar for those very simple reasons.
Our Team Alpha portfolio consists of McDonald's (NYSE:MCD), Exxon Mobil (NYSE:XOM), Johnson & Johnson (NYSE:JNJ), AT&T (NYSE:T), General Electric (NYSE:GE), BlackRock Kelso Capital (NASDAQ:BKCC), KKR Financial (KFN), Procter & Gamble (NYSE:PG), Intel (NASDAQ:INTC), Realty Income (NYSE:O), Coca-Cola (NYSE:KO), Linn Co, LLC (LNCO), Wal-Mart (NYSE:WMT), Cisco (NASDAQ:CSCO), Bristol-Myers Squibb (NYSE:BMY), Healthcare Select Sector SPDR (NYSEARCA:XLV), and General Dynamics (NYSE:GD).
Based on our latest update report, the portfolio has nearly $8,000 in cash reserves. After this article has been published, I will be buying 200 shares of CSX to our core holdings.
The Basic Fundamentals
As with all of our core holdings, I like to own big companies that pay us to own their shares. I also want the company to have a strong track record of growing revenues and earnings. CSX has that plus plenty more.
The dividend yield is approaching 3% (an accidental high yielder perhaps?). Revenues are growing, earnings are growing, and cash from all operations are growing. The only metric that has dipped recently is the share price.
Here are some additional fast facts:
Dividends have been increased by 300% since 2008.
The payout ratio is only 29%.
Nearly 70% of all outstanding shares are held by institutions.
A below average P/E ratio of 10.35.
An ESS (Starmine) rating of BULLISH.
A share price selling near 52 week lows.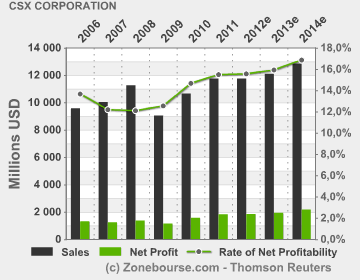 This chart shows the trend of both earnings and revenues, as well as the estimated trend through 2014. I do understand that CSX relies heavily on a growing economy and I believe that as the economy grows faster, so will CSX.
As CSX grows, I also believe that they will continue increasing their dividends. With a 29% payout ratio, the company can certainly afford to maintain their dividend as well as increase them even now. When the economy grows, and earnings and revenues of CSX grows, that payout ratio should drop further, giving the company even greater flexibility to returning shareholder value.
As you can see in this chart, the stock has taken a hit since August. Buy the dips, add to the core, and catch a better dividend yield. CSX is not going away and the company has a very strong balance sheet.
Yes, they had a down quarter recently, but the company should bounce back as the economy does. For now, the dip is our buy signal.
The Bottom Line
Please do your own research on CSX prior to making any decisions to buy or sell this stock. Do not rely on my analysis to make that decision. That being said, I believe CSX is on sale, undervalued, unappreciated, and I will be adding 200 shares to our "Team Alpha" portfolio.
Disclosure: I am long XOM, GE, JNJ, T, WMT, MCD, BKCC, KFN, CSCO, INTC, O, GD, KO, LNCO, XLV. I wrote this article myself, and it expresses my own opinions. I am not receiving compensation for it (other than from Seeking Alpha). I have no business relationship with any company whose stock is mentioned in this article.
Additional disclosure: Team Alpha will add 200 shares of CSX after this article is published.