When searching for dividend stocks, investors look for not only a strong dividend yield, but the sustainability of a high dividend. One such example is Banco Santander (NYSE:SAN), based in Spain and primarily engaged in retail banking. Investors can take advantage of the general European economic jitters and buy this high yielder at a great price. With all of the drama going on overseas, SAN declined steadily throughout 2010 and 2011, and has leveled off this year.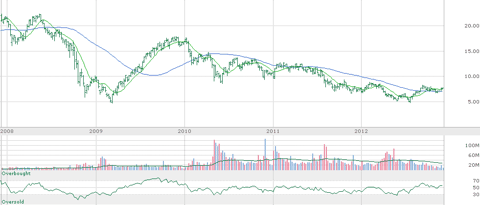 First, some fundamentals. Currently trading at $7.72, the stock only trades at 8.22 times TTM earnings. After a mediocre 2012, analysts expect earnings of $0.80 in 2013, and increasing to around $1.00 per share in 2014. This means that the stock is currently trading at 9.65 times forward earnings, still well below the industry average of 17.35.
Santander is one of the "cheapest" stocks in the regional banks sector, currently trading at 0.75 times book value, compared with 1.33 times book for other regional banks. Additionally, over the past 12 months, revenues have increased by 6.27%, as opposed to a decrease of 0.33% for the sector.
This all sounds good, but what about that dividend. Due to economic conditions in Europe over the past few years, the company's earnings have declined, mainly due to bad assets the company had to take a loss on. However, they still have earned enough, and are projected to continue to earn enough, to pay their large dividend, which is an annual yield of 10.82% as of this writing. A side note for the chart below is that the fluctuations in the annual dividends are mainly due to the exchange rate, and not due to cuts or raises of the actual amount.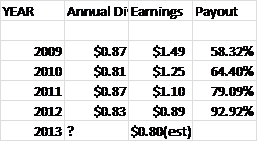 Finally, a dividend this good is not without risk. The worst-case scenario for investors is a continued worsening of economic conditions in Europe. Further losses could indeed cause dividend cuts, as well as diminished share price. If you feel like I do, that Europe's financial problems will be solved in the near future, through bailouts or by some other means, Banco Santander is a great yield at an even better price.
Disclosure: I have no positions in any stocks mentioned, and no plans to initiate any positions within the next 72 hours. I wrote this article myself, and it expresses my own opinions. I am not receiving compensation for it (other than from Seeking Alpha). I have no business relationship with any company whose stock is mentioned in this article.