Global warming is accelerating as the polar ice caps have been melting faster over the past 20 years due to higher temperatures. Investors who want to contribute less of a carbon footprint can do their part to invest in the ELEMENTS Credit Suisse Global Warming ETN (NYSEARCA:GWO), which tracks companies dedicated to staving off further acceleration of global warming through action and research.
"A study was published in the journal Science and is considered an extremely accurate portrayal of ice melts in these polar regions. According to the paper's authors, the rapid polar ice melting has caused an increase in sea level that may become problematic to low coastal regions," wrote Jessica Lear for Science Recorder.
Higher temperatures contribute to the rising sea level in various ways, i.e., runoff from melting glaciers in Greenland and Antarctica and the expansion of warming sea water, reports Gautam Naik for The WSJ. In the 1990s, about 10% of the rising sea level was linked to melting ice caps, but recent data show this number has grown to 30%.
The largest threat to rising sea levels has to do with Greenland, as Antarctica is simply too cold to melt permanent ice rapidly. The air temperature is warmer in Greenland and there is evidence of more permanent ice melting on this continent. Plus, scientists with the Intergovernmental Panel on Climate Change, or IPCC, suggest that Antarctica is suspected to be growing. Definite answers to the why and how of this are necessary to determine how the ice sheets are changing.
An investment in a note such as GWO can help scientists and researchers determine answers to questions such as the aforementioned. The climate science community is aiming to give forward predictions of sea-level rising in the future, reports Science Recorder's Jessica Lear.
Further evidence of the rising sea level becoming dangerous can be seen by the latest Superstorm Sandy, which resulted in massive floods and destruction of property. "People don't understand why we're talking about a few millimeters," said Julie Brigham Grette, professor at the University of Massachusetts Amherst. "A half-foot of rise on the Eastern Seaboard makes it easier for a storm coming up the East Coast to cause flooding."
GWO is focused on the U.S., Europe, Japan and Asia, covering companies from much of the globe. Companies focused on efficient energy use, nuclear energy to cut CO2 emissions, fuel cell development and bio-fuel creation are included in the note. Since an ETN is a debt note, should the institutions go bankrupt, the investors gains nothing and loses their entire investment. GWO is up 10% over the past six months and has an expense ratio of 0.75%.
ELEMENTS Credit Suisse Global Warming ETN
(click image to enlarge)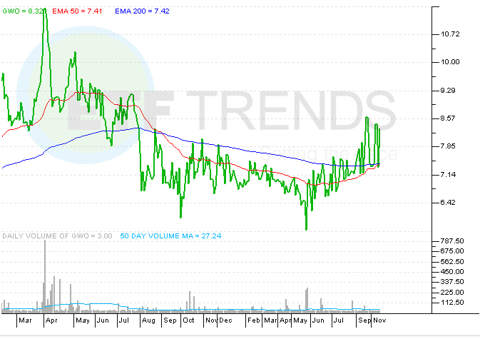 Tisha Guerrero contributed to this article.
Disclosure: I have no positions in any stocks mentioned, and no plans to initiate any positions within the next 72 hours. I wrote this article myself, and it expresses my own opinions. I am not receiving compensation for it. I have no business relationship with any company whose stock is mentioned in this article.