EMC Corporation (EMC) is a leading provider for hardware, software, and services for enterprise network storage. EMC operates in two categories: EMC Information Infrastructure and VMware Virtual Infrastructure. EMC holds 80% ownership of outstanding shares in VMware (NYSE:VMW), the largest global vendor providing virtualization software for server operating systems. The Company is shifting its focus toward its software and services segments from proprietary storage hardware. The revenue contribution for EMC by segment is approximately storage (74%), VMware (19%), information intelligence (4%), and security (4%). While businesses are adapting the trend for digitizing, the demands for data storage, protection, and archiving are exploding. With its technological leadership and expansive customer base, EMC has gained a narrow economic moat and is well positioned to growth with its strong balance sheet and steady cash flow.
Recent Updates for EMC and VMW
On Dec. 4, 2012, EMC announced the Pivotal Initiative, where EMC and VMW are combining a number of divisions into the new group by the second quarter of 2013. According to the report, "The move will combine EMC's data analytics division Greenplum and its Pivotal Labs group with VMware's vFabric, SpringSource and Gemstone units as well VMware's data analytics company Cetas and CloudFoundry, a cloud computing platform as a service." Analysts said the realignment may eventually result in a spin-out of the new group, where the Companies could decide on a partial spin-out of the unit in 2014/2015, as said by Alkesh Shah at Buckingham Research Group. Shah also stated, "This realignment should enable EMC to position itself more as a Cloud enabler while VMware can concentrate on its expanded strategy of the software-defined datacenter." However, the new division could face the same challenges as any other startup in this space, according to IDC analysts. It will compete with other companies in the application development space ranging from Windows Azure and Amazon Web Services to startups like CloudBees and DotCloud.
On Nov. 29, 2012, VMW announced its Board of Directors had authorized the purchase of up to $250 million of its Class A common stock through the end of 2014. The new stock purchase authorization was in addition to EMC's ongoing $600 million stock repurchase program, originally announced February 29, 2012.
On Nov 21, 2012, EMC was downgraded by Zacks from a 'neutral' rating to an 'underperform' rating with a target price of $22.00. As quoted from the analyst from Zacks,
"EMC reported a disappointing third quarter, as its earnings missed the Zacks Consensus Estimate for the second consecutive quarter. Revenue also fell short of the consensus mark. Although, we believe that EMC is well positioned to benefit from incremental data center hardware spending (due to higher adoption of cloud computing), sluggish worldwide IT spending for the next couple of years and increasing competition will weigh on the stock going forward. We believe that EMC's vast product portfolio, which has products suitable for any kind of budget, will boost its market share going forward. However, frequent acquisitions, increasing foreign currency risk (due to strong US dollar) and pricing pressure due to stiff competition will hurt profitability going forward. We, therefore, downgrade our recommendation on the stock from Neutral to Underperform and set a price target of $22.00."
On Nov. 13, analysts at Craig Hallum initiated coverage on EMC with a "hold" rating and a target price of $28.00. On Nov. 2, analysts at Piper Jaffray reiterated an "overweight" rating on EMC with a target price of $29.00. On Oct. 25, Deutsche Bank reiterated a "buy" rating on EMC with a target price of $30.00. These calls were made following the Q3, 2012 earnings release for EMC on Oct. 24, 2012. EMC reported $0.40 EPS for the quarter, missing the consensus estimate of $0.42 by $0.02. The revenue was up 6.0% compared to the same quarter last year. As seen from the table below, the analysts are expecting $1.69 EPS for the year, which is down from $1.72 EPS, estimated 90 days ago.

Source: Yahoo! Finance
On Oct. 23, 2012, VMW announced Q3, 2012 earnings with the profit beating estimates with strong sales to the U.S. government; however, its revenue is largely below expectations. VMW forecasted Q4 revenue of $1.26 billion to $1.29 billion, compared with analysts' expectation of $1.28 billion. The analysts had increased their EPS estimate for the Q4 to $0.78 from $0.73, estimated 90 days ago. The full year estimate was boosted also up from $2.70, estimated 90 days ago, to the current $2.82, as seen from the chart below.

Source: Yahoo! Finance
Fundamental Overview and Technical Analysis
With the data obtained from MorningStar, EMC's key stats will be compared to its peers in the data storage industry, including Microsoft (NASDAQ:MSFT), Oracle (NASDAQ:ORCL), and International Business Machines Corp (NYSE:IBM). Despite its trailing EPS growth (3 year average) of 21.7, comparing to the industry average of 34.1, EMS achieved a stronger revenue growth of 10.4 (3 year average), as compared to the average of 6.8. EMC also demonstrated its operation efficiency with higher operating margin of 18.0%, ttm, and net margin of 12.7%, ttm, as compared to the averages of 16.0% and 12.5%, respectively. The ROE for EMC is 13.6, which is lower than the average of 18.7; however, EMC has a strong balance sheet with zero debt-to-equity, as compared to the industry average of 1.3. EMS has a higher P/E of 20.2, P/B of 2.4, P/S of 2.6, as compared to the averages of 11.5, 2.1, and 1.5, which could be partially justified with its higher revenue growth and higher margins.
EMC closed at $24.92 with 0.65% gain on Tuesday. The volume of 15.40M is 25.85% less than the 30 day averages of 20.77M. EMC had been trading in the range of $21.25-$30.00 in the past 52 weeks. The MACD (12, 26, 9) had been showing a bullish trend since Nov. 19; however, the MACD difference had been converging in the past 4 trading days. The momentum indicator, RSI (14), is almost neutral at 52.62. The next resistance for EMC will be its 50-day MV of $25.36, followed by 200-day MV of $26.33. The near-term support will be at $23.54, the S1 pivot point, followed by $22.26, the S2 pivot point, as seen from the chart below.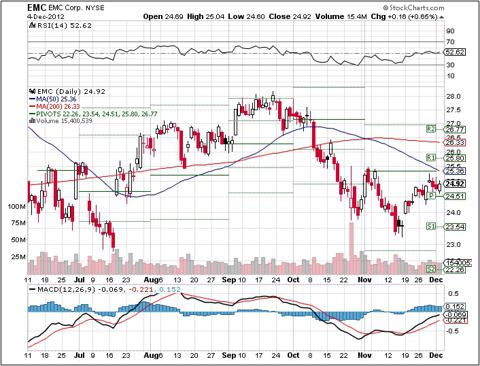 Source: StockCharts.com
Options Play
The long-term outlook for EMC is positive while EMC is approaching its 50-day MV technical resistance in the near term. A credit put spread will be reviewed below for bullish investors who would like to acquire the stock at a discount price while gaining some upside potentials.
Short 1x April 20, 2013 Put at the strike price of $23.00 for the credit of $0.90
Buy 1x April 20, 2013 Put at the strike price of $21.00 for the cost of $0.44
The maximum profit is $0.46, and the maximum risk/margin requirement is $1.54 ($2 loss - $0.46 credit received). If EMC closes above $23.00 on April 20, 2013, 29.87% return on margin will be gained. If EMC closes below $23.00 upon options expiration, the cost for acquiring EMC stock will be $22.54, which is 9.55% lower than the current price of $24.92.
Note: All the prices are quoted from the closing of December 4, 2012 and all calculations are before fees and expenses. Investors and traders are recommended to do their own due diligence and research before making any trading/investing decisions.
Disclosure: I have no positions in any stocks mentioned, but may initiate a long position in EMC over the next 72 hours. I wrote this article myself, and it expresses my own opinions. I am not receiving compensation for it (other than from Seeking Alpha). I have no business relationship with any company whose stock is mentioned in this article.