There are no certain sectors that grant investors immunity from market volatility, yet healthcare sector exchange traded funds such as the Health Care Select Sector SPDR (NYSEARCA:XLV) can defend a portfolio from unwanted maladies. Yet even if the Patient Protection and Affordable Care Act, or PPACA, becomes active, the impact upon healthcare companies could become muted.
"Even before the election, it was evident investors felt that the PPACA is here to stay. The stock prices of health-care companies largely have kept up with-or outpaced-the rest of the market and have not reacted meaningfully to either the Supreme Court's decision or the results of the election. Had investors felt, by contrast, that the entire law would be overturned, we would have expected to see negative investor sentiment and compressed earnings multiples across the sector," Robert Goldsborough wrote for Morningstar.
The next hitch for healthcare is the Federal budget and so-called fiscal cliff anecdote. Automatic budget cuts are scheduled, but amounts and allocations have yet to be determined. Goldsborough mentioned that markets may already be factoring in these cuts to healthcare shares' prices. Further impact upon these companies is expected to be modest at most.
As the number of uninsured U.S. citizens declines, about 17%, the full impact of PPACA will not be realized until a few years have passed.
Obamacare is seeking to increase access and affordability to healthcare while holding insurance companies more accountable. Should Medicare be strengthened and expanded, this in essence, should help support focused shares and ETFs. Likewise, the consumer base should also open up for pharmaceutical companies.
Healthcare ETFs:
Health Care Select Sector SPDR up 3.9% over past three months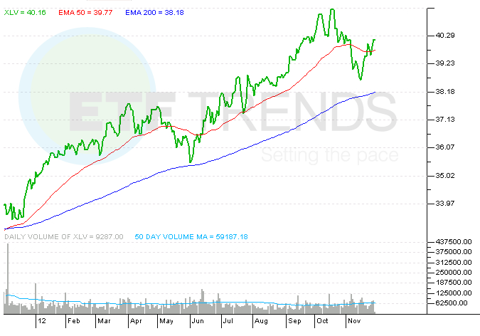 Click to enlarge
Tisha Guerrero contributed to this article.
Disclosure: I have no positions in any stocks mentioned, and no plans to initiate any positions within the next 72 hours. I wrote this article myself, and it expresses my own opinions. I am not receiving compensation for it. I have no business relationship with any company whose stock is mentioned in this article.