Homebuilder ETFs have been strong performers this year but have stalled out recently near their 2012 highs. Bulls are hoping upbeat earnings from sector bellwether Toll Brothers (NYSE:TOL) and more solid housing data can drive the next leg of the rally.
"Many commentators have credited Ben Bernanke's third round of quantitative easing (QE 3) with the rebound in the housing market and home builder ETFs, because the Fed's purchases of mortgage-backed securities has made financing easier," Wall Street Sector Selector reported.
The National Association of Home Builders (NAHB) published its Homebuilder Confidence Index which last July reached its highest point since March of 2007 and, since that time, the housing market has been steadily improving. November has followed up with more positive data that confirms the trend. The Commerce Department reported a 0.6% increase in spending for the September Construction Report and the National Association of Homebuilders reported the November confidence index rose to 46, the highest level since 2007.
On November 29, the National Association of Realtors reported the most enthusiastic piece of proof that a recovery is in the making. The Pending Home Sales Index was expected to rise 1% but jumped 5.2% for October, the highest level in 5 years.
The SPDR Homebuilders (NYSEARCA:XHB) is up 76.9% so far this year, and has been the second-best performing ETF in 2012. It comes in second to the Dow Jones US Home Construction Index (NYSEARCA:ITB) which has gained 99.8% in 2012. ITB has outperformed other homebuilder funds by a long shot over the year and has managed to beat the odds during the possibility of another recession in the U.S, reports Michael Johnston for ETF Daily News. The fact that these two ETFs have beat out others is some solid proof the housing market is making a strong comeback.
Earlier this week, CoreLogic said U.S. home prices slipped fractionally in October. "U.S. home prices edged lower in October, even as the year-on-year change registered the strongest advance in more than six years," MarketWatch reported.
Dow Jones US Home Construction Index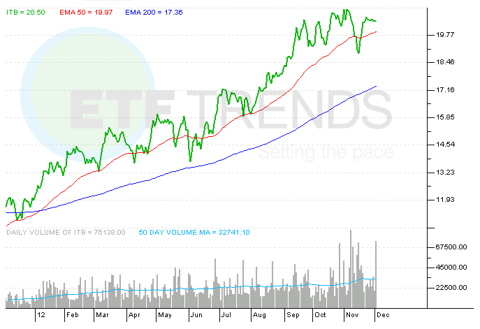 Tisha Guerrero contributed to this article.
Disclosure: I have no positions in any stocks mentioned, and no plans to initiate any positions within the next 72 hours. I wrote this article myself, and it expresses my own opinions. I am not receiving compensation for it. I have no business relationship with any company whose stock is mentioned in this article.