VIX - Market Sentiment:
Wednesday saw S&P futures again moving higher as optimism over fiscal cliff talks had investors buzzing once again. Other news saw megabank Citigroup (NYSE:C) set to cut 11,000 jobs and take a $1B charge. This sent the stock soaring, rising 2.50, or 7.3%, in late afternoon trading. Many banks were also pushing much higher, such as Bank of America (NYSE:BAC), JPMorgan (NYSE:JPM) and even Deutsche Bank (NYSE:DB). For those who follow my trades on Twitter, know I did take a contrarian position today taking a short position in DB. Those who read my daily articles know in Friday's sonar report (here) I took a short position in Apple (NASDAQ:AAPL). Although profitable, I did, however, close the short yesterday for a modest gain and about 300% less than what I could have sold my 585 puts for today after AAPL cratered. A check on the NYMO oscillator tells us the market is mostly neutral at this point. The NYMO closed yesterday with a reading of 25.92 Monday, but could push higher as of the writing of this article.
Just like yesterday, the clear tell of the day was the spot CBOE Volatility Index (VIX), as it opened strong and began to rise rapidly before getting crushed just after the 11:00 hour. I know I sound like a broken record, but front month VIX futures were again taken to the woodshed as call sellers stepped in again hot and heavy. Volatility ETF (NYSEARCA:VXX), 2x ETF (NASDAQ:TVIX), and alternative 2x ETF (NYSEARCA:UVXY) saw losses, but were somewhat limited as January/February futures were also sold off. Although volume was very light, the largest trade today was a buyer of the December 14 puts 6,622 times for .09 and sellers of the December 25-30 calls also stepped in. Clearly, there is little to no fear the "Fiscal Cliff" will make volatility spike between now and December expiration in 14 short days.
(click images to enlarge)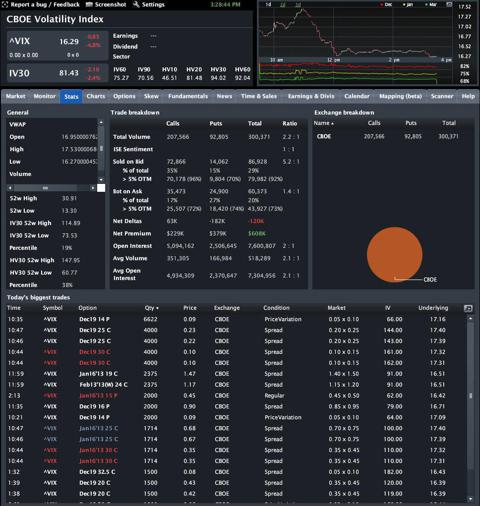 Statistics and Screenshot Provided By LiveVol
VIX futures are below:
Yesterday
· December VIX futures 16.53
· January VIX futures 17.83
· February VIX futures 18.88
Today
· December VIX futures 16.10
· January VIX futures 17.48
· February VIX futures 18.43
Options Paper:
Volume was much stronger today as the market traded just over 16.5M contracts. Financial ETF (NYSEARCA:XLF), Small Cap ETF (NYSEARCA:IWM) and S&P ETF (NYSEARCA:SPY) continued to be very hot, trading almost 2.25M in just these three names. Yahoo (NASDAQ:YHOO), Facebook (NASDAQ:FB), Silver ETF (NYSEARCA:SLV), and Gold ETF (NYSEARCA:GLD) continued to be hot as well, adding almost another 500K contracts. Other names that were active, such as Travelers (NYSE:TRV), Disney (NYSE:DIS) and Leggett & Platt (NYSE:LEG), needed to be discounted as these trades were mostly dividend steals for market makers.
On the bullish side of paper today, Energy Transfer Equity (NYSE:ETE) saw a massive call buyer step in, sending the premium of the January 50 calls higher. ETE typically only trades 861 total contracts a day, and today saw a buyer of the January 50 calls more than 9.1K times. This bet is in an extremely illiquid name, so for those looking to play it, be careful. More than 250K worth of calls were bought today, with the largest trade going off for .30 when the spread was currently sitting at .05 x .25. ETE has now entered my interesting list, as calls outnumbered puts more than 368:1 in today's trading session. Option volume in today's trading session was almost 12x average daily volume, trading 9,245 contracts versus an average of just 861.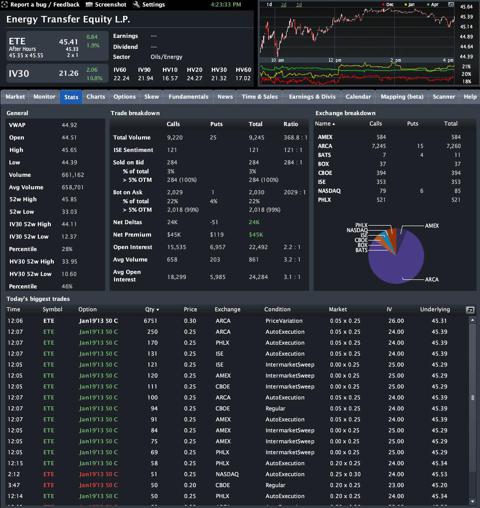 Statistics and Screenshot Provided By LiveVol
Popular ETFs and equity names with bullish/bearish paper:
Bullish Option Flows - ISE and % OTM calls bought on offer
NII Holding (NASDAQ:NIHD) 97%
Medtronic (NYSE:MDT) 84%
Aeropostale (NYSE:ARO) 2.7K OTM calls bought
Exelixis (NASDAQ:EXEL) 80% of the 11.1K calls bought on offer
Zynga (NASDAQ:ZNGA) 78% - Still seems like a trap to me
Quicksilver (NYSE:KWK) 77%
Forest Oil (NYSE:FST) 77%
Molson Coors (NYSE:TAP) 72%
Bearish Option Flows - ISE and % OTM puts bought on offer
Amgen (NASDAQ:AMGN) 81%
ConAgra (NYSE:CAG) 80%
Goodyear Tire (NYSE:GT) 77%
Medtronic 74%
Micron Tech 9MU) 67% or 10.8K puts bought on offer
Smithfield (NYSE:SFD) 4.4K puts bought on offer
Tellabs (NASDAQ:TLAB) 2.2K of the 3.6K OTM puts bought on offer
Alcoa (NYSE:AA) 58% as put buying continues
Pitney Bowes (NYSE:PBI) another 11K OTM puts bought on offer today. Saw heavy buying yesterday as well.
Disclosure: I am long AAPL, AGNC, APC, KERX, MNST, MTGE, and I am short DB, FXE, LYV, RIMM, SPY.
I am long straddles. Trades today: Closed ABC Straddle, Sold WLL calls, Bought DB puts, Bought AAPL calls, Added to RIMM puts.
I wrote this article myself, and it expresses my own opinions. I am not receiving compensation for it (other than from Seeking Alpha). I have no business relationship with any company whose stock is mentioned in this article.
Disclaimer: The opinions in this document are for informational and educational purposes only and should not be construed as a recommendation to buy or sell the stocks mentioned or to solicit transactions or clients. Past performance of the companies discussed may not continue and the companies may not achieve the earnings growth as predicted. The information in this document is believed to be accurate, but under no circumstances should a person act upon the information contained within. I do not recommend that anyone act upon any investment information without first consulting an investment professional as to the suitability of such investments for his or her specific situation.