As many income investors know, dividend investing can result in the guarantee of income or, in certain cases where the investor has a dividend reinvestment account, more shares. I personally prefer the latter, but that's just me. When it comes to establishing a position in the REIT sector, many Mortgage REITs have seen significant dividend declines over the last 18 months, whereas some of the traditional property-based REITs have not. For example, Annaly Capital (NYSE:NLY), an agency-based Mortgage REIT, has decreased its dividend distribution four times whereas Colonial Properties Trust (NYSE:CLP) has raised its dividend once and maintained its current payout since February of this year.
That being said I wanted to shift my focus away from the double-digit yields of the Mortgage REIT sector and examine a traditional property-based REIT yielding over 4.40% and demonstrating a payout ratio of 103.00%. Mid-America Apartment Communities, Inc. (NYSE:MAA) announced a 5.3% or $0.035/share increase on December 4, to its current dividend of $0.66/share. As a result of the increase, the company now yields 4.43% ($2.78) on an annual basis, which is then broken down and distributed to shareholders each quarter. From a comparative standpoint Mid-America Apartment Communities, Inc. has significantly outperformed both Annaly Capital and Colonial Properties Trust over the last five years.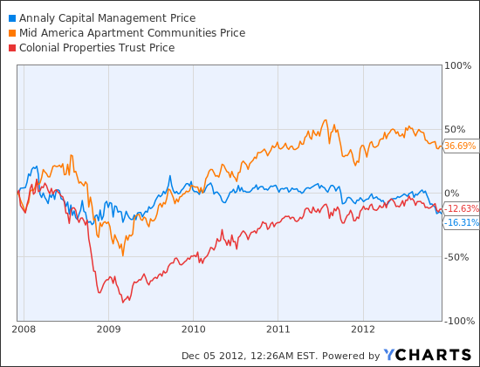 I also think that the company's year to date performance should be considered, and although relatively flat on the year Mid-America still manages to outpace Annaly and Colonial Properties.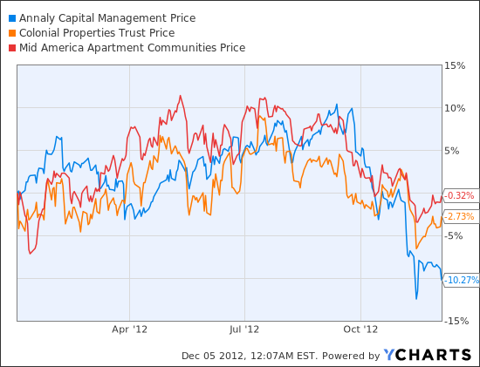 For potential investors of Mid-America Apartment Communities, Inc., the dividend hike isn't the only catalyst long-term investors should consider. In fact, there are three ancillary catalysts potential investors need to examine before moving forward. The first catalyst to consider is the fact the stock has surpassed analysts' EPS estimates in each of the last four quarters by an average of 2.78%. The second catalyst to consider is the fact the stock is trading at a 0.36% discount to its current 50-DMA and a 5.15% discount to its current 200-DMA. The third and most important of the positive catalysts comes in the form of recent comments by Chief Executive Officer Eric Bolton, who noted that record earnings surpassed estimates due largely in part to significant growth in the areas of rent and occupancy.
"Resident turnover remains low with third quarter move-outs increasing only 0.7 percent as compared to the third quarter of last year. Rent growth trends also remain steady with same-store effective rent growth of 5.2 percent in the third quarter, which is consistent with the 5.2 percent performance captured in the second quarter." If the company can continue to demonstrate strong growth in terms of both rent-based revenue and same-store sales, I see no reason why MAA should not be trading in the low-mid $70/share range.
Disclosure: I am long MAA. I wrote this article myself, and it expresses my own opinions. I am not receiving compensation for it (other than from Seeking Alpha). I have no business relationship with any company whose stock is mentioned in this article.