Zillow (NASDAQ:Z) is hotly debated in the real estate profession because some agents complain that it provides some inaccurate listings, while others perceive Zillow as forcing them to succumb to "peer pressure" to buy costly long-term contracts so that they can tap into the customer base on Zillow.
Whatever the case may be, consumers are coming to the site and mobile app in droves. The rapid growth in traffic that Zillow is experiencing is a result of the large amount of information it provides consumers with, from historical price data, comparable sales data, mortgage payment estimators and tax information on every listing to dozens of photos of each property detailing the interior and exterior of homes.
In the past, consumers had to deal directly with real estate agents and county clerks to get access to this information. Having access to this information online has been a big reason why so many people are coming to Zillow's website and mobile app. The main issue still seems to be that there are some listings which are inaccurate; however, if you have ever searched for a home using MLS listings, you would know that they too have those same issues with old listings, inaccurate pricing, etc.
For real estate agents, the main issue at hand is whether or not they want to tap into the enormous base of customers visiting Zillow's website and apps and what price they're willing to pay for that access. Zillow now garners 36 million unique visitors per month. It has an extremely strong network effect: i.e., as more people come to the site, the greater the incentive is for agents to advertise their listings on the site and gain access to those home buyers and renters, and the greater the number of listings the more valuable it is for people coming to the site. It is now becoming an essential tool for people in the real estate industry because of the access they get to an enormous customer base.
Below is a chart of the monthly unique visitors coming to Zillow from June 2011 to June 2012.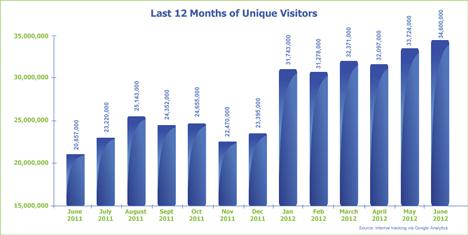 Unique visitors grew from 20 million in June 2011 to 34 million in June 2012, an increase of 70% in one year. Since June 2012, unique visitors have grown an additional 2 million per month to 36 million.
Zillow has long been focused primarily on the residential sale market and to a lesser extent the rental market; however, with its recent purchase of HotPads, the company will now have access to a much larger pool of rental properties that should attract more consumers to its site in search of rental properties.
Revenue growth for Zillow has been extremely strong. Between 2009 and 2012, revenues grew about 550% from $17 million to an estimated $110 million. Revenues are estimated to grow an additional 45% in 2013. Earnings have grown from $(13) million in 2009 to an estimated $10.4 million in 2012. Earnings are estimated to grow roughly 60% in 2013 to $17 million.
Based strictly on earnings, Zillow appears to be overvalued. It trades at roughly 85 times CY earnings. However, earnings are growing rapidly and the potential market size is extremely large. Real estate agents spend roughly $6 Billion annually on advertising, yet only about 1.5 to 2% of that will be spent on Zillow in 2012. It is estimated that about 2.0 to 2.5% of real estate agents are currently on Zillow.
In Q3 the company added roughly 4,000 premier agents, a number greater than the 2,000 or so estimated by PAA Research, a boutique research firm known for its skepticism of companies in general. Opportunities exist in other areas like commercial real estate as well as mortgage origination / productivity products for Zillow to expand into and increase the relationship it has with consumers and agents on its site. It is notable that Citadel recently took a large stake in Zillow.
Last week, Zillow closed its purchase of Mortech, which provides the following set of tools to the mortgage industry:
A product and pricing engine to help lenders quickly match the right mortgage products to the needs of a borrower at the best prices
A lead management platform to help lenders efficiently serve borrowers from multiple channels both online and offline
Marketing tools to keep lenders' brand and rate quotes in front of borrowers throughout the mortgage shopping process
This acquisition by Zillow should continue to strengthen the service offering it provides brokers with and increase the power of its network. Julian Hebron of The Basis Point recently wrote an article entitled "Ignore Zillow at Your Own Risk," which covers the impact that Zillow is having on the real estate industry. To quote him, the purchases of Mortech and Buyfolio (another recent acquisition) are intended to "suck realtors in deeper into the Zillow machine."
Looking at this from an investor's standpoint, it is easy to see why you might back away from the valuation. At about 45 to 50 times 2013 earnings, the stock isn't cheap. Yet, it is very hard to find another company growing as quickly as Zillow is with as big of an opportunity to grow as Zillow has. Typically, growth companies only give you a couple of chances to get in on a pullback. Zillow's stock is down almost 50% from highs 2 months ago on the back of soft revenue guidance due in large part to the loss of a large advertiser, Foreclosure.com. I would recommend using this opportunity to get into the stock.
It should be noted that the relatively weak guidance was due to the company's decision to build out a platform of pre-foreclosed home inventory that put the company in direct competition with Foreclosure.com and forced it to pull its ads. The decision appears to be one where the company sacrificed short-term revenues so that it ultimately can build out a suite of services that makes its site an even more valuable tool for home buyers and real estate investors.
Disclosure: I am long Z. I wrote this article myself, and it expresses my own opinions. I am not receiving compensation for it (other than from Seeking Alpha). I have no business relationship with any company whose stock is mentioned in this article.