While much is being made about the Fiscal Cliff debate in the news, I wanted to take a look at something more immediate that has kept me up at night. Should I sell my long term holdings now to lock in a 15% tax rate or should I delay taxes as long as possible and pay 35% down the road? Conventional wisdom is to delay taxes as long as possible and to let the power of compounding returns work its magic. But what if your time horizon was reduced? If you are looking at a one year time horizon, your decision to hold or sell now and re-buy could change your overall performance. Also, what if you had originally purchased the stock at a substantial discount from the current price? This post will provide some information on how taxes can affect your returns. Please note that this post is not intended to give you any sort of tax advice as your tax situation can vary significantly from what is described below. Please speak with a professional before making any investment decisions.
Study Overview
For this study I picked two "market" securities that are well-known and have liquid prices - the iShares Russell 2000 Index (NYSEARCA:IWM) and the State Street SPDR S&P 500 (NYSEARCA:SPY).
Assumptions/Limits:
Your trading is in a taxable portfolio.
You bought the security at least one year ago so it is classified as a Long Term Capital gain if you were to sell it and the current Long Term tax rate is 15%.
You are able to sell and buy the stock back at the same price.
At the end of

the ho

lding period, you sell the stock and are charged a Capital Gains tax rate of 35%.
Any transaction costs and dividends received are ignored. These would reduce the benefit of a sell-buyback.
Chart of findings (the first set of values is for SPY and the second set is IWM):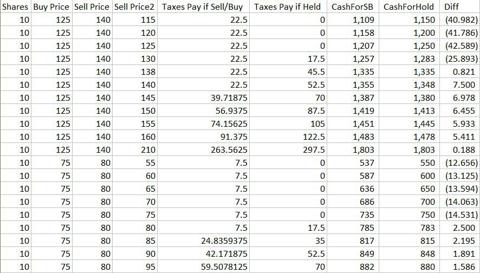 Discussion of Results
As you can see, there is a distinct benefit to buying and holding onto a stock versus incurring taxes by selling and resetting your cost basis. The strategy of selling now is significantly worse if your final selling price down the line is below your initial cost. This is because you are incurring the tax liability now and have reduced the number of shares you own without any benefit. There is one exception though - you will come out ahead if you are able to sell the stock today at the same price you would have sold the stock a year from now. It is better to incur the taxable event now instead of waiting until the end of your holding period. This benefit declines and eventually disappears again if your final selling price is 50% more than your intermediate selling price.
Given the above information, you are most likely better off holding onto a stock today that you plan on keeping in your portfolio for a long time than trying to tax time it. If you know you are going to sell a long-term winner within the next few months and believe the market is going to be flat or slightly up, you will come out ahead. If the market crashes these next few weeks, you will be stuck with the transaction costs and added tax liability.
Disclosure: I have no positions in any stocks mentioned, and no plans to initiate any positions within the next 72 hours. I wrote this article myself, and it expresses my own opinions. I am not receiving compensation for it (other than from Seeking Alpha). I have no business relationship with any company whose stock is mentioned in this article.