This is a quick follow-up to last week's piece on Cognizant Technology (NASDAQ:CTSH): "Cognizant Technology 'On Watch' For A Sell-Off Based On Put Option Volume." At the time, I observed a surge in put volume at the December $62.50 strike and anticipated a coming buying opportunity. Instead of selling off, the stock has since broken out above both its 50-day and 200-day moving averages (DMAs), rallying 6.4%. Those puts have lost almost all their remaining value.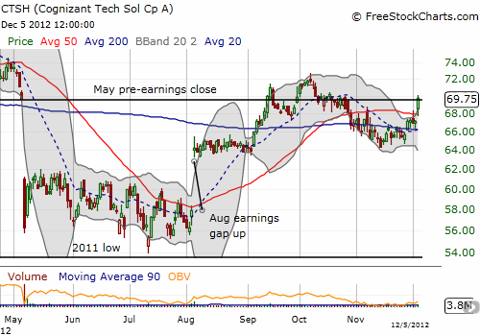 Cognizant Technology breaks out
Source: FreeStockCharts.com
I have to assume now that some trader(s) anticipated Wednesday's 8K release on executive compensation incentives tied to revenue targets that meet analyst expectations, SELLING puts for premium instead of looking for a huge downside payday.
If a trader is anticipating good news, why not buy calls? While a trader may expect some news to arrive, the market's response to that news is an unknown. If the news is presumed good, at worst, a trader can expect implied volatility (IV) to plummet on put options, causing prices to drop. However, the price action on the call options is much more uncertain. The drop in IV could cause even the call options to drop in price if the stock barely budges. In this case, CTSH call options returned a nice gain in just 5 trading days. For example, the December $70s increased from $0.23 to Wednesday's close at $1.30, a whopping 465% gain. Interestingly, the open interest on these calls nearly tripled from November 9th to November 12th. (All options data from Etrade.com).
The options action continues to throw up mixed signals as put volume surged yet again despite the rally in CTSH. This time the December $65 and $67.50 puts saw a lot of action: 1,656 contracts traded versus 4,203 in open interest and 632 contracts traded versus 1,097 in open interest respectively. Call options were traded in much lower volumes in absolute and relative terms.
The key lesson here - one that is good to learn and learn again - is that options volume is not always what it seems. It can be very hard to distinguish between volume motivated by buyers and volume motivated by sellers - unless you have access to transaction information indicating whether trades are getting done at the bid, indicating sellers, or at the ask, indicating buyers. Moreover, it can help to review recent history on options volume. Historic trade volumes not consistent with current trade volumes throw any hypothesis into doubt.
Regardless, I will keep CTSH in my sights. A close above the October high will be very bullish and suggest that the next rally in the shares is well underway. This becomes the more likely scenario given CTSH's recent 8K release suggests that revenue expectations for 2013 are safe and sound.
Be careful out there!
Disclosure: I have no positions in any stocks mentioned, but may initiate a long position in CTSH over the next 72 hours. I wrote this article myself, and it expresses my own opinions. I am not receiving compensation for it (other than from Seeking Alpha). I have no business relationship with any company whose stock is mentioned in this article.