Alon USA Partners, LP (NYSE:ALDW) is a November 20th initial public offering (NYSEARCA:IPO) with a first year distribution yield of 26.2%. This equates to a $Distribution first year payout based upon a Wednesday closing price of $19.81 per unit. The company is a recent spinoff from its parent, Alon USA Energy, Inc. (NYSE:ALJ). The company is benefiting from robust refinery gross profit margins. I recommend investors buy shares today up to $21 per unit.
Alon USA Partners, LP First Year Distribution Expectation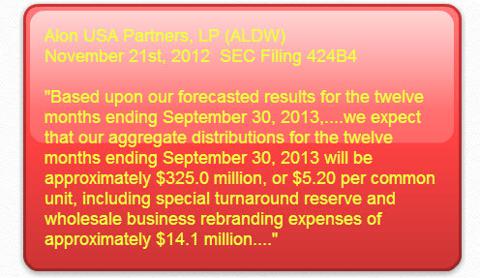 Click to enlarge
Alon USA Energy, Inc. - Parent Background
Alon USA Energy focuses on downstream energy operations through its franchisee crude oil refineries and several retail gasoline store outlets that distribute its refinery products and additional convenience merchandise. The company is headquartered in Dallas, Texas, and directly or indirectly operates four crude oil refineries in California, Louisiana, Oregon and Texas with throughput capacity of 250,000 barrels per day. These refineries convert various grades of crude oil into gasoline, diesel, jet fuel, asphalt and other petroleum products. Alon USA Energy also operates over 300 convenience stores in New Mexico and Texas, and is the largest franchisee of 7-Eleven stores in the U.S.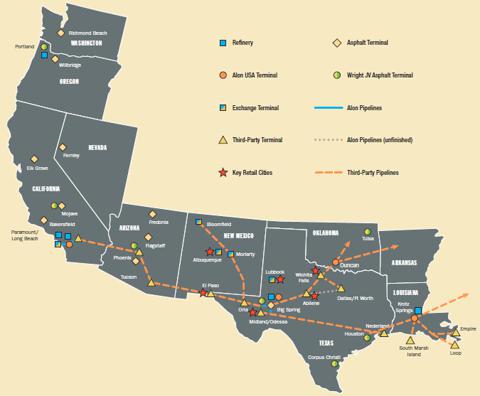 Click to enlarge
Alon USA Energy markets its refined products under the Alon and Fina brands through its retail stores and through distributors.
For fiscal year 2011, Alon USA Energy reported net sales of $7.2 billion, up significantly from $4 billion in 2010. Net income in 2011 was $42.5 million, up from a net loss of $122.9 million due to a major refinery fire outage. Before the spinoff, Alon USA Energy had total assets of $2.3 billion, equity of $395.8 million and a market capitalization of $848.6 million.
Alon USA Energy pays an annualized dividend of $0.16 per unit and offers a dividend yield of 1.1%.
Aside from assets spun off to Alon USA Partners, LP, Alon USA Energy owns: its Krotz Springs refinery in Louisiana (capacity of 83,000 barrels per day, Nelson complexity rating of 7.7); refineries in California (aggregate capacity of 57,000 barrels per day, Nelson complexity rating of 10.5); 10 asphalt terminals in the western US; part ownership of additional asphalt terminals and significant asphalt presence in California and Texas; and over 300 retail gasoline stores in West Texas and New Mexico.
It markets its gasoline and other petroleum products under the Alon and Fina brands directly through its stores and through wholesalers in seven states across the US.
Alon USA Partners, LP - The Spinoff
Alon USA Energy recently spun off its Big Spring refinery and connecting pipeline and storage assets in Texas into a new entity named Alon USA Partners, LP, in August 2012.
As part of this Distribution, Alon USA Energy transferred ownership of the Big Spring refinery and related pipeline and storage assets to Alon USA Partners. Alon USA Partners will be managed by its general partner, Alon USA Partners GP, LLC, which is 100% owned by Alon USA Energy.
All of Alon USA Partners' executive officers also serve as executive officers at Alon USA Energy and plan to devote 25% of their time to managing the spinoff. Alon is headed by David Wiessman as Executive Chairman of the Board of Directors, and Paul Eisman as President and CEO, supported by senior operating professionals with significant experience and background in various aspects of finance, refinery operations, supply, petroleum marketing and mergers and acquisitions.
Alon USA Partners, LP
Alon USA Partners conducted its initial public offering on November 20, 2012, where it sold 11.5 million common units, at $16 each, to public shareholders for an 18.4% equity stake. Alon USA Partners has headquarters in Dallas, Texas.
Net proceeds of $171.1 million from the IPO will be used to repay debt related to the assets transferred to Alon USA Partners. With this spinoff, Alon USA Energy will transfer a fully drawn $250 million term loan to Alon USA Partners. Through this offering, Alon USA Energy will receive 52.5 million common units (81.6% equity interest).
Public unitholders must note that the IPO price of $16 was $13.57 above pro forma net tangible book value of $2.43.
Assets and Operations: As a result, Alon USA Partners focuses on refining and marketing operations in south-west and south-central USA. Its primary assets are the crude oil refinery in Big Spring, Texas (capacity of 70,000 barrels per day, Nelson complexity rating of 10.2), 840 miles of pipelines and five storage terminals.
The Big Spring refinery, with its Nelson Complexity Rating of 10.2, is capable of efficiently processing a variety of crude oil types into high-value refined products. Refinery operations include alkylation, fluid catalytic cracking, hydro treating, naptha reforming and vacuum distillation units. The refinery had a 2012 asset utilization rate of 97%.
Roughly 80% of the refinery's feedstock is West Texas Sour (WTS) - a type of crude with heavy sulfur content that is more expensive to refine but is cheaper to source per barrel. About 16% of its feedstock is West Texas Intermediate (WTI) sweet crude.
Of the refinery's output, roughly 50% is gasoline, 33% is diesel and jet fuel, 7% is asphalt, 6% is petrochemicals and the balance is other refined products.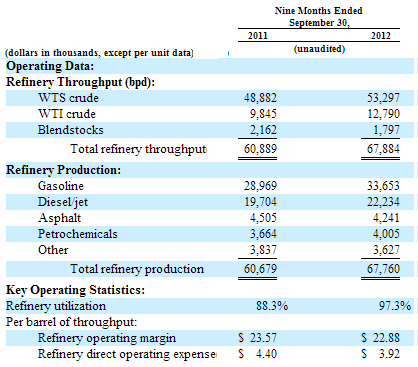 Location Advantage: The refinery's close location to Midland and Cushing (both in Texas) allows it to source WTS and WTI crude at lower prices than imported Brent crude, and improve profit margins over Gulf Coast refineries that buy more expensive, waterborne crude oils and have a significant price disadvantage. The Big Spring refinery also has sizable sour crude processing capacity, which allows it to purchase cheaper WTS crude feedstock.
Recently, the Big Spring refinery has also benefited from the oversupply of West Texas crude at the main Midland origination terminal due to high production at the Permian Basin and infrastructure constraints at Cushing, Oklahoma. This oversupply has lowered Midland crude prices and reduced Alon USA Partners' transportation expenses.
The table below shows price differences between various grades of crude. For example, NYMEX Cushing WTI was $16.04 less than ICE Brent. The table also shows an increase in price differential in 2012 which has benefited Big Spring's refinery margins.

Click to enlarge
Sale of Refinery Products: Alon's refinery products are sold wholesale and in bulk. The company markets its transportation fuels to customers in Arizona, New Mexico, Oklahoma and Texas through its integrated refining and distribution system of pipelines and terminals. Roughly 20% of its motor fuels and substantially all of its asphalt production go to Alon USA Energy (its parent) under a new 20-year supply agreement.
Competitive Strengths: Alon's competitive strengths include i) the strategic proximity of its Big Spring refinery to Midland, Texas, the largest origination point for West Texas crude; ii) the refinery's proximity to its inland customer base, which gives it an advantage over foreign and coastal refineries that incur higher transportation costs; iii) the complexity and scale of its refinery that give it higher net margins per barrel due to low cost operations and economies of scale; iv) its integrated refining, distribution and storage network; v) its relationship with Alon USA Energy and their 300+ retail outlets in Texas and New Mexico, and its new 20-year fuel and asphalt supply agreements; and vi) its experienced executive leadership in the field of refinery operations, sales and marketing.
Business Strategy: Alon's business strategy is to i) distribute all available business cash quarterly to unitholders, with no incentive distribution rights or subordinated units for its general partner; ii) maintain a high asset utilization rate at its refinery while operating it reliably to maximize profitability, cash flow and margins, iii) invest in its refinery operations as needed through upgrades and expansions that improve profitability, yield and efficiency; iv) maintain sufficient financial liquidity through various cash and credit sources while maintaining modest leverage and a debt-to-EBITDA ratio of 0.7 to 1.0; v) making accretive acquisitions as suitable opportunities present themselves, including purchases from or in partnership with Alon USA Energy.
Partnership Structure: Alon USA Partners is managed by a board of directors and executive officers of its general partner, Alon USA Partners GP, LLC, which is a subsidiary of Alon USA Energy. Public unitholders have little say or voting rights in this partnership.
However, what's attractive about this structure (unlike other energy partnerships) is that neither the parent company nor Alon USA Partners' General Partner will receive incentive distribution rights, subordinated units or compensation for management services (aside from reimbursement for expenses incurred).
The chart below reflects the broad structure of the partnership but does not reflect the higher number of public units (11.5 million) due to the full exercise of the overallotment option granted to Distribution.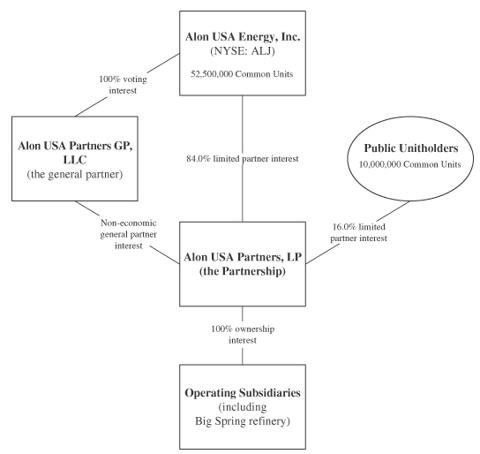 Click to enlarge
Cash Distributions: Alon USA Partners plans to distribute all available cash to unitholders without reserving cash for future distributions or incurring debt to maintain a steady payout. Therefore, unitholders will be exposed to volatility in available cash reflective of business and macroeconomic variables, and quarterly cash distributions may not be stable from quarter to quarter.
Based on current forecasts for 2013, Alon USA Partners expects to make quarterly distributions in 2013 that will total $5.20 per unit for the 12 months ending September 30, 2013.
Unitholders will benefit from this partnership structure because they will be allowed to write-off roughly 50% of their total cash distributions through 2015 as repayment of capital and will be taxed on only the balance 50% of cash distributed.
Historical Financials: The table below shows pro forma financials for assets transferred to Alon USA Partners. Net sales in 2011 were $3.2 billion and operating costs were $2.9 billion, for net operating profit of $330.8 million. Interest expense was $41.8 million and net income was $286.4 million. Improved 2011 financials reflect a bounce-back from 2009 and 2010 because of a refinery fire that substantially impacted results.
As of September 30, 2012, ALDW held cash and cash equivalents of $29.4 million, net property, plant and equipment of $485.1 million, total debt of $334 million and partners' equity of $Distribution million.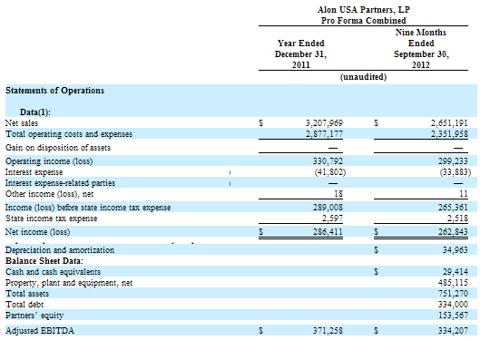 Click to enlarge
Refinery throughput increased for the nine months ended September 30, 2012, to 67,884 barrels per day from 60,889 bpd in the same period in 2011. Refinery output primarily consisted of gasoline and diesel jet fuel, and to a lesser extent, asphalt and petrochemicals. Refinery utilization rates jumped from 88.3% in 2011 to 97.3% in 2012, but operating margins decreased a little from $23.57 to $22.88.
The table below shows Alon USA Partners has $84 million in revolving credit and $250 million in a new term loan Distribution for total long-term debt of $334 million.

Click to enlarge
Available Cash for Distributions: Available cash is defined as cash from operations in the quarter less cash needed for maintenance and growth capital, plant related capital expenditures, principal repayments on debt, interest payments and income taxes.
In some instances, the company may fund major expenses with a combination of cash from reserves and borrowings from credit facilities.
2013 Projections: Looking ahead, the company expects to reserve $1.2 million every quarter to fund major capital expenses. In addition, the company plans to set aside $3.5 million quarterly for scheduled catalyst replacement and major turnaround in the first quarter of 2014.
Cash distributions for 2013 are based on management's best estimate of sales, profits and cash needs as presented in the two tables below.
In fiscal 2013, management expects net sales of $3.3 billion, net income of $337 million and adjusted EBITDA (earnings before interest, tax, depreciation and amortization) of $422.6 million.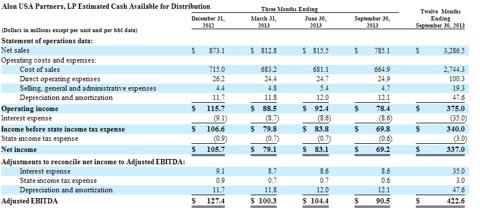 Click to enlarge
After adjusting for necessary cash requirements, Alon USA Partners estimates $325 million in available cash which would allow it to distribute $5.20 per unit in the full year (its fiscal year ends September 30, 2012).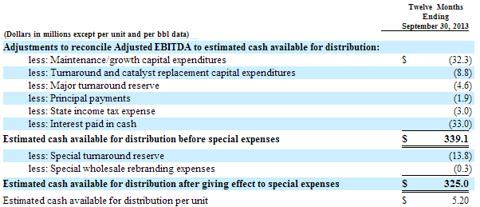 Click to enlarge
Cash distributions will typically be made within 60 days of the end of the quarter.
2013 projections assume average throughput of 68,400 barrels per day with no significant downtime, with nine days of lower throughput for a planned reformer regeneration in the third quarter of 2013. Alon USA Partners expects to sell 12.4 million barrels of gasoline at an average price of $110.81 based off of historical differentials against Gulf Coast gasoline prices. Alon USA Partners also expects to sell 8.4 million barrels of diesel / jet fuel at an average price of $126.35 per barrel. Substantially all of the company's asphalt production will be sold to Alon USA Energy.
Cash Flows: For the nine months ended September 30, 2012, Alon USA Partners generated $363.6 million in cash from operating activities primarily from higher net income relative to 2011 and a decrease in working capital requirements. Higher capital expenses in 2012 resulted in more cash used for investing activities, and higher pay-downs on revolving credit resulted in significantly more cash used in financing activities in 2012 compared to 2011.

Click to enlarge
Crack Spread: Crack spread is the dollar margin between the prices of crude oil and of the refined petroleum products extracted from it. The term crack spread comes from the cracking or breaking-down of crude oil's long-chain hydrocarbon structure into commercially saleable refined products which have shorter hydrocarbon chains. Crack spreads are commonly used to benchmark a refinery's operational efficiency and margin relative to industry peers.
Alon USA Partners' Big Spring refinery benchmarks its performance against the Gulf Coast 3-2-1 crack spread. This crack spread widened significantly from $8.64 per barrel in 2010 to 27.54 per barrel in 2012 primarily because of falling WTS crude prices as a result of infrastructure and logistical constraints in Cushing, Texas. What this simply means is that the Big Spring refinery produces refined petroleum products that sell for significantly more than its WTS and WTI feedstock crude oil prices, and ALDW profits significantly from these higher margins.
The Gulf Coast 3-2-1 crack spread subtracts the market value of gasoline and ultra low sulfur diesel from the market price of Pershing WTI crude. Because the prices of refined petroleum products are largely guided by Brent crack spreads, higher crude oil price differentials between Brent and WTI, Cushing WTI and Midland WTI, and Cushing WTI and Midland WTS significantly benefit operating margins at the Big Spring refinery. The narrowing of these margins reduces operating margins because of higher feedstock prices.

The table above shows average crude price differentials for the nine months ended September 30, 2012.
For 2013, Alon USA Partners projects refinery operating margins of $21.71 per barrel. Moreover, as the table below shows, Midland WTS is projected to be $4.34 cheaper per barrel than Cushing WTI, which should work in Alon USA Partners' favor.

In this industry, regional supply and demand patterns substantially impact profitability. The Big Spring refinery is included in PADD III (petroleum administration for defense district 3) and benchmarks its performance against the Gulf Coast 3-2-1 crack spread. As Brent crude prices rise, refiners will pass-on cost increases to refined products. These higher prices on refined products help Alon's margins because its WTS and WTI crude cost significantly less than imported waterborne crude such as Brent.
Moreover, WTS trades at a further discount to WTI because of its higher sulfur content which makes it more expensive to reduce through refining.
Hedging: Due to the volatile nature of crude oil and refined product prices, Alon actively participates in commodity derivatives to manage price risk for feedstocks and refined products.
Units: Since its IPO, Alon USA Partners units have risen from an offer price of $16 to a closing price of $19.81 as of December 5th 2012, with a market capitalization of $1.3 billion and a price to earnings ratio of 3.9x. Alon USA Partners' market capitalization is well above its partner's equity of $153.6 million.
Based on its projected 2013 cash distribution of $5.20, Alon USA Partners will have a dividend yield of 26.2% at current unit price levels.
Summary
Alon USA Partners appears to be rather attractive from a yield perspective at current price levels and the projected 2013 distribution of $5.20. The partnership equally rewards all unit holders without incentive distribution rights (IDRs), subordinated units or management fees, and appears to be a good buy. Moreover, the company's relationship with Alon USA Energy with long-term supply contracts, its ability to process less expensive WTS crude and its strategic Midland location also play to its favor. This almost appears as the closest thing to solid distribution income at current levels.
On the flip side, the company does not plan to guarantee distribution stability and is unwilling to borrow to pay out cash to unitholders. Distributions could be hurt by a planned shutdown in 2014, and the PADD III region that it operates in has a net oversupply of refinery capacity relative to demand.
However, if the company continues to execute well over the years, shares could rise and net distributions could be significant for shareholders not looking for predictable payouts.
I want investments to return my capital first. Once I have my capital, then I can focus upon return on capital. Alon USA Partners is ensuring I receive 26.2% in the first year. I recommend investors accumulate shares up to $21 per unit. At $21 per Alon USA Partners unit, the yield would be 24.7%.
Disclosure: I am long ALDW. I wrote this article myself, and it expresses my own opinions. I am not receiving compensation for it (other than from Seeking Alpha). I have no business relationship with any company whose stock is mentioned in this article.