On Monday, December 3, Bloomberg reported that Credit Suisse Group AG will soon charge negative interest rates on cash balances denoted in Swiss francs (NYSEARCA:FXF). Francs are increasingly becoming trash as the cost of servicing large cash balances is not worth the minimal revenue banks can earn from them.
On October 9, Bloomberg reported that State Street Corp. (NYSE:STT) and Bank of New York Mellon Corp (NYSE:BK) announced plans to charge negative rates on Swiss francs. At that time, the franc barely budged. In fact, the EUR/CHF currency pair resumed a slide that had started from a peak in September. The reaction to the news from CS generated a much different reaction (CS is Switzerland's second largest bank). EUR/CHF swiftly rallied for two days, following through on a breakout on Friday and Sunday that stirred EUR/CHF for the first time in weeks. The chart below summarizes the action.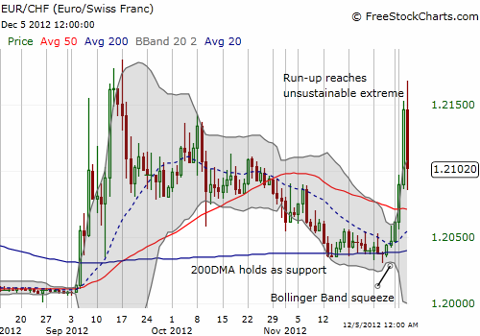 Click to enlarge
EUR/CHF erupts again
There are several features of the chart which carry good lessons for trading currencies. The first notable feature is how extremes are not long tolerated. When EUR/CHF first came to life again in early September, the currency pair ran up quickly but on an intra-day basis it could not long hold moves above the upper Bollinger Band (BB). The BB is defined by the grey area and loosely defines a range of expected volatility.
The latest burst of activity was proceeded by what is known as a "Bollinger Band squeeze." This is a brief timespan where volatility notably contracts, frequently leading to a sudden explosion in volatility. In this case, the run-up was made even more powerful given EUR/CHF was bouncing off firm support at the 200-day moving average (DMA). Note that here again extremes were not long tolerated. Tuesday's extreme move was immediately counteracted on Wednesday by a swift pullback to the edge of the Bollinger Band. Assuming the franc continues to weaken over time, this pullback provides a good starting point for building positions against the franc.
CS's statement on its negative rates makes it very clear that the bank wants to reduce the size of franc balances (emphasis mine):
Due to the current market situation and after closely monitoring the situation over the course of this year, we have decided to start applying negative credit rates on cash clearing accounts above a certain threshold..We invite our customers to keep cash balances as low as possible to avoid negative credit charges. [Translate "invite" as "strongly recommend"!]
Bloomberg also noted that UBS has been charging fees on large franc cash balances since August 2011. The bank's statement in an email is just as emphatic as Credit Suisse's (emphasis mine):
In cases where we see net inflows in cash clearing accounts above a certain threshold, we continue to take corrective action, by means of a temporary excess balance fee…We encourage our bank clients to keep their balances in cash clearing accounts as low as possible.
Cash is trash when denoted in francs.
So far, the Swiss National Bank (SNB) has not issued any official statements in response to these negative interest rates, but SNB officials have already gone on record against implementing negative rates for the franc. It will be interesting to see whether speculation heats up again about the SNB moving ahead with negative rates.
When I first noted a revival in trading in EUR/CHF in early September, I claimed that it was supportive of a stronger euro (NYSEARCA:FXE) going forward. This is indeed what has happened (could be correlation and not causation of course). The rally that began off the lows in July accelerated in September where it finally peaked. EUR/USD is now finally trading back to that September peak in what looks like the edge of a fresh breakout.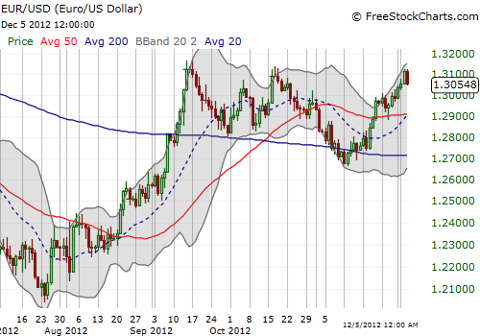 Click to enlarge
The euro's rally returns to September's highs
Finally, I find it useful to note that the stock of Credit Suisse Group has recently followed the euro. CS hit a low in July, raced to a peak in September, and, as of Wednesday, finally broke out to fresh 8-month highs. For anyone interested in playing the recovery of the euro but not interested in dabbling currencies, CS is worth a look. It even offers a 3.2% dividend yield, much better of course than either the euro or the franc with their zero interest rates.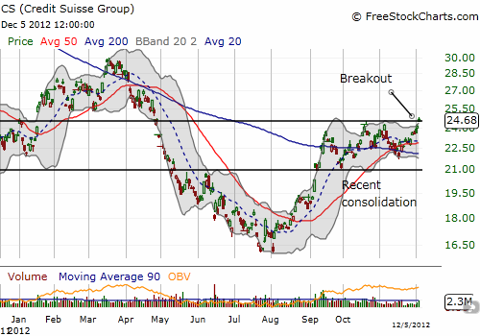 Click to enlarge
Credit Suisse breaks out
Source for charts: FreeStockCharts.com
Be careful out there!
Disclosure: I have no positions in any stocks mentioned, but may initiate a short position in FXF over the next 72 hours. I wrote this article myself, and it expresses my own opinions. I am not receiving compensation for it (other than from Seeking Alpha). I have no business relationship with any company whose stock is mentioned in this article.