"All men can see these tactics whereby I conquer, but what none can see is the strategy out of which victory is evolved" - Sun Tzu
Ladies and gentlemen, I present you with the latest leak about Intel's (NASDAQ:INTC) low power processor strategy, courtesy of our fine friends at VR-Zone: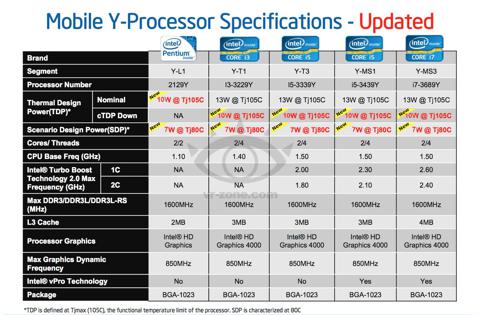 While it has been known since the Intel Developer Forum that sub-10W "Haswell" (4th generation Core) would come in to help dramatically improve battery life as well as enable presence in the tablet form factor, it seems that Intel is sending its current generation "Ivy Bridge" processor into war here while "Haswell" is prepared into much lower power spaces.
Current "Ultrabook" processors have a TDP (thermal design power) of 17W, Intel has been relentless about bringing higher performance to lower power levels (and at the same time making such machines affordable). The latest roadmap shows 13W high end chips (that can be throttled down to run at 10W and 7W) as well as lower end 10W chips that can be throttled down to consume only 7W.
Why Is This A Big Deal
This is a big deal for two key reasons:
Tablets - in order to get the high performance "Core" procesors into high end tablets, power consumption needs to come down. Microsoft's (NASDAQ:MSFT) "Surface Pro" powered by a 17W Core i5 leads to battery life that is markedly worse than that of the Nvidia (NASDAQ:NVDA) Tegra 3 (albeit MUCH higher performing - we're talking over 3x faster). At 13W the battery life situation improves. At 10W, the situation improves dramatically, and at 7W, we start getting to mainstream tablet levels.
Cheaper, Better Ultrabooks - While Intel seems to be offering high end i5's and i7's at these low power levels, it also is selling "Pentium" and "Core i3" products at the new lower power levels. This will enable longer battery life "Ultrabooks" at even more mainstream price points. More importantly, it seems that Intel is dead-set on penetrating every price point with touch-enabled Ultrabooks and convertibles. Having a wide range of even lower TDP parts for these markets is the key to getting into the mainstream. A touch-enabled, full Windows 8 PC at $399? Yes, please!
In short, this is Intel's way of attempting to try to make lower end PCs (as well as higher end) much more compelling than ARM (NASDAQ:ARMH) powered devices.
Wait, There's More
The leaks have intensified as of late, so I have one more interesting slide to discuss, courtesy of our friends in Japan: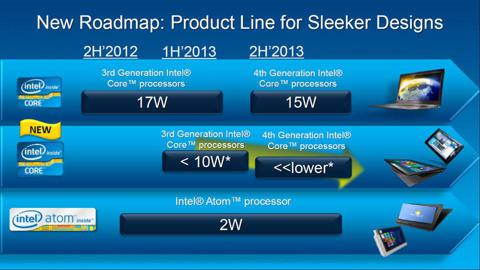 While we get fairly fast "Ivy Bridge" products, the real show begins in 2H 2013 with the ultra low power "Haswell". According to this slide, the "Haswell" chips for ultrabooks feature even lower power than the "Ivy Bridge" low power chips that we get. If "Ivy Bridge" is hitting 7W, then it doesn't seem too unreasonable to expect 5-6W "Haswell" processors.
And that would put a high end Ultrabook CPU within striking distance of an ARM based system-on-chip. Keep in mind that the dual-core incarnation of ARM's latest-and-greatest Cortex A15 core in Samsung's "Exynos 5250" SoC burns up ~4W at full load. The dual core A15 at 1.7GHz, as shown by testing at Phoronix, is anywhere from half-as fast as a 2.13GHz "Westmere" to a third as fast (several generations behind the latest "Ivy Bridge" found in these new 10W parts and the "Haswell" which will power the even newer stuff).
Conclusion
Intel's plans indicate that it plans to bring notebook battery life to all-new highs, as well as get their best and fastest chips into suitable power levels for high end tablets and even sleeker PCs. While the battle against the ARM camp is not quite won, it seems that Intel is very aggressively fighting to dominate the high performance, low power processor space. Now is the time to place your bets either way: does Intel extend its dominance into low power, or do the ARM vendors push Intel out of the notebook space?
My bet's on Intel.
Disclosure: I am long INTC, NVDA. I wrote this article myself, and it expresses my own opinions. I am not receiving compensation for it (other than from Seeking Alpha). I have no business relationship with any company whose stock is mentioned in this article.
Additional disclosure: Short ARMH