A myriad of issues have spread a negative investor sentiment which have led to Apple's (NASDAQ:AAPL) underperformance. These issues include concerns over falling gross margins, slowing pace of innovation, the question of what Apple's next product is and management changes. I wish to discuss a few of these issues and give my expectations on the likely outcomes. I will also briefly talk about the December 5 sell-off when I discuss the price target at the end of the article.
iPhone continues to record high shipments which grew at 57.6% year over year and stood at 26.9 million in FQ4'12. I expect this trend to continue and forecast shipments of 42 million for FQ1'13. In fact, analyst Shaw Wu at Sterne Agee has raised the quarterly estimates of iPhone unit's sales to 47.3 million from 46.5 million in a note to investors. The analyst notes that his checks, which indicate shortening of delivery times, better availability of the units in Apple's retails stores, and online stores, have prompted the upgrade in estimates.
Although iPhone 5 and upgrades on other Apple products are not revolutionary in nature, what will drive growth for them is the stickiness created by Apple's ecosystem. Not only that, but Apple has a first-mover advantage in the tablets market which will be immensely beneficial for the company. Apple continues its phenomenal cost control highlighted through an operating expenses/revenues figure of 9.6% for Q4'12. R&D as a percentage of total sales remains one of the lowest in the industry yet its R&D remains the most productive. Apple has strong fundamentals and I believe the stock is currently undervalued in the market. But short-term fluctuations in the stock, which I will touch upon at the end of the article, may discourage investors to initiate a long position at current levels.
Innovation
Is innovation at Apple slowing down? Since Apple has introduced several exciting features such as LTE, Siri, Maps, Passbook and bigger screen (though some have not lived up to expectations) in its latest iPhone, investors have their attention on what possibly Apple would innovate with the release of its next iPhone. Truly impressive hardware innovation will likely be limited which will place the burden on software to impress the market. That is where Apple is good at and despite some minor disappointments recently I believe Apple has the energy to allay investor fears.
Then there is the question of the launch of the next Apple product. The first iPhone was launched in 2007, followed iPad in 2010 i.e. Apple introduces a new product every ~3 years. Although it's anybody guess on the exact timing of the launch, the consensus view is that the product is iTV. This move will be the next logical step in Apple's strategy of redefining the existing user experience with its seamless integration with iPhone, iPad, iPod Mac etc. Retina display, Siri enabled control, and Facetime video chat are all likely features of the product.
Analysts at RBC Capital Markets believe that since currently 200 million LCD units are being produced annually, Apple could grab a healthy market share over time. It is highly likely that Apple's brand power will attract many customers initially but the speed at which it can grow in the market will be limited given the presence of Samsung and Sony (NYSE:SNE).
Declining Gross Margins
Apple's conservative revenue and EPS guidance for CQ4 of $52bn and $11.75 respectively, was driven by expectation of lower gross margins (NYSE:GM) which the company projects to contract to 36% following the 40% achieved in the last quarter. Do note that Apple guided CQ3 GM of 38.5% and it has a history of announcing conservative estimates. Though it is a fact that Apple's current gross margins of ~40% are well above industry average and not sustainable with eventual competitive pressures, I do not see a permanent decline happening right away. Importantly, it is not uncommon for margins to decline after the launch of a major product. We saw declining GMs after the launch of iPhone 4 in early 2010 only to rebound later. See graph below. Based on the history, I expect GMs to revert back to ~40% by mid 2013.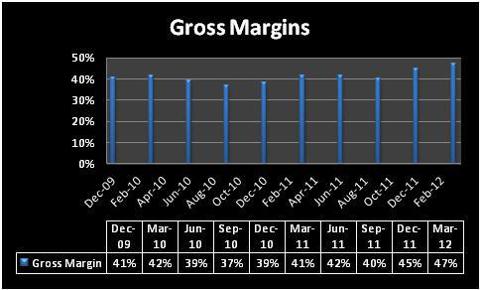 Some more concerns
There are other issues such as management issues and supply shortage which continue to feed pessimism in the stock. The departure of Steve Jobs, followed by the departure of John Browett and Scott Forstall, has made some investors wary of the management shakeup. As charismatic as Mr. Jobs was, I believe Apple currently has a rich resource of talented employees who will continue to drive innovation.
As far as the supply shortage hiccups are concerned, my view is that it remains a risk factor but likely to be overcome with time. This factor may limit the upside potential.
China
Apple has also announced that it will bring the iPhone to South Korea on December 7 and China and over 50 countries later in December. China remains a key source of growth for Apple which accounted for 15.2% of revenues in FY'12. Apple stated that it will release iPad mini and the large fourth generation iPad in China on December 7, followed by iPhone 5 on December 14. What will become of Apple's deal with China Mobile (NYSE:CHL) remains a question since CHL uses a kind of 3G network that may give rise to some compatibility issues. However, one analyst notes that the Qualcomm chip which the iPhone 5 employs "is in principle capable of connecting to China Mobile's 3G network".
Price Target
Apple's strong financial position; evident through its $121.3 billion in cash, no debt, exceptional free cash flow generation ($5.7 billion in Q4'12), high revenue growth and (still) high GMs in the industry makes me bullish on the stock. Apple has in fact missed consensus estimates for two quarters sequentially but I believe the next strong quarters with strong product momentum will set the stock back to its lost highs.
This brings us to the important discussion of the sell-off in the market experienced on Wednesday. Several explanations for the ensuing $35 billion erosion in Apple's market cap were brought forward. There has been chatter in the market on how an increased margin requirement (raised from 30% to 60%) at COR Clearing may have forced leveraged investors to liquidate their positions.
Technically speaking, the 200-day moving average, which provided support level for the stock beginning in 2009, was breached in early November and the stock has been trying to reverse the trend ever since and has failed several times. The support level has turned into a resistance level and investors willing to initiate a long position should probably wait it out. As I mentioned earlier, a strong quarter will set the stock to attain new highs backed by strong fundamentals. The short-term trend of the stock seems to be heavily influenced by margin hikes, tax increase scares and technical factors. Technical analysts also point towards the possibility of a "death cross" where the 50-day moving average crosses below the 200-day moving average and thereby signals that more downward trend is coming. If the stock continues to slide at the current rate, the death cross is not a distant possibility.
I must say here that the Wednesday episode is a short-term noise and the stock is being pounded by fearful traders. Apple's fundamentals remain robust, its supply situation continues to improve and analysts are upgrading their iPhone shipment estimates. I believe the stock should trade at premium to the broader market and my 12-month price target of $740 is based on P/E multiple of ~15x and mean FY'13 EPS estimate of $49.28.
Disclosure: I have no positions in any stocks mentioned, and no plans to initiate any positions within the next 72 hours. I wrote this article myself, and it expresses my own opinions. I am not receiving compensation for it (other than from Seeking Alpha). I have no business relationship with any company whose stock is mentioned in this article.