It has been widely presumed that stocks will breathe a big sigh of relief and surge higher once a compromise is reached on the U.S. fiscal cliff and the overhang of uncertainty is removed from the markets. But in the distorted post financial crisis environment, political risk has proven to be most unpredictable. A look back on some of the most prominent political episodes impacting financial markets over the last few years shows exactly how.
The first and perhaps most memorable act of political theater in the post financial crisis era came not long after the initial outbreak. On September 19, 2008, a mere five days after Lehman Brothers had declared bankruptcy, news emerged that fiscal policy makers in Washington were actively working to craft a bailout program for the U.S. financial system. Stocks were initially ebullient on the news, soaring +8.5% higher on the S&P 500 (NYSEARCA:SPY) in two trading days on the news to levels that were higher than before the Lehman bankruptcy announcement. Over the next two weeks, stocks held their ground valiantly. Although they crated by nearly -9% on September 29, 2008, when the initial bailout legislation failed to pass in the House of Representatives, they quickly recovered much of this lost ground the very next trading day on the notion that Congress would move quickly to successfully pass a bill as soon as possible. And by October 3, 2008, when the Emergency Economic Stabilization Act of 2008 was signed into law and the Troubled Asset Relief Program (TARP) was ready to be enacted, stocks were still solidly holding their ground at down just -4% since the collapse of Lehman.
It was only after TARP was approved by Congress and this political uncertainty was removed that the stock market plunged lower. Over the next five trading days after the law was signed, stocks fell by -27%. By late November 2008 they were down as much as -35%.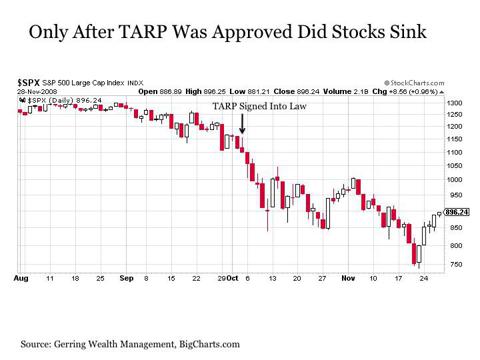 Click to enlarge
The second came a few months later. In a widely anticipated speech that was supposed to outline exactly how the U.S. government was going to carry out its new bank rescue plan, U.S. Treasury Secretary Timothy Geithner took to the podium in Washington with answers that only served to confuse investment markets and the financial community even more.
It was only after Treasury Secretary Geithner revealed his plan that stocks plunged violently. Over the next three weeks, stocks would lose over -23% of their value.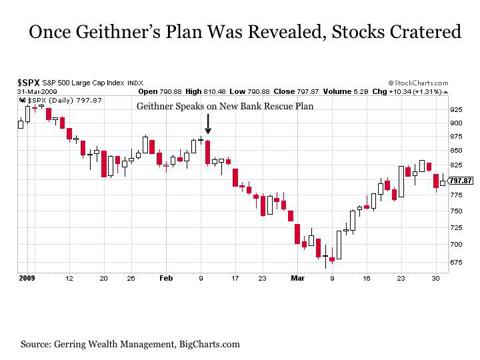 Click to enlarge
The third political event in the 2010 Mid-Term Elections was by far the most subdued from a market reaction standpoint. It was widely expected that Republicans would make strong gains in both the Senate and House of Representatives on Election Day. And on November 2, 2010, the GOP captured 63 seats in the House to reclaim the majority and also tacked on 6 seats in the Senate. And although stocks initially advanced by +3% in the first few days after the election, this could widely be attributed to the Fed's official announcement of QE2 the day after the election on November 3.
But even with the election uncertainty removed and the heavy tailwind of a massive new balance sheet expanding stimulus program from the U.S. Federal Reserve, stocks still managed to trend lower through the remainder of November 2010 after the elections.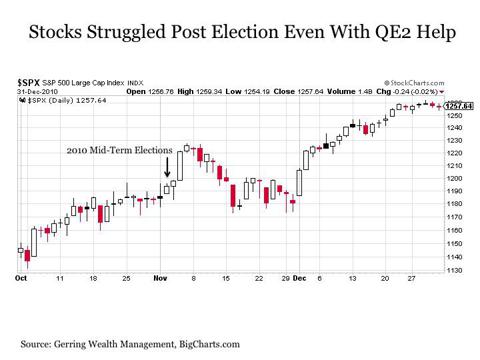 Click to enlarge
The fourth act of political drama for financial markets played out during the summer of 2011 with the debt ceiling debate. Both sides wrangled for months during the spring and early summer months, yet the stock market teased with achieving new post crisis highs. And even when the announcement came that an agreement had been reached, the stock market was still trading well within its trading range and not far from recent highs.
It was only after a debt ceiling deal had been struck that the stock market turned sharply lower. By the middle of the next week, stocks had fallen by -16% and appeared set to fall further if not for the Fed stepping in with bold suggestions of more monetary stimulus coming soon.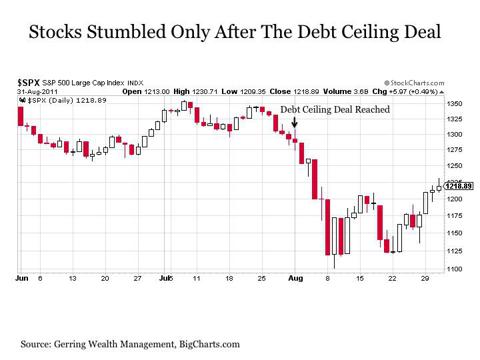 Click to enlarge
The most recent political uncertainty was resolved just recently on November 6 with the Presidential election. Up until early October, it was widely assumed based on polling data that President Obama would retain the office. But following a decisive win by Governor Romney in the first presidential debate, the outcome of the election became more uncertain. And by Election Day, the race was considered a dead heat in many polls. All along the way, stocks continued to hover within just 2% of post crisis highs.
It was only after the election results were revealed and President Obama had won re-election that stocks moved lower. Over the next eight trading days, stocks lost -6% of their value.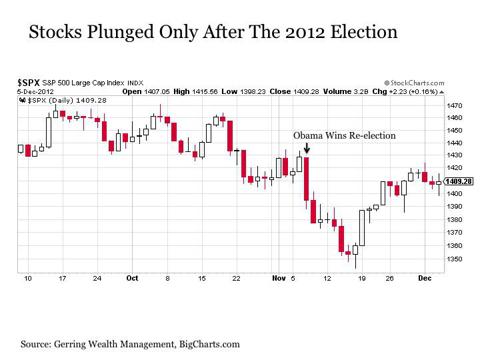 Click to enlarge
All of this leads us to the sixth act of post crisis political uncertainty overhanging markets in the current U.S. fiscal cliff debate. Although the outcome remains uncertain on a variety of levels, stocks as shown in the chart above have stirred back to life in rallying by +5% off of their recent lows and stand within striking distance of post crisis highs.
Thus, history suggests that it would not be at all surprising to see stocks head lower, not higher, following an agreement on the fiscal cliff. Of course, it could play out differently this time once a deal has been reached. More specifically, one key advantage stocks have this time around is the fact that the Fed is already in stimulus mode having launched QE3 back in September and is likely to double down on balance sheet expansion with the announcement of U.S. Treasury purchases in mid December. This is an enormous tailwind for stocks. But even with this edge, the idea that stocks will rally following a compromise deal on the U.S. fiscal cliff is far from a foregone conclusion. To the contrary, it would not be surprising to see stock markets move lower in the days following an agreement, particularly if the deal appears unfavorable to the financial markets and the business sector.
A final thought before closing. If stocks have shown the propensity to move sharply lower once political risk has been removed, does this suggest that stocks might actually rally if we were to maintain this political risk and simply go over the U.S. fiscal cliff? By going over the cliff, at least companies would finally have clarity in regards to the fiscal policy environment under which they are operating. Moreover, any fiscal deals that would follow in 2013 would then represent an improvement instead of the detriment to the rates under which they would be operating. While I continue to assign a low probability to actually going over the U.S. fiscal cliff as well as a high probability that stocks would move to the downside if we did, such a counterintuitive outcome is at least worth closer inspection as we watch the drama unfold and wait for a final deal to be reached in the next few weeks.
This post is for information purposes only. There are risks involved with investing including loss of principal. Gerring Wealth Management (GWM) makes no explicit or implicit guarantee with respect to performance or the outcome of any investment or projections made by GWM. There is no guarantee that the goals of the strategies discussed by GWM will be met.
Disclosure: I have no positions in any stocks mentioned, and no plans to initiate any positions within the next 72 hours. I wrote this article myself, and it expresses my own opinions. I am not receiving compensation for it. I have no business relationship with any company whose stock is mentioned in this article.