In a marked acceleration of probable further consolidation among natural resources companies and energy resources interests, Freeport McMoRan Copper & Gold (NYSE:FCX) has just paid up handsomely to acquire Plains Exploration (NYSE:PXP) and McMoRan Exploration (NYSE:MMR). This extends earlier activity by Exxon (NYSE:XOM) in acquiring XTO Energy and by BHP Billiton (NYSE:BHP) in capturing Petrohawk.
Immediate market reaction to FCX's bids were to put that stock down -16%, PXP up +23%, and MMR up by +87%.
Recent troubles with development of MMR's ultra-deep Gulf of Mexico Davy Jones-1 well raise serious financing questions, which may be eased by FCX cash and credit resources, and perhaps by PXP's technical expertise.
Question #1 is: Does the acquisition strengthen the outlook for, and promise in, investment in FCX?
The immediate response by market-makers is not encouraging. Their hedging actions in handling the 9-times larger than average volume yesterday was to drop expectations for potential near-term upside price possibilities from $41.14 to $35.49 (-14%), and cut the potential downside exposure from $36.27 to $30.63 (-15.5%).
FCX's reward-to-risk ranking among some 2200 other stocks and ETFs took a wallop from being better than 89% of them, to the inverse, only better than 10%.
Here is the recent history of market-maker forecasts for FCX.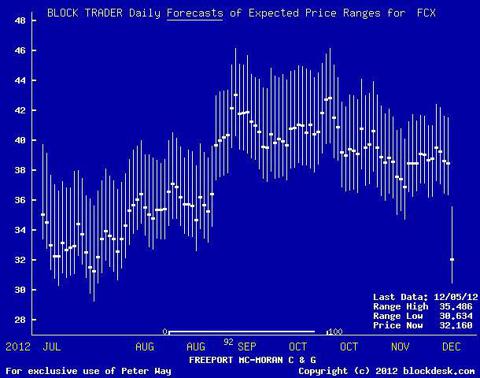 For a better understanding of how these behavioral analysis evaluations come about, please check out this article.
Question #2 is: If these acquisitions are interpreted by the oil patch players as an intensification of industry consolidation actions, which of the E&P stocks are viewed as most attractive at this point?
Using the same guidance parameters as we offered and explained in this article, here is a condensed table of the most pertinent market-maker perceptions of how their big-fund clients may act in coming weeks and months, regarding the more attractive candidates.
They are Cabot Oil & Gas (NYSE:COG), Range Resources (NYSE:RRC), Energy XXI (EXXI), EV Energy Partners (NASDAQ:EVEP), Cenovus Energy (NYSE:CVE), Continental Resources (NYSE:CLR) and Carrizzo Oil & Gas (NASDAQ:CRZO).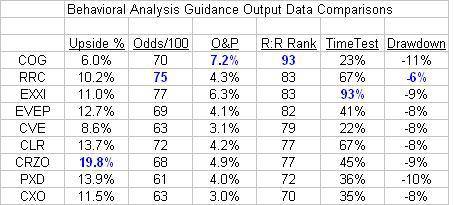 The table is ranked by their tradeoff between reward and risk prospects, as evidenced by market actions subsequent to prior prospects like those of the present. Those raw upsides and downsides are pictured here for the E&P stocks at large.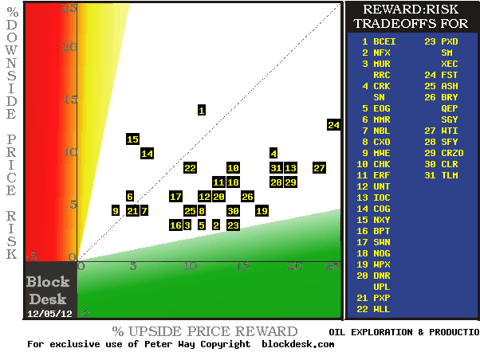 Disclosure: I have no positions in any stocks mentioned, and no plans to initiate any positions within the next 72 hours. I wrote this article myself, and it expresses my own opinions. I am not receiving compensation for it (other than from Seeking Alpha). I have no business relationship with any company whose stock is mentioned in this article.